Though you wouldn't guess it from the number of times we scheduled and rescheduled, one of my favorite things to do around here is to grab my trusty co-pilot, Kristen, and head out to the Hall of Flags to chat with students for the blog.  For those who haven't visited, the Hall of Flags is the main gathering spot at Fletcher, and the best place to catch up with folks.  And that's what we did last Tuesday.  Because we're so close to the end of the semester, we asked everyone about a highlight of their year.

As soon as we walked into the HoF, we saw Terry and Stephanie, both of whom were included in the post about last year's HoF visit.  This time, Stephanie was selling tickets to "Americana Night" and Terry was keeping her company.
Terry (MALD '15): The highlight of my year is Fletcher Follies, which hasn't actually happened yet.  Last year's Follies was my favorite event of my whole Fletcher experience so far.  It's fun making videos and also seeing how creative people are in terms of their execution of the videos.  And it's a highlight from a social perspective.  It brings together students, staff, and faculty in a collegial way leading up to finals.  Everyone is very stressed out by that time in the semester, but it's a fun way for all the students to come together in one room.
Stephanie (MALD '15): I'm looking forward to Follies as well, but I'm more excited about the Follies videos I'm making.  I'm doing four — a Harry Potter themed one, and a "30 Rock" parody called "160 Pack," and we also did a "Shining" themed one.
Stephanie probably listed all four, but I appear to have missed one.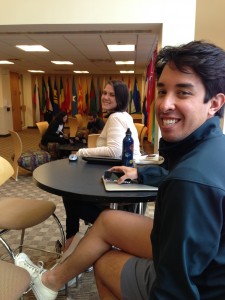 Marie (MALD '15): The highlight of my year is my class with Prof. Khan, Historian's Art.  It's a phenomenal class.  It goes through great moments in history like World War I and the Cuban Missile Crisis.  It assumes we know about the events and Prof. Khan focuses on the time leading up to them and who the key players are.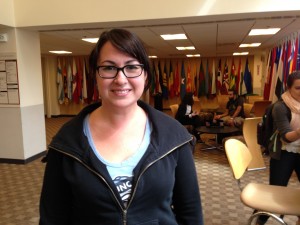 Ravi (MIB graduate and IBGC Research Fellow): My highlight was a perfect week when, on Monday, Bloomberg wrote about Mark Zuckerberg's speech in Barcelona and, in the same paragraph, referenced our Digital Evolution Index, saying that the global investment community agrees with our research findings.  Then, the week ended on Friday with Bill Gates tweeting out the article that Bhaskar (Chakravorti), Rusty (Tunnard), and I wrote in the Harvard Business Review to his 20 million followers, and it got retweeted nearly 5000 times.  It was the most perfect week with the best bookends that one could hope for.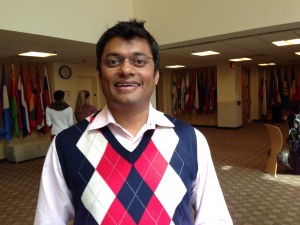 Stephen (MA '15) (camera shy): Last week we did a class trip down to the Naval War College.  We got to see a lot of speakers and visit downtown Newport.  We had a talk on North Korea, Taiwan defense, and Chinese anti-access.
Next we chatted with Morgan, who like Stephanie, was selling tickets — in this case to the Diplomat's Ball.  Check, cash, or Venmo.
Morgan (MALD '15):
We had a sending off party for one of our friends who recently got a wonderful job opportunity in Washington, DC.  The energy in the room was incredibly supportive, nurturing and all those good things.  It was a wonderful experience, full of love and light and appreciation for each other.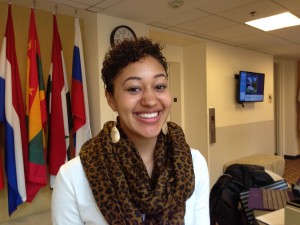 Mary (MALD graduate and current Assistant Director of Student Affairs, who as part of her job responsibilities, attends the social events on campus):  Africana Night was a highlight.  It has struggled over the years, including once when it was snowed out.  This year's was the best Africana Night I had ever seen.  It was very high energy and the acts were high quality.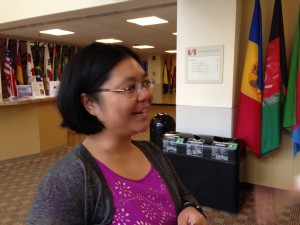 Sid (MIB '15):  For spring break, I went with Fletcher friends, seven of us, to the Bahamas.  We went diving and the instructor asked us where we were from, and we were all from different countries, including Korea, Thailand, India, Japan, U.S., and Nepal.  He was really surprised and asked how we came together.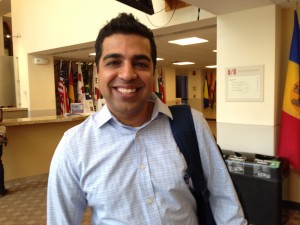 When we finished talking to Sid, all system broke down.  We spotted Meg, a PhD student, and went to chat with her.  Then Ben, another PhD student, came along and we pulled him over.  And then we interrupted both of them when Prof. Burgess came along.
Prof. Burgess (Director of the LLM Program): One of my high points was being able to have coffee, along with all the other LLM students, with Judge Joyce Aluoch, (F08) the Vice President of the International Criminal Court.  She joined our group to provide both an overview of the activities of the ICC and to chat informally about current issues facing the court and questions of international law generally.  It's a special aspect of Fletcher that opportunities like this exist, so that students like our LLM students have an opportunity to meet and interact with very experienced and senior international lawyers.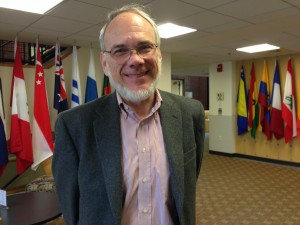 Then we turned our attention back to Meg and Ben, and the following dialogue resulted:
Them: We're mentor and mentee.
Us: Which way does it go?  Who's mentor and who's mentee?
Them: Exactly.
Meg: Our PhD cohort is the best ever.  Last September, eight of us started.  We have a diverse group.  We just jelled very quickly during Orientation and then we accepted the four internals (who had completed the MALD) into our coven.  We all get along really well, and we fight like brothers and sisters.  We adopted Ben into our cohort.
Ben:  I'm jealous.  Having the large number of external admits last year has broadened the community in an exciting way.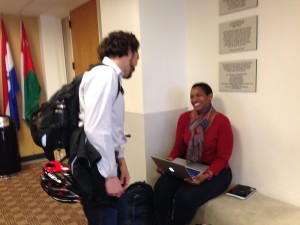 Finding two PhD students together in the Hall of Flags is a rare event.  As an additional coincidence, we then bumped into the student whose new job Morgan had been celebrating.
Brionne (MALD '15): I'm leaving for Washington, DC tomorrow, but today I'm presenting at the Diversity and Inclusiveness Committee about equity inclusion for Fletcher students.  I completed classes in January, and starting next week I'll be working at USAID as a presidential appointee.  I'll be serving as a Congressional Liaison Officer, supporting Agency priorities on Africa and democracy, conflict and humanitarian assistance, meaning I'll be pushing for incentives that President Obama spearheaded, such as the Mandela Washington Fellowship.
Throughout this semester, while waiting for a security clearance, I've been embraced by the community and supported as I navigate my transition into the professional world.  The administration has been especially supportive as I completed my capstone.  I've continued to build on my relationships with students and also continued to work on ongoing student efforts to promote diversity and inclusion in line with the Fletcher Strategic Plan.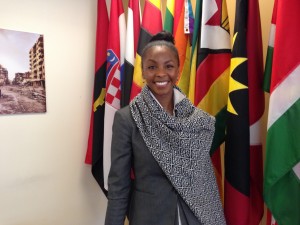 By then, an hour had passed and it was time for Kristen and me to return to our day-to-day work.  We only managed one blog trip to the Hall of Flags in 2014-15, but we'll be back, hopefully more than once, next year.