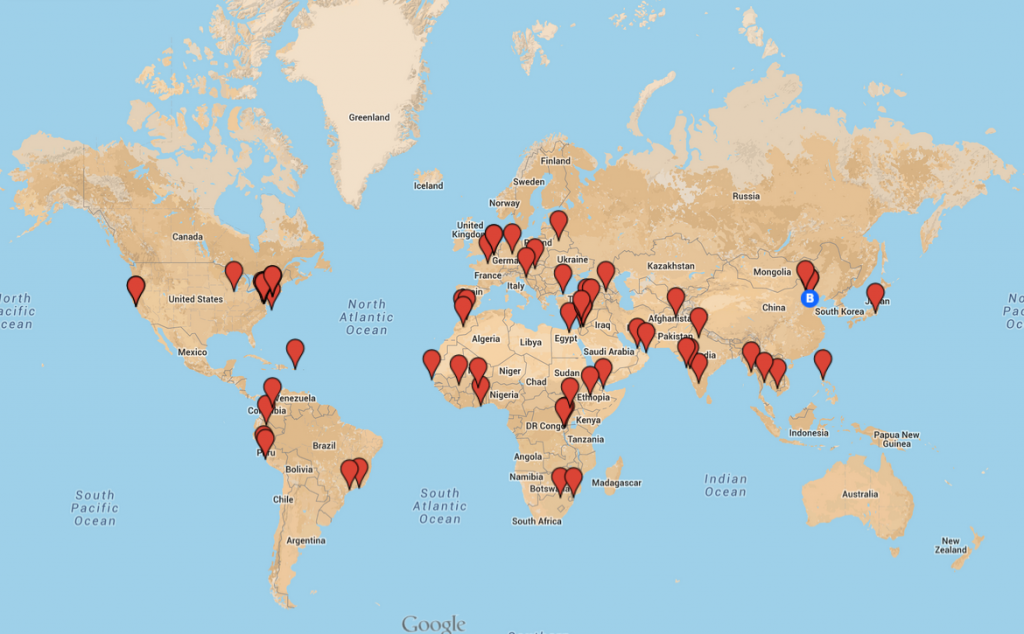 To keep track of each other's whereabouts, students created and populated this map with their summer internship destinations.  While not covering the complete planet, they're certainly spread far and wide.
The biggest group will be found in Washington, DC, though they'll be distributed across sectors, organizations, and agencies, including:
Department of Defense
Department of State (various divisions)
Catholic Relief Service
Nathan Associates
U.S. Trade and Development Agency
Middle East Institute
Delegation of the European Union, Trade Division
Save the Children International; Education/Child Protection Division
Center for Civilians in Conflict
Center for Strategic and International Studies (CSIS)
Internet Education Foundation, Google Policy Fellowship
Catholic Relief Services
There's a surprising little cluster in the Bay Area (San Francisco) at:
Concur Inc., Environmental Conflict Resolution
Gap Inc., Supply Chain Division
Allison+Partners, Global China Practice
Beyond those friendly groupings (lunch, anyone?), other selected internship sites include:
United Nations and other international organizations
International Labour Organisation, Regional Decent Work Team for North Africa, Egypt
UN Women Headquarters, NY
UNRWA, Jordan
UN Department for Peacekeeping Operations, NY
UN Office of Sustainable Development, Seoul, Korea
UN Action for Cooperation against Trafficking in Persons (UN-ACT), Bangkok, Thailand
Asian Development Bank, Manila, Philippines
European Parliament, EPP on Committee for Strategic Dialogue with the U.S., Brussels
International Committee of the Red Cross, Senegal
U.S. Government, outside of the U.S.
U.S. Embassy, Ouagadougou
U.S. Mission to the European Union, Foreign Commercial Service
USAID Ethiopia
USAID Maputo, Mozambique
USAID, GIS Fellow, Lima, Peru,
Department of State, Beijing
NGOs, large and small
Manos de Madres, Kigali, Rwanda, M&E internship
International Crisis Group, Beijing
Faire Collection, Otavalo, Ecuador
Center for Democratic Development, Nigeria
Accion, Bangalore
The Asia Foundation, Dili, Timor-Leste
Impact Investing, Lima, Peru
Danish Refugee Council, Turkey
China Foundation Center, Beijing
Center for Democratic Development, Ghana
Danish Demining Group, Juba, South Sudan
The Awethu Project, South Africa
Mercy Corps, DME intern, Mali
Development Innovations, Phnom Penh, Cambodia
Resonate, Kigali, Rwanda
The Akanksha Foundation, AIF Fellowship, Pune, India
The Advocacy Project, Peace Fellow, Lima Peru
Private sector organizations
Johnson & Johnson, Marketing Division, Tokyo
Scholastic, NY
Ernst & Young, Chicago
A.T. Kearney, Dubai
The ASG Companies, NY
And some others that I wasn't sure how to characterize:
NATO Defense College, Rome
Legal Aid Clinic, University of Namibia Law School
Economena Analytics, Lebanon
This is not a comprehensive list, and the information each student added to the location pins wasn't consistent, but I hope the message is clear.  Students pursue a wide variety of internships and they may be found anywhere in the world.