On Friday, I sought inspiration from blog readers via a one-question survey and, as I had hoped, you delivered.  I now have fresh topics that I know will meet the needs of at least one reader each (and, I hope, more than that).  The first suggested topic I will take on is: Can you discuss the interview for the Fletcher School?  What will it cover and how should we prepare for it?
Let's start with the basics.  To sign up for an interview, go to our online schedule, where you'll see available appointments for both on-campus and Skype interviews.  Are you an Early Notification applicant?  So long as you complete your interview by Tuesday, November 24, we will ensure that the interview report will catch up with your application before the application review is complete.  (Yes, we usually recommend interviewing before submitting the application, but you can trust me that this will work.)  I hope that prospective students within about 200 miles will take the time to come to campus (a visit is still much more informative than a Skype interview), but we are excited about the number of locations from which applicants have been able to Skype in.  As I wrote earlier this semester, the Skype interviews have been an experiment, and now I can say that they have been largely successful.  (What hasn't succeeded?  We're never going to fix all technology problems, so instead we will make sure everyone's expectations are in line with internet reality.)
I suppose we shouldn't have been surprised that the Skype interviews have been very popular.  To accommodate last-minute Early Notification interviewees, I will tweak the calendar this week to add additional Skype interviews for next week and the week after.  If you haven't been able to book an interview on a day that suits you, check again later this week.
Beyond the basics, then, how should you prepare for your Fletcher interview.  To register for a Skype interview, you will need to upload a résumé.  If you are coming over for an on-campus interview, please remember to bring your résumé with you.  We suggest business casual clothing.  Our student interviewers always appreciate an applicant's professional approach to the interview appointment.  For further details on what to expect, I'm going to share the information that all interviewees receive once they have scheduled an appointment.  In our confirmation email, we note: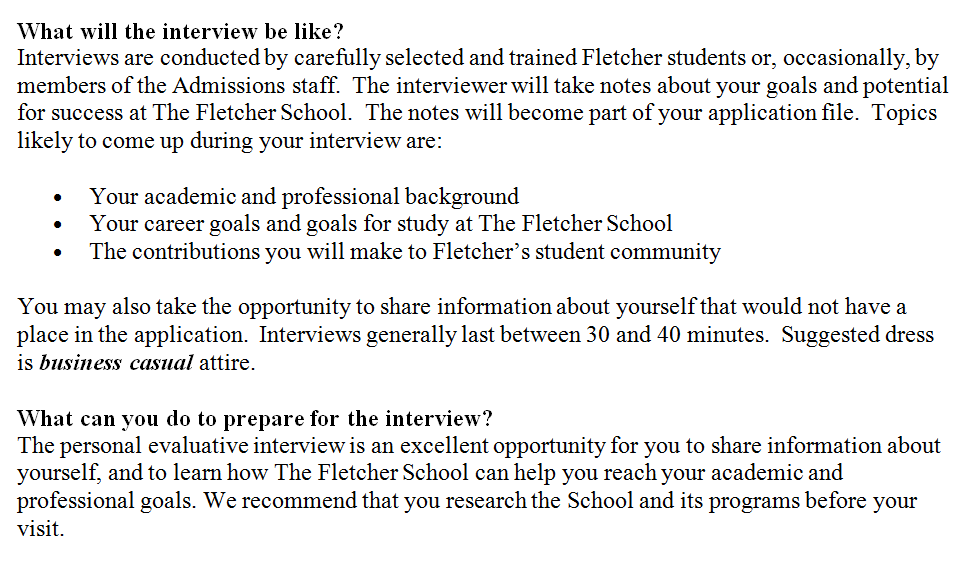 There's one last important point that I need to emphasize.  Fletcher interviews are offered through December 11.  That is, the last day of the interview schedule falls nearly a month before the application deadline.  We are well aware that other schools/programs do things differently, but if you are interested in a Fletcher interview, now is the time to sign up for one.
I hope this information is helpful to at least the person who requested it.  Keep those suggestions coming on the survey and I'll respond to as many as I can in the coming weeks.