It's a dog's life: Murray's reading day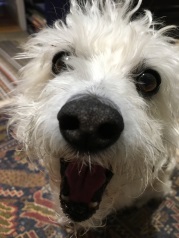 Technically, Murray is not a member of the Admissions staff.  But he is the good friend (and dog) of Dan, who is.  Murray has had many opportunities to observe Dan reading applications.  Last year and once before, Dan wrote about spending a day with both applications and a dog who might want to be out and about.  Today, Murray shares his perspective on a day reading applications.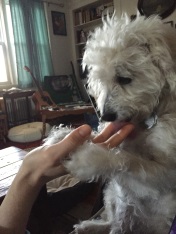 On a normal day the man lets me out into the backyard when I wake up.  He says it's "to help the grass grow," but that's not what I do out there.  Then he leaves.  I go back to sleep.  I usually have a full schedule with a lot of sleeping to take care of, so it's good for me to get to it early.  Today isn't a normal day.  The man is still here.  He looks like he has sleep he needs to take care of, too, but he sits at a table with a computer instead.  I think it's probably another way of sleeping because he doesn't say very much.  He hasn't even licked his hand yet, but I can take care of that.  Teamwork.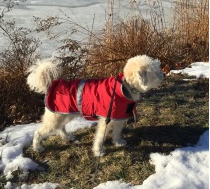 The man thinks I'm stupid because my brain is the size of a walnut, but I know he's "reading applications."  I don't know what that is, though.  I DO know that he gets an hour, at most, before he's taking me outside, whether he likes it or not.  Take me outside!
Here's the thing – I have to wear this embarrassing jacket.  If the man is going to make me wear it, we should stay outside for at least six hours, which I think is fair.  Look how totally sunny it is!  The man can easily "read applications" outside while I smell things, and look at things.  And smell things.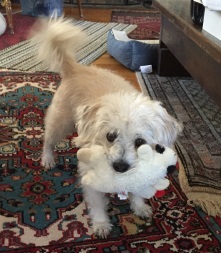 But like I said, I have a busy work day.  This toy won't kill itself, so I have to take care of that, which means I probably won't get all the sleep done I'm supposed to.  Sleeping is a core part of my job description, so I have to make time.  Sometimes it feels like there aren't enough hours in the day.
The man has stayed at home like this a few times before, and I've heard him say what he looks for on these days are "strong academics," "international exposure," "professional experience," and "a clear sense of interest and goals."  I don't know what those words mean, but my guess is they're food.  I have to think about the most important foods a lot, too, so it makes sense that the man does the same thing.  The things I look for in a day are beef, pork, lamb, chicken, and turkey.  And meat.  If a day has those things, there's a good chance I'll eat them!
Like I said, not enough hours in the day. It makes me tired just thinking about it.