Adnan: Singing, dancing, and eating apple pie at Culture Nights
I'm always amazed and impressed at how Fletcher students organize their lives.  They all have a full slate of academic commitments, but they also want to engage with the community in many ways.  For student blogger Adnan, the School's traditional "culture nights" have been a highlight throughout the year.
On an April weekend evening, for the first time in my life, I stuck my face in a pie.  It felt funny, but tasted really good.  Sadly, there was no time to savor the chunky apple filling because I only had a minute to eat as much of it as I could — without using my hands — as my friends watched and cheered.  While struggling to finish, I learned an important lesson: having dinner before entering a pie-eating contest is not the best idea.  (In my defense, the barbequed chicken, mac and cheese, and corn bread served earlier were hard to resist.)  I lost, but the experience is one I will likely remember fondly for many years to come.  A few minutes later, I was all cleaned up and back on stage for my first-ever swing dance performance, which was reminiscent of scenes from the 1978 Hollywood blockbuster, Grease.  April is a particularly busy time of the year, so I hardly had time to practice, but a few lessons from my very talented classmates made me performance-worthy.  Or so I hope.  And thankfully, the motion didn't trigger my digestive tract into reverse action.
Like the four culture nights before it, Americana Night, the last one for the year, was a huge success.  Culture nights have been one of the highlights of my Fletcher experience, and I'm proud to have performed in all but one of them.  Performances feature students in dances, songs, fashion shows, poetry recitals, trivia quizzes, and skits that give their classmates a glimpse of the region being honored.  And the variety of ethnic food that's served gets us lined up in a queue that often wraps the entire venue.  The year kicked off with Asia Night in October.  Given the region's rich diversity, the evening's entertainment ranged from Indonesian pop songs to classical Nepalese dance.  I participated in a Bollywood dance segment, and it was heartening to see the enthusiasm with which my international friends learned each step.  Their bhangra moves would easily put many of my friends back home in Pakistan to shame.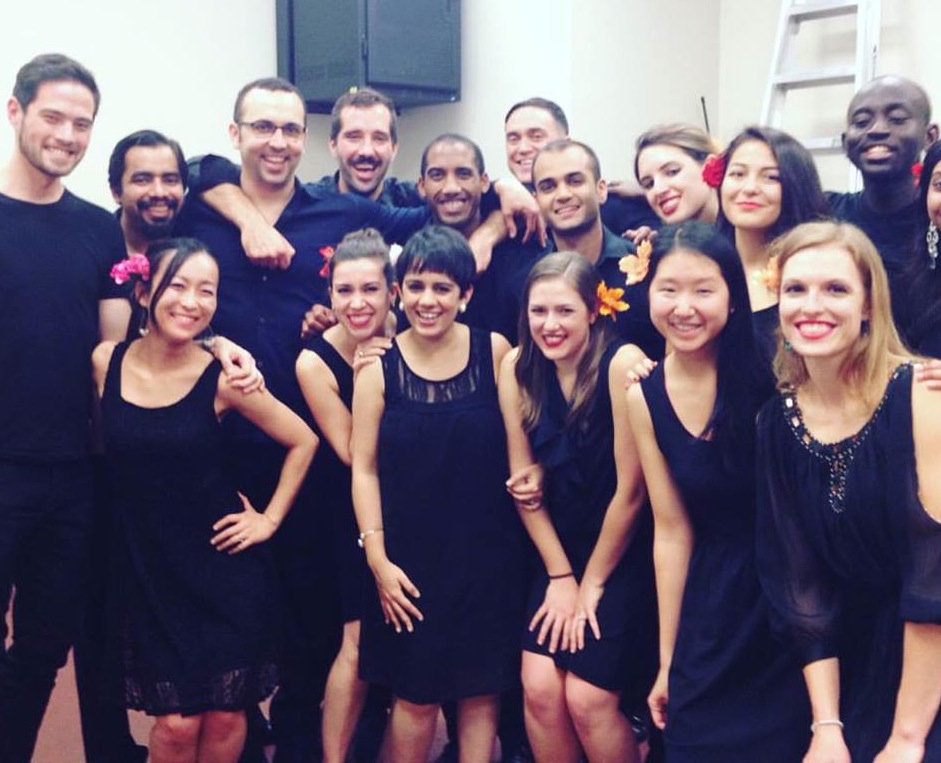 Fiesta Latina in November was my personal favorite because I got to learn salsa.  It's something I had always wanted to do, so I was particularly diligent about practice, and ended up performing better than I had expected.
Mediterranean & European Night in February saw performances ranging from flamenco and belly dance to dabke, hora, and even a chest-hair competition.  I sang a French pop song with a group of Francophone friends.  People who asked me afterward were surprised to learn that I don't speak French.  At Africana Night in March, it was good to only be a part of the audience for a change and watch my classmates perform dances like batuku and kuduro while enjoying goat curry and injera.
Not only do culture nights celebrate the diversity of our community in a manner that is inclusive and fun, they're a Fletcher tradition that reflects the school's spirit like few other events do.  On the one hand students take ownership of the cultural traditions they are most familiar with to ensure things are done right; on the other, they sign up to learn whatever they find exciting.  Performance leaders generously lend their time to teach and practice with their peers until they're ready to be on stage.  We also lend and borrow ethnic clothing items to help each other build outfits and costumes for performances.  In many ways, culture nights embody what Fletcher represents: learning through engaging and sharing, and having a good time doing it.