Adnan's summer in NY at UNICEF
Our final summer report from the writers in the blog's Student Stories feature comes from Adnan, who spent two months 200 miles from Fletcher.
Yes, you've heard that the interests and experiences of Fletcher's student body are diverse.  (We love that about us, and even within the Master of Arts in Law and Diplomacy program, often call ourselves Peace MALDs, War MALDs, Business/Money MALDs, or Skills MALDs to highlight our various specialties.)  But you won't truly appreciate our eclecticism until you hear about the places we go during the summer.  From volunteering for refugees in Greece and doing development work in Ghana to interning at NATO's office in Italy and the State Department in DC, my classmates were scattered across the globe between mid-May and end-August.  Though my own internship took me only 200 miles from Boston, it gave me an around-the-world, Fletcher-like experience.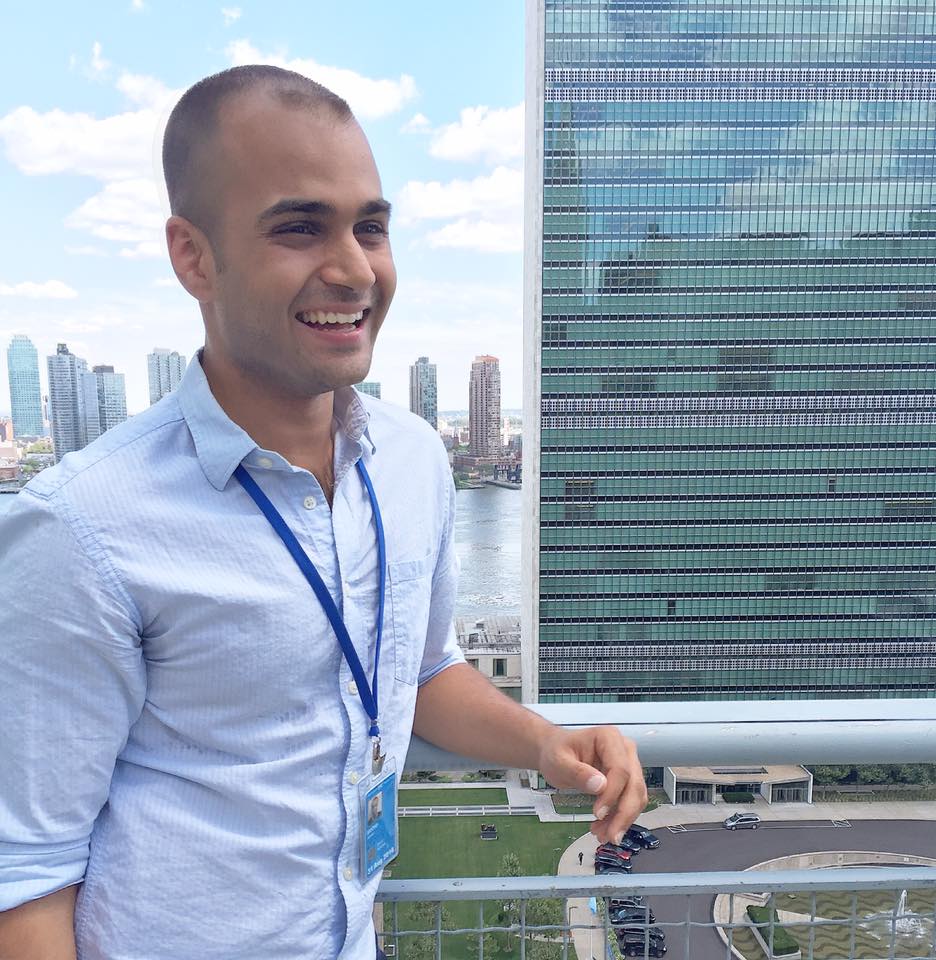 UNICEF's Headquarters in New York is where I interned for two months this summer.  I worked in the New Talent Unit of the Division of Human Resources where I assisted the New and Emerging Talent Initiative team as they prepared to launch their recruitment campaign in August.  Now in its ninth year, NETI is UNICEF's professional development program that offers opportunities in various functional areas at duty stations around the world.  I helped the NETI team with outreach and with developing a communication strategy.  This included drafting and monitoring targeted ad campaigns for NETI job openings on Twitter, LinkedIn and Google Ads, which I particularly enjoyed.  My job also included writing content for and managing NETI's internal website and social media pages, and preparing documents for performance reviews of current NETI candidates.
A lot of what I did was linked to my prior work experience in journalism and to my International Information and Communication Field of Study at Fletcher, so my internship allowed me to further develop my skills and add a new perspective.  I also benefited tremendously from working closely with a small team as it gave me greater responsibility and the opportunity to be fully engaged while I gained insight on human resources, UNICEF, and the UN at large.  Being at Headquarters provides interns considerable access to networking opportunities with UN staff, and to a fairly diverse set of events.  I was lucky to be able to attend the first-ever townhall meeting with the candidates running for Secretary General of the UN; the World Humanitarian Day event which included moving speeches by a Syrian refugee family and by Nigerian novelist Chimamanda Adichie; and a concert by the Oscar winning composer A.R. Rahman on India's Independence Day, a pass that I got minutes before the show.
When my friends asked me about my internship, I'd tell them it was like being back at Fletcher.  My colleagues were all from different countries and the work environment was very congenial.  Furthermore, I was surrounded by equally diverse fellow interns who were wonderful to hang out with.  Sounds familiar, no?  And Fletcher is indeed everywhere.  I connected with a number of alumni working at the UN who were very generous with their time and advice.  Additionally, about a dozen of my classmates were interning in New York, too — at UN agencies and elsewhere — and a bunch of 2016 grads had also moved to the city to start or look for jobs.  We met up often to explore everything that New York has to offer, and it was always great fun!  Overall, my summer was a rewarding experience, both professionally and personally, and I wouldn't have had it any other way