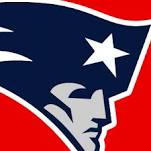 So I'm sitting at the computer and, you know, reading applications while there's a football game broadcast playing quietly in the background.  I switch over to watch the halftime show and then go back to what I'm doing.  Eventually, I realize that the hometown New England Patriots are really in a hole (a 25-point hole, to be precise), so I decide that my listening to the game is bringing them bad luck.  Maybe switching the game off will turn things around!
Some time after 11:00, I hear some cars honking.  What?  Could those be celebratory honks?  And could my timely actions have brought the Pats a win?  Why, yes!
Or maybe it was quarterback Tom Brady and coach Bill Belichick, or whatever.  Either way, there are a lot of happy football fans around here today.  You can recognize them from their tired game-ran-late eyes.
Boston is an insatiable sports town.  Between our beloved Red Sox (baseball), Bruins (ice hockey), and Celtics (basketball) and the Patriots (loved locally but perhaps not universally), we have experienced incredible championship success since 2000.  And yet, there's still enthusiasm for another game and another win.  Congratulations to the Pats and all their fans!