Q&A with Cindy: Transportation tips and tricks
Returning to the Fletcher Admissions inbox and the many questions within, Admissions Graduate Assistant Cindy tackles a student life question.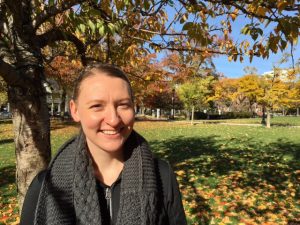 New Fletcher students often wonder how they'll get around town without access to a car.  Have no fear!  There are plenty of options available for you to get to and from campus, and also ways for you to get to popular areas in neighboring cities.
Many students live within walking distance of the campus.  Depending on where you live, you might be separated from campus by a small hill, but students who live within walking distance are usually happy with their choice.
For those who live further afield, taking public transportation is the most common way to get around.  There are dozens of bus lines throughout the Greater Boston area, and it is relatively easy to check out the MBTA (Massachusetts Bay Transportation Authority) website and figure out the best routes to take from any location.  The bus routes that come onto the Tufts campus are the 80,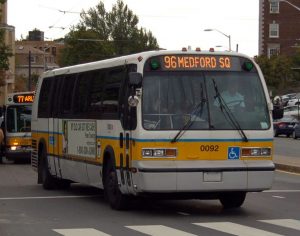 94, and 96.
Although it doesn't come directly onto campus, the best option to go from Tufts to downtown Boston is the MBTA subway train — which everyone calls the "T" — from nearby Davis Square.  It takes about 20 minutes to reach the center of Boston, and along the way there are four stops in Cambridge, for those wanting to visit Harvard or MIT.  The option to take a bus or subway definitely expands the circle of convenient places to live.
Be on the lookout at the beginning of each semester for a notification from Tufts about purchasing a "Charlie Card."  Students are eligible to purchase a discounted bus-only or bus/train pass at the beginning of each semester, which gives you unlimited rides.  Taking the bus or train expands the circle of convenient places to live.
If you would like to cut down on your walking and public transportation time, a great option is to bike to and from Fletcher and around the area.  It is definitely a cheaper way to go, and there are plenty of places to store your bike on campus.  If you are worried about the safety of your bike, I recommend purchasing a U-Lock and registering the bike with the Tufts Police Department.
If you do have access to a car, students can purchase a decal permit for parking on campus.  Parking is limited, however, and students may only park in designated areas around the Tufts campus, so many students think it's best not to have a car.  If you're in a pinch and need to get somewhere quick, Uber and Lyft are great resources, and they may provide discounted rates for students in areas near the Tufts campus.  This is a good option if you are cross-registering for a class at Harvard and happen to miss the bus one day.  The campus also has several Zipcars that you can borrow, if you have a Zipcar membership.  There's even a Zipcar in the parking lot directly behind Blakeley Hall dormitory.
Last, but not least, Tufts offers a shuttle service, nicknamed the "Joey."  You can grab the Joey right near Fletcher and take it to Davis Square.  It also makes several stops on the Tufts campus.
Despite the usual urban-area traffic, it's pretty easy to get around the Medford/Somerville/Boston area.  Once you have lived here for a little while, you will figure out the best way to get to and from campus, and you'll travel like a pro!