This has been an exciting week for Fletcher entrepreneurs and competitors.  Participation in business competitions, both in our local area and beyond, has been an increasingly common aspect of the graduate school experience for many Fletcher students, and 2017 brought some noteworthy successes.  Here's a run-down of the wins that students have achieved after a year of preparation for end-of-year competitions.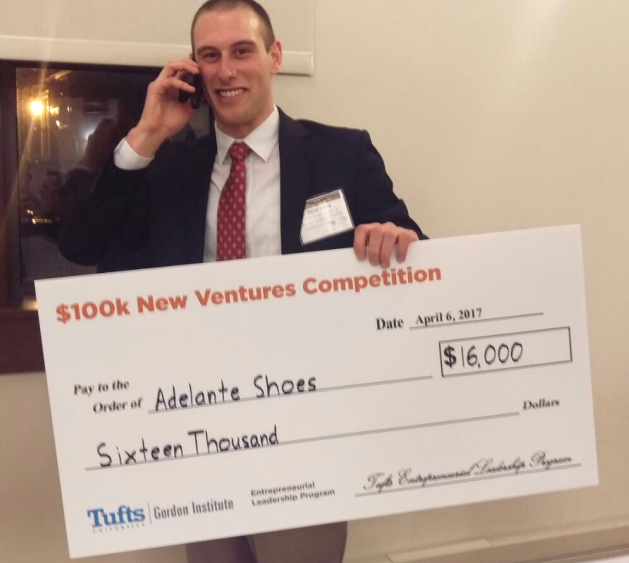 First, in Tufts University's own $100K New Ventures Competition, Peter Sacco, F17 has taken first place in the $50K Social Impact track for Adelante Shoes, winning $16K in cash and the remainder coming from in-kind services.  Adelante is also a 2016 Ideas Competition winner.  Peter has pioneered a new Living Well social impact model right here at Fletcher.
Even more locally, Meghan Li, F18, is the 2017 Fletcher D-Prize winner for her fintech nonprofit ComeonGirls, and she has won $10K plus in-kind mentoring and support worth up to $20K to spend the summer "interning" with her start up.  She will be piloting her scholarship platform on WeChat, matching donors in China with deserving girls in rural Western China.
And, shifting back to the Tufts $100K, Daphne Warlamis, F17 and her team at Lithio Storage took third place in the General/High Tech Ventures track.
Finally, exciting news for a Fletcher team that has taken second place in the in the highly selective, international MBA Impact Investing Network & Training (MIINT) Competition at the Wharton School.  The Fletcher team beat out top MBA programs such as NYU-Stern, Columbia, and Dartmouth-Tuck to receive up to $25K for their agtech startup.  The Fletcher team members, all due to graduate in May 2017, are McKenzie Smith, Michael Cretz, Mayu Tanaka, Alex Chamberlin, and Ashraya Dixit.  That's McKenzie, our student blogger!
This is quite a testament to the growing focus on entrepreneurship here at Fletcher!  Congratulations to all the Fletcher entrepreneurs and competitors.