Study Days in the Hall of Flags
Why would anyone put off doing something really enjoyable?  Though that remains one of the great imponderables, the fact is that Kristen and I love hanging out in the Hall of Flags and chatting with the folks who pass by.  And you can be sure that someone will be there, nearly any time of day.  Nonetheless, the entire academic year passed before, on one of the pre-exams "study days," we finally planted ourselves by the front "welcome desk" and snagged students and professors as they went from A to B.  We asked each of our conversation partners to tell us something great about their year.
On the particular day we were there, we happened to catch a disproportionate number of MIB students.  Also, it was the day when the recipient of the 2016-2017 Paddock Teaching Award had just been announced, and Professor Patrick Schena was on everyone's mind.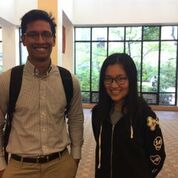 Auyon and Coco, both second-year MIBs
Coco: The most amazing fact about Fletcher life is our access to faculty, for example Bhaskar Chakravorti and Professor Schena.  All the professors are so friendly and so nice and accessible, and I don't think that's a kind of experience that I could get elsewhere.
(Note that Coco will soon start a job that resulted from a project she completed in her consulting class.  Also, she has three papers due and Corporate Social Responsibility is the first on the list.)
Auyon: I would echo what Coco said.  For me, it's also Professor Schena — I took a class with him, he's the one who helped me get an internship, and he's my capstone advisor.  I enjoyed Professor Jacque's classes a lot, as well as Professor Schaffner's Econometrics class.  I was dreading it at first, but I really appreciate her approach to the material.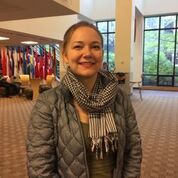 Callie, first-year MALD

I live in Blakeley Hall and I've made a group of really really amazing friends, and a great community.  I even met my boyfriend, who also lives in Blakeley.
(Callie was taking a break, while writing a paper for her International Communication class.  Blakeley has been identified as a rich source of Fletcher couples.)

Anurag, mid-career MA student
(Anurag referred us to this page when we asked for a photograph.)
It's different for us mid-career students because we come in with very substantial experience, in my case 14 to 15 years of experience.  There was a panel that MA students organized last fall, where we spoke about our careers and our collective experience.  The people who attended found it very useful.  Students like us are available and we offer our best advice.  With 15 years of experience in the field, you do learn about life.
I've been focused on general management and finance-related courses, both here and at HBS (Harvard Business School).  That's a wonderful thing about Fletcher, being able to take HBS courses.  I already have an MBA degree, but still I learned a lot here.  At Fletcher, I took Islamic Banking and Finance, and with a world-renowned professor — that's not something you'll find in many places.
I have two finals and two papers pending.  One final is in economics.  I'm not an economist, so I'll do a lot of studying for that.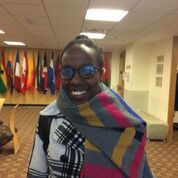 Faith, first-year MALD

I think the best experience has been to meet and be roommates with people from all over the world, and to be able to go home after school and keep the conversation going.  Not even in terms of country perspective, but also what people study.  We all met a little randomly.  I have a roommate who studies gender and now I realize I don't know gender, and I need to take a class to be able to understand it.  It's being able to learn as much when we're out of class as when we're in class.
Today I'm preparing a presentation for the government of Estonia, for the consulting class.  I'm meeting with Ali to talk about the presentation for the Estonian government on Friday.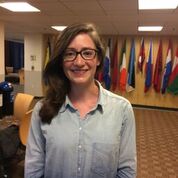 Ali, second-year MIB (here to meet with Faith)

What's top of my list today is last night's Fletcher Follies, which is an annual event where students show homemade videos about their experience at Fletcher.  We gather, we watch them together, and then they're immediately erased from the record.  They were hilarious!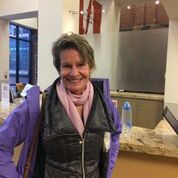 Professor Kimberly Wilson
I'm excited about FSIG (Fletcher Social Investment Group) and we're discussing incorporating it into my class Market Approaches to Development.  So I'm looking forward to that, both using some of their methods and maybe we can integrate some of the clients in the class, too.
I'll be working increasingly with refugee and migrant populations in terms of my research.  What we're trying to do is what Eileen Babbitt calls "building a wider bench."  We're trying to be sort of a magnet, trying to create a positioning for Fletcher.
Before heading back to our desks, Kristen and I paused to chat with a group that had gathered and had an unusual number of markers on their table.  You'll recognize student blogger McKenzie, I'm sure.
Michael (second-year MIB), McKenzie (second-year MIB), Alexandra (first-year MALD), and Ashray (first-year MIB), AKA the Fletcher MIINT Team!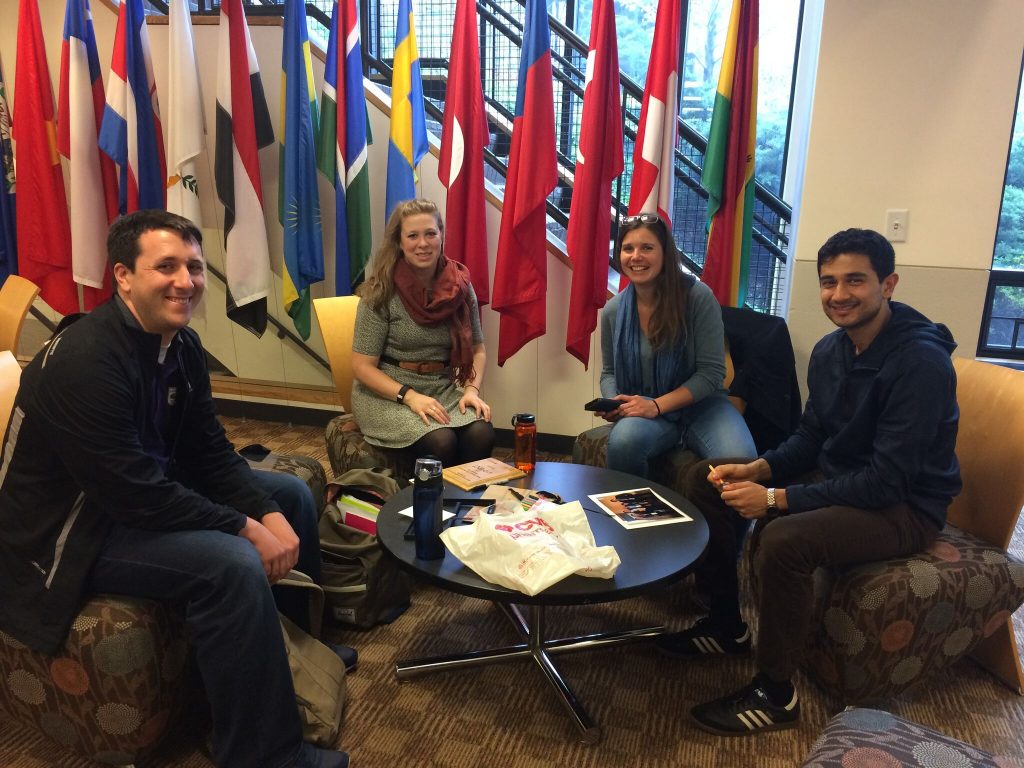 We're signing a photo from our MIINT win for Professor Schena.  We were talking about bringing him a souvenir from Philly, and our souvenir turned out to be the plaque for the win.
And with that, our annual blog foray to the Hall of Flags was over.  We made our annual pledge to spend more time there next year, though it remains to be seen whether we'll succeed in organizing ourselves to do so.