Mariya's summer start in Taiwan
Student blogger Mariya, who will soon start her second year in the MALD program, has filed an early report on her summer, starting with the first phase of her multi-country experience in Asia.
After a short visit home, my summer started with a stint on the other side of the world.  In late March, I was accepted to the Mosaic Taiwan Fellowship, an all-expense paid two-week cultural exchange program sponsored by the Ministry of Foreign Affairs of the Republic of China that "provides young U.S. and Canadian students and professionals an opportunity to explore Taiwan through workshops, lectures, home stays, historic site visits and extensive cultural immersion activities."
I found out about this opportunity through a former Fletcher participant who advertised it on the Social List over winter break.  Although I had a summer internship lined up at the U.S. Embassy Bangkok via the Pickering Fellowship, I decided to try my luck and squeeze in the Mosaic Fellowship before departing to Thailand.  Thanks to Professor Ian Johnstone who wrote my letter of recommendation, I was able to secure this fellowship.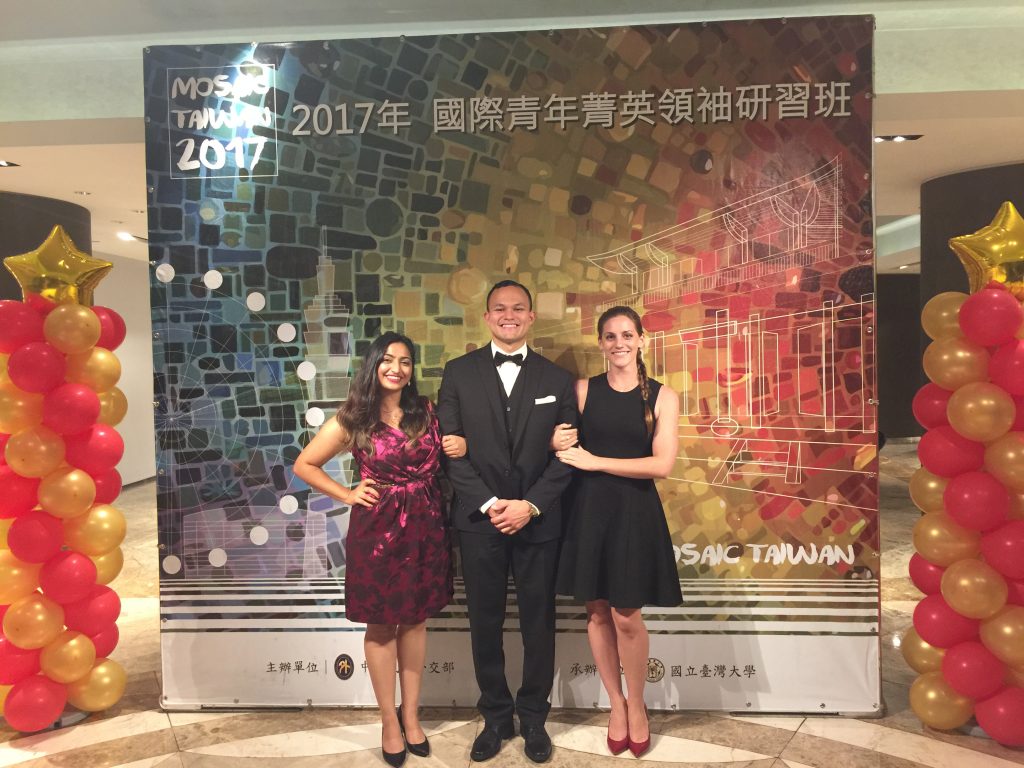 I was very excited to learn that two of my Fletcher friends – Alexis and Meredith – were also selected to participate.  A Boston-based Taiwan diplomat told us over a pre-departure lunch in Davis Square that three students from one school was quite rare because the ministry tries to optimize its outreach by selecting one student per school.  I guess Fletcher kids just blew them away with strong applications!
It was my first time traveling to East Asia, and Taiwan was a wonderful introduction.  The Mosaic Taiwan program was well-organized, engaging, and eye-opening.  Our agenda was jam-packed with activities, starting at 8:00 a.m. every day and ending around 8:00 p.m.  The experience was enriched by the other participants — 25 Americans from across the United States and five Canadians — all of whom brought a unique perspective to the program.  And of course, it wouldn't be an international trip without a Fletcher connection: a recent Fletcher graduate connected us to his parents who kindly treated us to dinner.
Here is a snapshot of what we were up to for two weeks:
Tours: We got a feel for Taipei through a city tour that shed light on the history and culture, Japanese-style buildings, and early churches.  We also toured street markets where we tried the famed delicacy "stinky tofu," miscellaneous chicken parts, exotic fried seafood such as octopus and squid balls, and for those who could indulge, pork blood popsicles.
Site Visits: We visited landmarks such as the Taipei 101 Financial Tower, National Chiang Kai-shek Memorial Hall, Chimei Museum, and National Palace Museum.  We also visited the American Institute of Taiwan (AIT) as well as the Foreign Ministry.
Lectures: There was an emphasis on the educational component of this trip.  We attended lectures on topics including Taiwan-U.S. relations, cross-strait relations, defense policy, economic and energy polices, and healthcare.  These lectures enhanced my understanding of how regional history has shaped present-day Taiwan.  They also broadened my perspective on East Asian geopolitics.
Workshops: The program had an equal balance of hands-on activities.  We learned Chinese calligraphy with brushes (my favorite workshop); carved bamboo sticks to design harmonicas; hand made zongzi (rice and beans stuffed in large flat bamboo leaves) in a small village; kickboxed each other during martial arts; and wrote tea-making songs with the traditional sio-po-kua rhythm.
Overnight Trip: We took a high-speed railway to the southern city of Tainan, where we learned about Taiwan's efforts to protect its natural resources.  We took a boat tour of Taijiang National Park and visited Fort Zeelandia and AnPing Tree House.
Local Organizations: Whereas the lectures gave us an overview of the island's history and current affairs, and the workshops immersed us in Taiwanese culture, it was the visits to local organizations and companies that gave us insight into Taiwan as a functioning modern society.  By meeting with leaders of Kaiser Pharmaceutical, Design School, XYZPrinting Company, and Garden of Hope Foundation (humanitarian), we learned about Taiwan's diverse industries and social efforts.  Exchanging views with students from the National Taiwan University was inspiring — the young people are very passionate about social and democratic progress in their country.  In fact, during our trip, Taiwan became the first in the region to legalize gay marriage.
Food: This was perhaps the most challenging aspect of the trip for me.  I am not a picky eater, but my dietary restrictions as a Muslim made it difficult for me to enjoy the meals, almost all of which included pork or were cooked in pork oil.  Still, I managed to indulge in seafood, fried rice, noodles, and vegetable soups and salads.
Group work: What made the Mosaic Taiwan fellowship so special was the collaborative component.  On day one, we all formed groups that became our official teams for the program.  At the fancy Opening Ceremony, the teams performed group chants for Taiwan representatives and Canadian and American government officials — we even made headlines in Taiwan Today.  Each group had a unique personality; my team, Love Taiwan, was voted "Most Enthusiastic."  The Closing Gala Ceremony was our final celebration, where we were recognized for our participation with an official award and we performed salsa dancing and sang an acapella song.
After this trip, I can truly understand why the Portuguese sailors called Taiwan "Ilha Formosa" (beautiful island) when they arrived at its shores in 1542.