Mariya: Embracing Change & Staying Busy
With the fall semester behind us, the Admissions Blog Student Stories writers are starting to report in.  Today we'll hear from Mariya, who kept herself more than busy throughout the semester.
Hello readers!  It has been a while since I last wrote.  Let me take a moment to update you about my life at Fletcher.  Traditional wisdom has it that your third semester at Fletcher is the hardest — this has certainly been true in my case.
For me this year has been about change.  Physically, I moved into new, smaller apartment two streets over from my previous home, and acquired two lovely roommates: Riya, an old friend from last year; and Misaki, a first-year student from the Japanese Foreign Ministry.  Academically, I decided to switch up my security and diplomatic history courses with finance and investment courses.  Thanks to the flexibility of a Fletcher curriculum, doing so was no problem. And personally, I am making conscious efforts for self-care, including making time for mindfulness and spirituality.  I am grateful to the Tufts Chaplaincy and Fletcher's meditation room, which have facilitated this growth.  Change is often stressful, but for me, it has been refreshing and beautiful.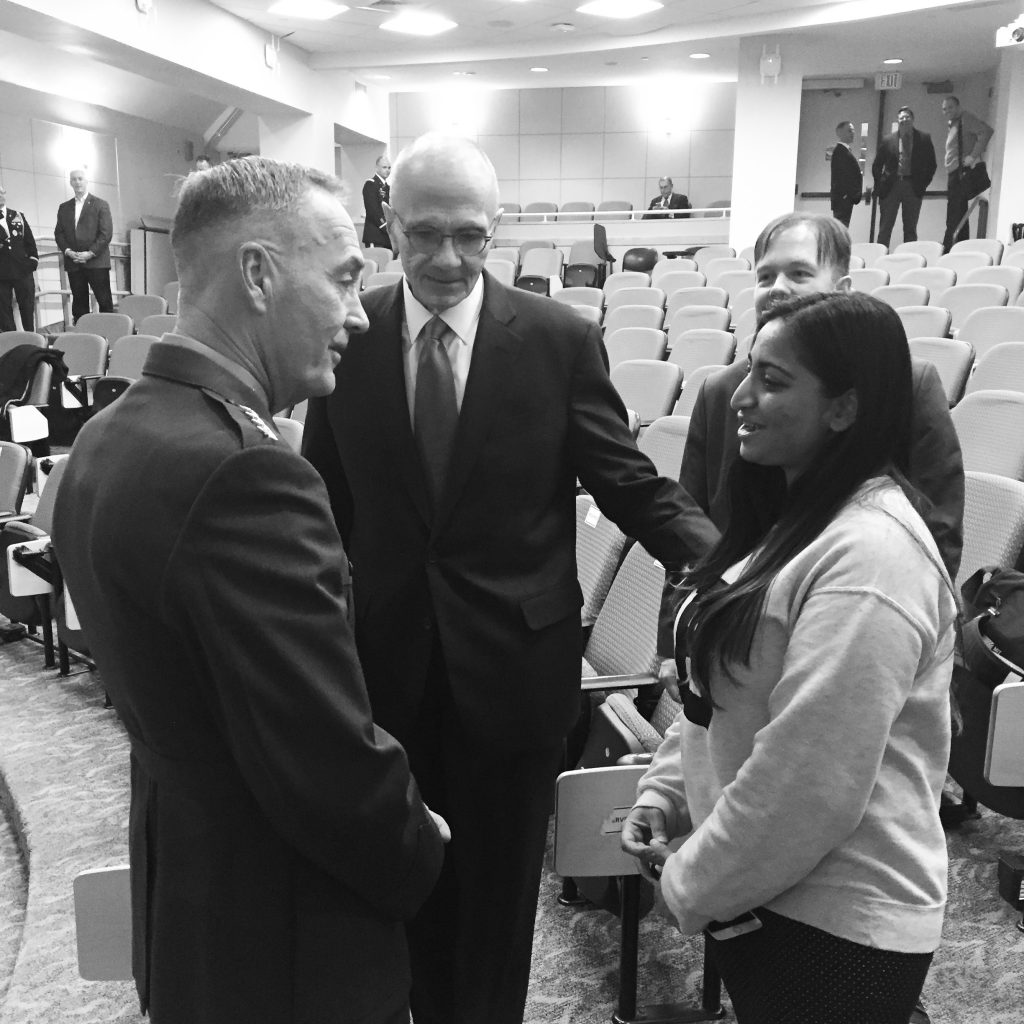 Earlier this semester, Fletcher alumnus and Chairman of the Joint Chiefs of Staff General Joseph Dunford came to campus for a talk.  He said something that particularly resonated with me.  "To be successful," he said, "surround yourself with good people."  As I reflect on my fall semester, I feel grateful to be surrounded by good people who share my passions, challenge and motivate me, and make me appreciate the Fletcher community all the more.
Here's a list of activities that have pushed me to new horizons — I hope it gives you a flavor for what a busy second-year MALD student looks like.
♦ Competing in a research challenge. Four peers and I submitted a 22-page report resulting from eight weeks of research, interviews, and model valuation for a medical device company as part of the Boston CFA Research Challenge.  Thanks to Professor Patrick Schena and mentor Cameron for their guidance and expertise.  We're hoping to advance to finals like last year's team!
♦ Serving as a TA.  I welcomed the quintessential graduate student experience: serving as the teaching assistant for an undergraduate course called "Peace Through Entrepreneurship," taught by Fletcher alumnus Steven Koltai.  It has been an absolute pleasure working with and learning from both the professor and the highly motivated students.  One of my favorite moments from class is teaching economic development theory.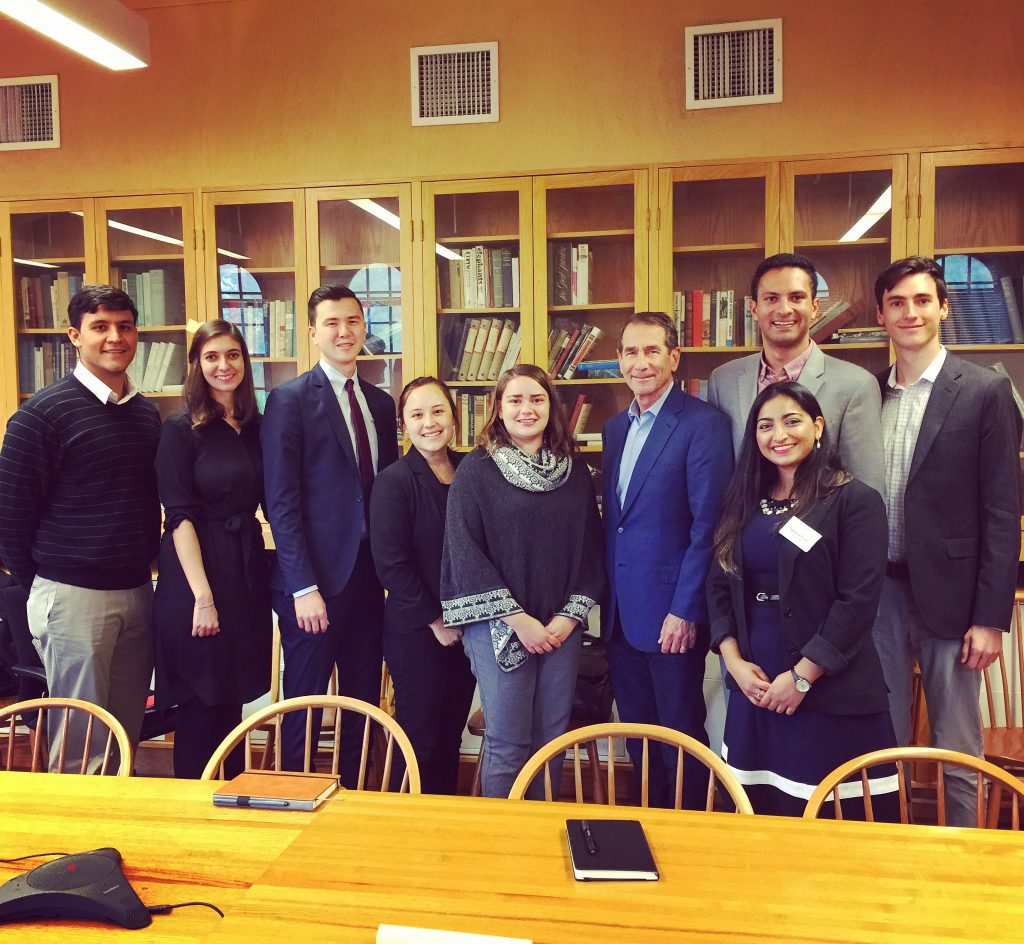 ♦ Staying hopeful. Former U.S. Ambassador to Spain and Andorra and now Dean of Tisch College Alan Solomont sat down with Fletcher's State Department Fellows (Rangel, Pickering, and Payne) and shared his experiences and advice.  His wisdom gave us hope to continue our chosen paths in diplomacy.
♦ Sharing ideas.  I am so proud of the Fletcher Islamic Society for hosting a number of impactful events this fall, including an ISSP luncheon with Fletcher alumnus Pakistani Ambassador to the U.S. Aizaz Chaudhry, a guest lecture on the Palestinian Diaspora, a panel discussion about intersectionality and diversity in the Muslim community at the Gender Conference, and most recently, a community dialogue on the Rohingya crisis in Myanmar.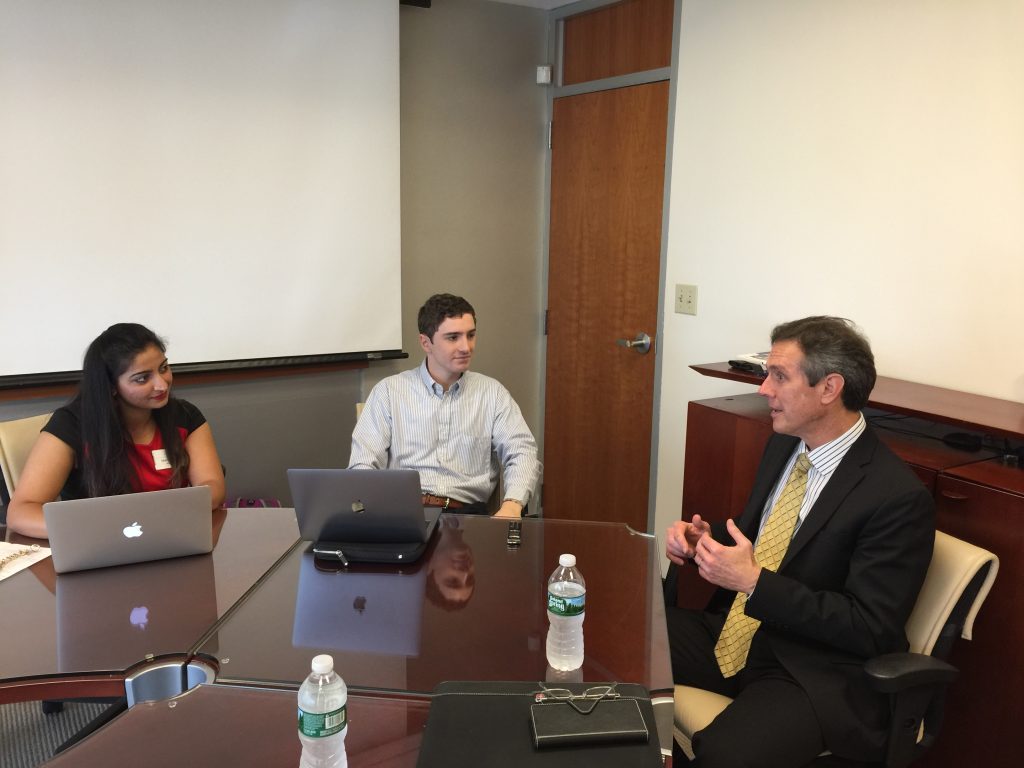 ♦ Interviewing leaders. What a privilege to sit down with Ambassador Chaudhry and with Sean Callahan, CEO of Catholic Relief Services, and interview them for The Fletcher Forum of World Affairs.
♦ Role playing.  "Representing" the Chinese defense ministry, I helped my team devise a strategy to effectively respond to the hypothetical unfolding crisis on the Korean Peninsula for this year's SIMULEX.
♦ Exchanging perspectives.  My "U.S.-Russia Relations" course, which Skypes with students at MGIMO university in Moscow, has given me an appreciation for the Russian perspective on world affairs.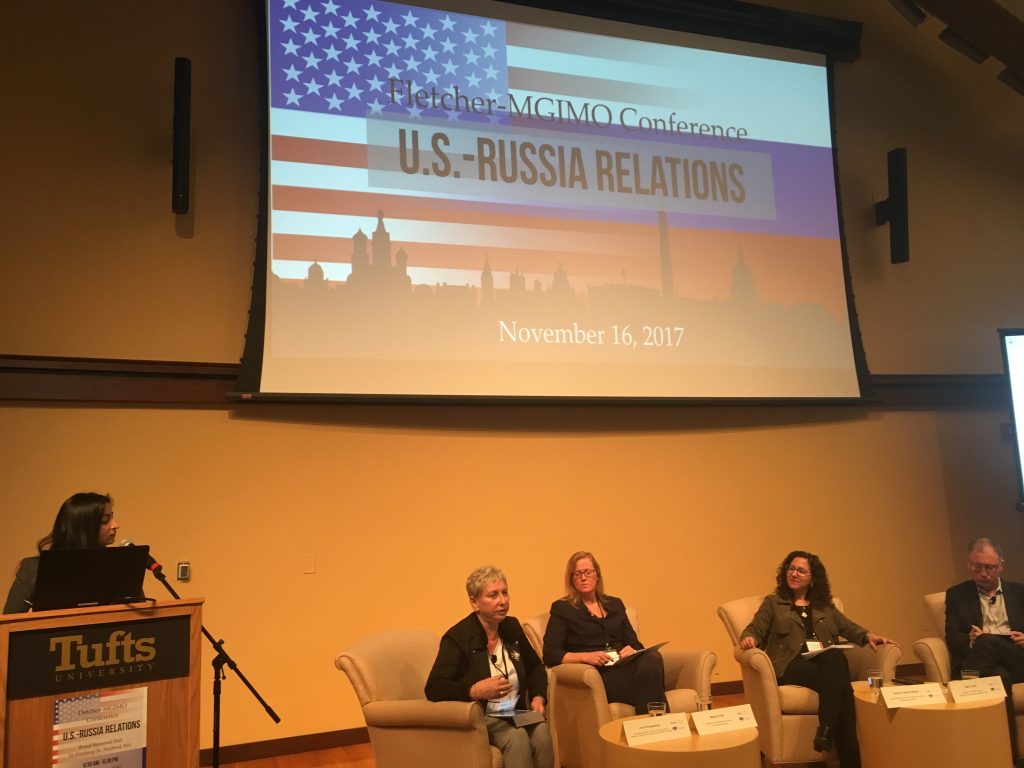 It was great fun to moderate a panel on the "Instability in the Middle East and the Threat from Radical Jihadism" at the Fletcher-MGIMO Conference on U.S.-Russia Relations.
♦ Learning from professionals.  In Professor Michele Malvesti's "National Security Decision Making" course, it was an honor to be in the presence of high-profile individuals who came to class as guest speakers to share their knowledge with us.  We had the privilege to learn from General Tony Thomas (Commander of U.S. Special Operations Command); Mr. Thomas Shankar (Assistant Washington Editor of the New York Times); The Honorable Derek Chollet (Former U.S. Assistant Secretary of Defense for International Security Affairs); and The Honorable Nicholas Rasmussen (Director of the National Counterterrorism Center).
♦ Leading a workshop.  Recognizing the importance of professionally marketing ideas, Pulkit and I led a "Blogging and Website Design Workshop" supported by the Ginn Library and the Murrow Center.
♦ Celebrating Diwali.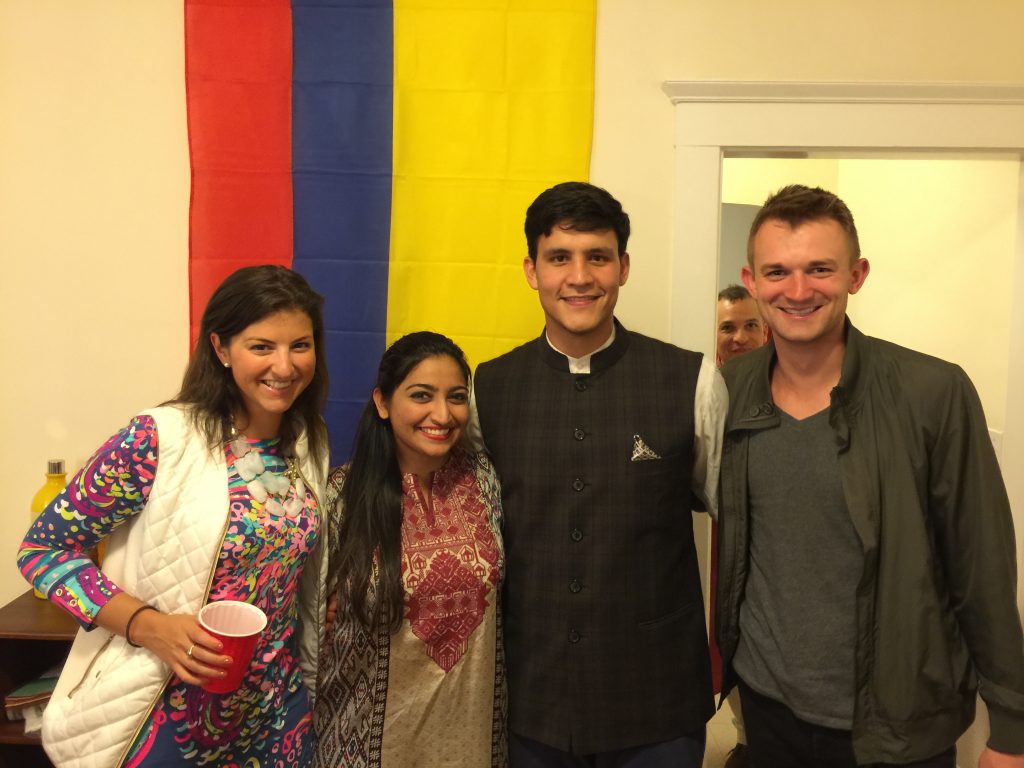 Dressed in salwar kameez, saris, and kurtas, Fletcher folks came together to celebrate Diwali, Hindu festival of lights.
♦ Meeting a celebrity.  It was inspiring to learn about Michael Dobbs' path from Fletcher to the House of Lords.  He was on campus for a two-week stint, teaching a leadership workshop, engaging in lectures and debates, and meeting students one-on-one.
♦ Cruising the Boston Harbor.  Thanks to a classmate's friend, about twenty of us enjoyed a BBQ lunch on a cruise boat in the Boston Harbor.  What fun!

♦ Sharing my experiences.  My summer in Bangkok affected me in more ways than one.  After reflecting on my faith journey, I decided to share my poem "Return to Spirituality" at the Winter Recital in the Goddard Chapel earlier this month.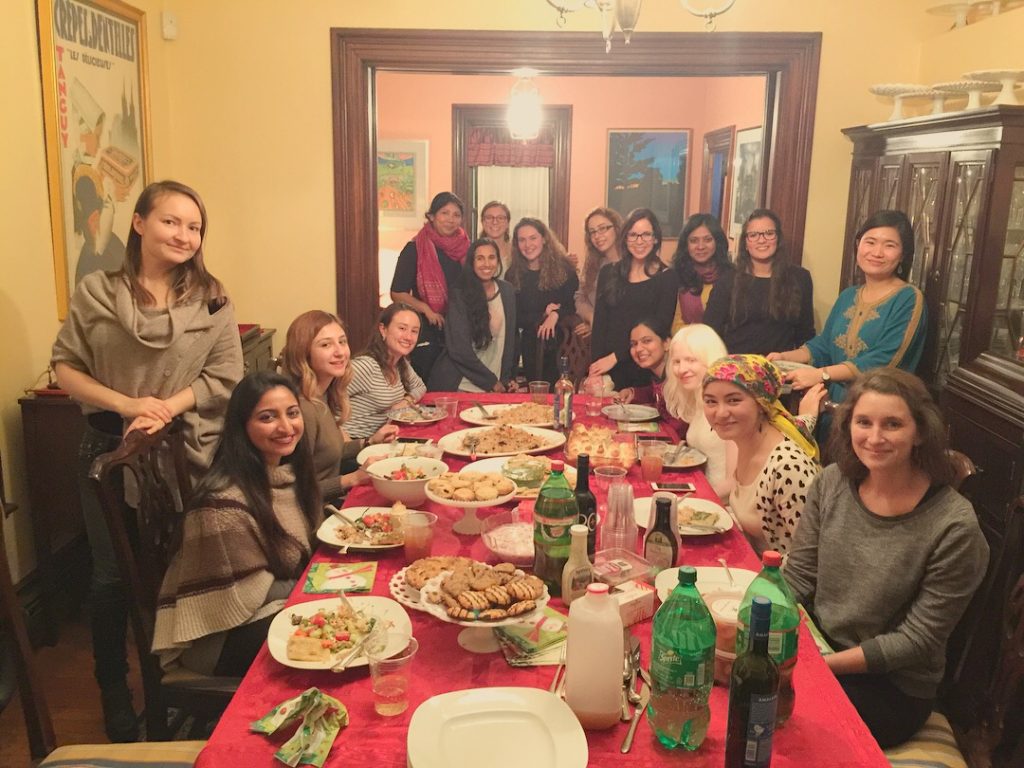 ♦ Enjoying a home-cooked meal. There is no replacement for the intimacy and the deep connection that is shared when someone invites you to their home.  Thanks to the lovely Airokhsh for hosting a delicious Afghan meal for 15 or so of her female friends and allowing us to take a break from the hustle and bustle of student life.
♦ Organizing a Trek.  Much of my energy was devoted to organizing the first-ever Fletcher Pakistan Trek.  Though the trip won't, in the end, take place, the leadership team and I worked hard to raise funds, design a robust itinerary of meetings and outings, coordinate with local contacts, and work within the school guidelines to make this opportunity available for 10 classmates.
♦ Presenting in London.  More details coming in the next post!