Mariya's World Trotting: London & Beirut
Mariya is one of the busiest students I know, which makes me lucky that she continues to write for the Admissions Blog.  And not only is she busy, but she's busy in varied international locations.  Today we'll read about her fall and winter travels.
Hello readers, and belated Happy New Year!  My fall semester ended with reflections, and this semester, too, begins with reflections.  As I think about all the opportunities I have had at Fletcher, I cannot help but be grateful for so many unique experiences.  To give you a sense of the types of opportunities Fletcher students can pursue during their time here, I would like to highlight two international experiences that have broadened my academic horizons.
Presenting a paper in London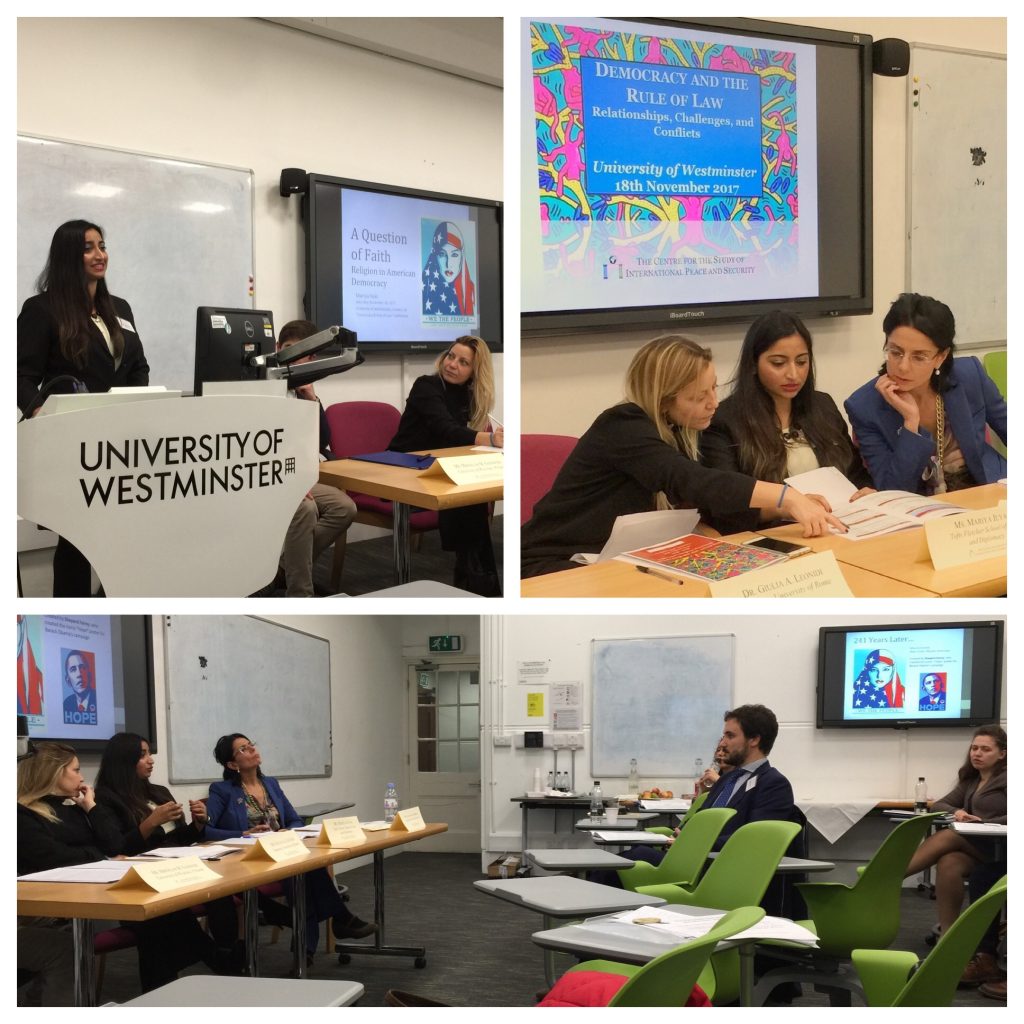 In November, I presented my paper titled "Religious Roots of American Democracy" at the "Democracy and Rule of Law" conference at the University of Westminster in London.  My paper explores the role of religion in the founding and shaping of American democracy and politics.  There were about 15 other scholars of different ages who traveled from all over the world (India, Turkey, Serbia, Italy, Canada, Poland, to name a few) to meet in this intellectual forum, share their research, and solicit feedback.  I was impressed by the diversity of topics presented at the conference.  A German scholar, for example, gave a presentation about heavy metal screaming as a form of cultural resistance and freedom of expression.  A practicing lawyer talked about the principle of legality in the EU's economic crisis management as it related to Greece's recession.  And a research fellow shared his paper on whether an Italian law was capable of guaranteeing the rights of beggars against the will of the majority.  I was the only American in the group and my presentation on religion in democracy drew numerous questions.
Although intended mainly for the scholars who would later refine their papers for journal publication by the Center for the Study of International Peace and Security, which hosted the conference, the event was open to the public.  In fact, I met a couple from France who approached me afterward to say they enjoyed my presentation and we engaged in a lengthy dialogue contrasting our countries' religious freedom laws.  My time in London was very short — literally two full days — but it was nice to connect with my Fletcher scholarship donor, Kate Hedges, who kindly showed me pockets of the city a tour bus would have skipped.  I squeezed in a few touristy excursions before catching a flight back.
While my paper will not be published until April, check out my op-ed published in the Kennedy School Review about the role of religion in the public eye.
Learning Middle Eastern politics in Beirut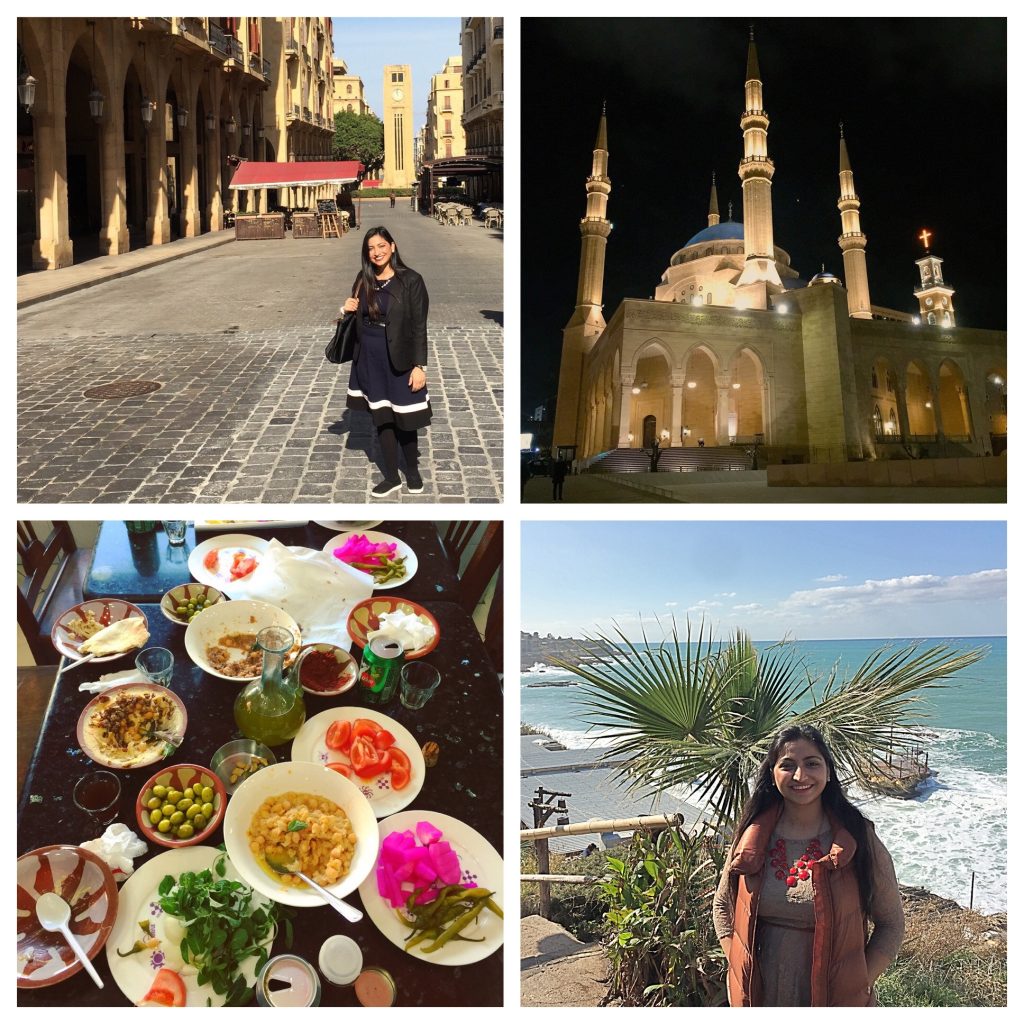 In January, after completing a half-credit "J-term" (January course) on lobbying at the Harvard Kennedy School, I flew to Lebanon for the weeklong Beirut Exchange Program.  Nadim Shehadi, director of the Fares Center for Eastern Mediterranean Studies, encouraged me to apply to this opportunity, given my regional interests in Middle Eastern politics.  A group of 12 professionals from around the world engaged with politicians, journalists, and civil society activists to get an in-depth picture of Lebanese politics.  With the upcoming election in May and the changed electoral law, politicians and Lebanese citizens alike wait with anticipation the unfolding future of their country.  It was fascinating to hear different perspectives on sectarian political representation, Palestinian and Syrian refugee crises, and Lebanon's 2006 war as it relates to regional geopolitics.
The agenda was jam-packed with lectures, workshops, and a day trip to Tripoli, an hour north of the capital.  There was little time for tourism, but a group of us took advantage of our evenings to explore the downtown nightlife, admire the close proximity of mosques and churches, and indulge in delicious Lebanese cuisine.  I fell in love with the creamy hummus, fresh tabbouleh and perfectly seasoned moutabbal (also known as baba ganoush, an eggplant dip mixed with tahini).  And as always happens on all my international trips, I met a Fletcher alum in the program!  A middle-aged media commentator from Pakistan studied under the same capstone advisor as me: Professor Richard Shultz.
Both of these international experiences were incredible, and would not have been possible without generous support from the Fletcher Educational Enrichment Fund, the Graduate Travel Support Program of the Provost's Office, the Dean's Fund, and various campus institutes.  I feel incredibly grateful and blessed to be at a place like Fletcher where students are supported in the opportunities that knock their doors.