A robin brings spring to Akshobh
The final post this week from our continuing Student Stories writers comes from Akshobh.
Professor Sulmaan Khan is the eternal polymath – he knows everything about everything.  Hyperbole aside, all of Professor Khan's students agree that he is the ultimate historian with domain knowledge second to none.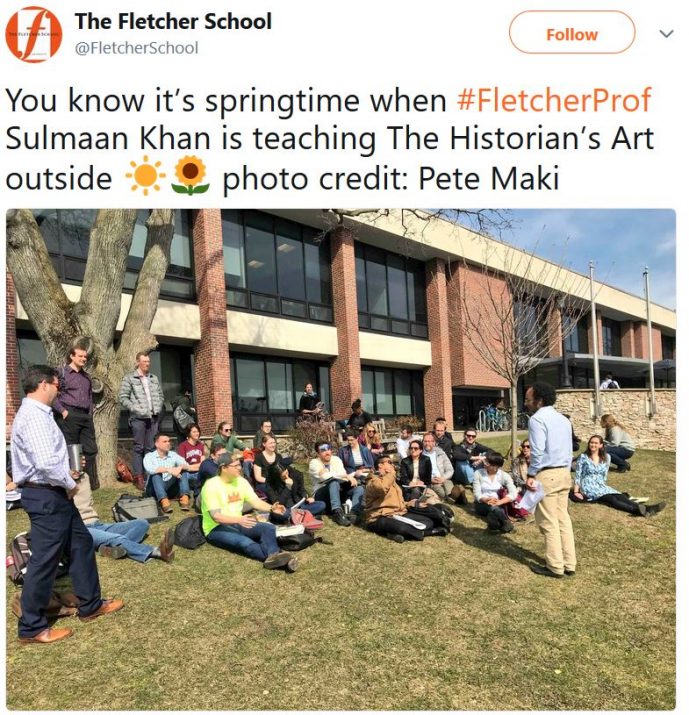 I took Professor Khan's Historian's Art class this spring.  The class is as esoteric as the name sounds.  It's certainly a class for history connoisseurs, however with a twist.  The key element of the class lies in being able to transport yourself into the shoes of decision makers at various times in history, forgetting what you know and trying to rationalize why they did what they did at that point in time.  The class ensures you don't fall into the hindsight fallacy and that you understand the extenuating circumstances that existed then, and that as a result, shaped key world events.
One of Professor Khan's interesting traits is to be able to conduct his classes outside.  Naturally, a New England winter precludes this happening too often.  But one fine March day, we found ourselves seated on the grassy lawn.  Professor Khan reassured us that it was spring and ergo when the weather is pleasant, it's time to make full use of it.
"I still see snow, professor," remarked one of my classmates, pointing to a muddy block of ice.  "Well, it's New England, so you're always going to see snow," remarked Professor Khan.  "But, snow should not be the key factor in ascertaining whether it's spring time or not; it's actually robins," he explained.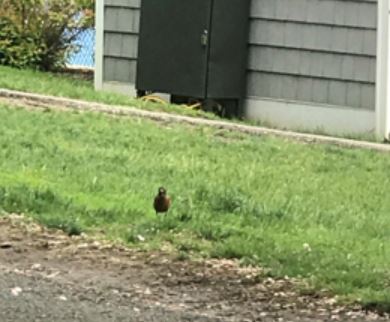 It was almost as if Professor Khan then put on his ornithology hat and stated, "People presume that the sighting of a robin is the first sign of spring in the U.S. and that robins are not seen in winter.  This is a myth."  He stated confidently, "Robins are seen in winter; however, they're seen in the trees, since it is too cold for them to be on the ground to forage.  In spring, they are seen scurrying away on the ground."  And sure enough, we turned to find two robins on the ground, in their search for worms while we searched for answers to some of history's biggest questions.
The spring semester is a peculiar time at Fletcher.  Unlike the fall semester, you don't come onto campus with trees in bloom and the sun shining brightly, and there are certainly no robins hopping on the ground.  Instead, you walk in after a relatively cold winter break, with more cold weather ahead.  Spring doesn't arrive till late March or early April, which is the business end of the semester.
Except for Januarians, who are just starting their studies, the spring semester is the antithesis of the fall semester, and that's not even referring to weather.  For second years, it's the last hurrah of their Fletcher sojourn and that means capstone season, along with fulfilling last course requirements and the job hunt.  For first years, you've dipped your toe in the Fletcher well in the fall, and the second semester is now balancing your classes with the internship hunt.
While a Fletcher curriculum can be both exhaustive and (given the workload) exhausting, the internship hunt is almost a fifth course.  Or maybe like one or two whole courses, where you need to keep putting in the research and tidying up your résumé, writing succinctly yet waxing lyrical about your experiences in cover letters.  The internship search has no fixed timeline and is a continuous work in progress.  It concludes only when the dotted line has been signed.
My unsolicited advice is that, as hackneyed as it may sound, it is important to start early; perhaps start in the winter break if you have to.  I got so caught up in my classes, assignments, and club activities that I didn't start hunting till March.  Fortunately, after an exciting spring break visit to Israel & Palestine, my internship found me.
I will be working with the South Asia center at the Atlantic Council in Washington, DC, focusing on U.S. foreign policy and business engagement with the region.
As I wrap up my first year, I'm looking forward to an exciting summer.