Combing through a few old emails this week, I came upon a reminder for students that they can share their Capstone Projects through the Tufts Digital Library.  I paged through a few and here are a few randomly selected examples.
Cynthia Garcia, 2018 MALD graduate (and a favorite Admissions Graduate Assistant): The Baltic Centre for Media Excellence: A Case Study on Media Literacy as a Tool Against Russian Disinformation.
Annin Peck, 2017 MIB graduate: How to Achieve Sustainable Development in the Apparel Industry: A Collaborative Two-Part Approach.
Todd Dahmann, 2016 MA graduate: U.S. Military Capacity Building in the Middle East: Case Studies on Divergent Security Concepts.
Nathalie Hudson, 2016 MIB graduate: A New Type of Contract: The examination of the role of big business in strengthening the social contracts in sub-Saharan Africa.
Phan Phuc, 2015 MA graduate: Economic Diplomacy: Concept and Practice in Vietnam – U.S. relations.
Niyash Mistry, 2015 MALD graduate:  Building Sustainable Cities through International Knowledge Sharing and Multilevel Governance for Environmentally Sustainable Development: A Blue Print for Mumbai.
If you keep digging through the archives, you'll also find photos.  Like this one, which I pass in the hallway most days, keeping it at the top of my list of favorite Fletcher pix.  (This isn't even the first time I've shared it on the blog.)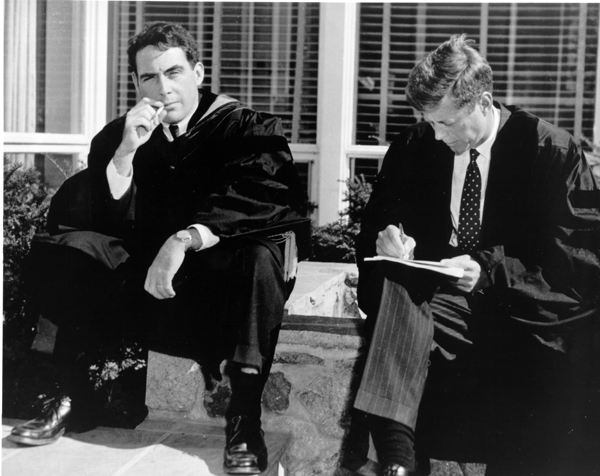 The photo shows Professor John Roche (now deceased) with President John F. Kennedy.  Before teaching at Fletcher, Professor Roche was a consultant to Vice President Hubert Humphrey (1964-1966) and to President Lyndon B. Johnson (1966-1968).  I didn't meet him until decades after the photo was taken, but I always enjoyed our interactions.
Continuing my own walk through the archives, here are a couple of photos that show how much the Fletcher footprint has grown.  The before pic shows Goddard Hall (one of the three attached Fletcher buildings) looking all lonely in 1959.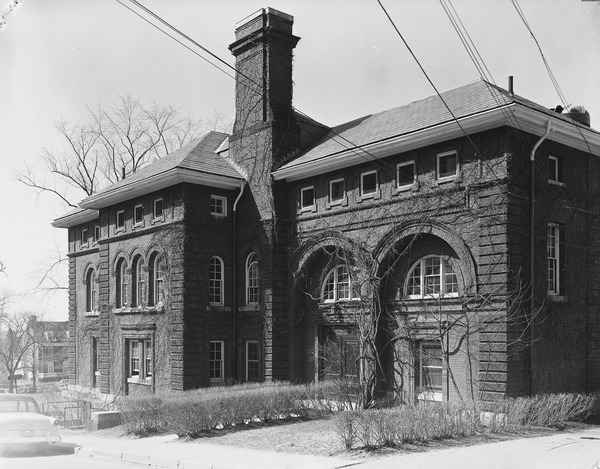 And here's the after pic.  Note that the brick wall at the back of this 1992 photo of the Hall of Flags is the side of Goddard Hall above.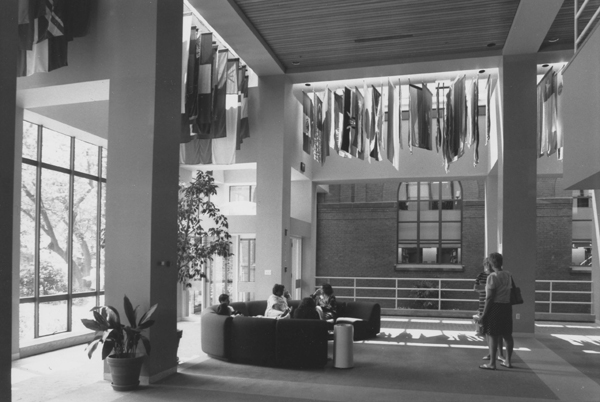 Following a subsequent round of construction and renovations, the person currently working on the other side of the brick wall is me.
That's enough of a dive into the archives for today.  I encourage you to take the plunge yourself.  There's bound to be something that catches your interest.