First-Year Alumni: Karla launches her career back in Mexico
Returning to the Class of 2017, we'll hear today from Karla Schiaffino Pérez, who completed the MALD program.  Karla's trek to her current position wandered geographically through three countries, but reflected a relatively straight-line career path.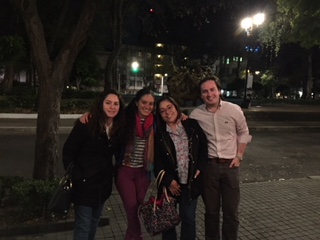 I cannot believe it's been a year since I graduated from Fletcher!  Choosing a school for graduate studies took a lot of thinking and a good amount of luck.  Today, I can confidently say that I made the best decision for my personal and professional growth.
After college, I joined the London-based security consultancy Control Risks as a Research Analyst in their corporate investigations department.  Working for Control Risks provided me with a comprehensive overview of the security situation in Mexico, which made me realize the importance of gaining more knowledge and analytical tools in that area.  I received my acceptance letter from Fletcher and, as I looked into the depth and breadth requirements, I realized that the MALD program was a unique opportunity to obtain a comprehensive and inclusive education in security and human security.
During my time at Fletcher I chose classes that allowed me to look at my Fields of Study from a holistic perspective.  I gained solid knowledge of traditional security theories and complemented it with studies on negotiations and conflict resolution.  Fletcher also enabled me to learn how to apply a gender perspective to the issues I was analyzing in all my classes, which was something new for me.  I enhanced my quantitative skills by taking classes like Econometrics and Microeconomics, which made for a well-rounded and comprehensive program.
Fletcher has an incomparable faculty — truly committed to the development of students as professionals and human beings.  However, many of the most important lessons I took with me after graduation were those I received from my classmates.  Soon after starting the program I realized I was surrounded by an incredible group of committed and accomplished people from all over the world.  Apart from their impressive academic and professional achievements, what distinguished the Fletcher students I was privileged enough to meet was their passion and unwavering commitment to serving others.  Today, I consider myself incredibly fortunate to be able to call some of these amazing human beings my lifelong friends.
I graduated from Fletcher in a year of political turmoil, not only in the United States, but also back home in Mexico.  Many people I consulted after returning home advised me to be prepared to wait until the July 2018 presidential elections at home to start a job that would appeal to my academic and professional interests.  Nevertheless, I knew my qualifications at Fletcher would help me navigate this difficult time and find the right organization to work for.  Soon after returning to Mexico, I started to work at a U.S.-based compliance company.  I saw this as a good opportunity to go back to an area I had experience in and to learn more about the anti-corruption and anti-money laundering framework in Latin America.
After a few months of working for this company, I realized I wanted to explore more opportunities that would allow me to better use the knowledge and analytical tools I had gained at Fletcher.  Two of my Fletcher classmates sent me a posting for a Politics Analyst position at a political risk consultancy and I decided to apply.  I recently joined the Americas team of Verisk Maplecroft and I am certain my Fletcher education will allow me to develop my career in this organization in a meaningful way.