Deadlines, approaching fast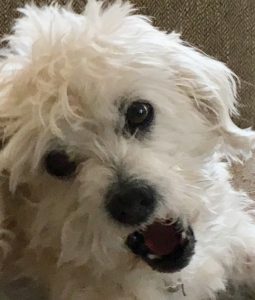 My friends, there is a mere ONE WEEK remaining until the application deadline for January 2019 enrollment (that's October 15 by midnight EDT, to be clear)! For those of you who plan to submit applications but who haven't yet done so, my canine doubles partner Murray wonders what the hold up is. Murray is a dog of many great qualities, but patience isn't so much one of them. So, while I do my best to explain to him that a lot of important finishing touches to an application take place in the days before the deadline, I encourage you to focus on bringing this ship into the shore, as REO Speedwagon famously put it. There may be a variety of substantive last to-dos to complete your application (a final proofread never hurts), but if you feel like you've got everything in pretty good shape, no need to wait until the final second to submit.
Speaking of deadlines, the first one for fall 2019 enrollment – November 15, for Early Notification – is not all that far off, either. The term "Early Notification" in our context should be taken literally, i.e. it's simply a way for applicants to get an admissions decision sooner in the process. Important to know about this option is that admission via Early Notification is not binding (as is common at the undergrad level), and that scholarship information won't be available until mid-March when we release admissions decisions for most other applicants. Having a decision a few months early comes with its advantages, though, beyond the implicit psychological relief. Admitted candidates have a lot more time to get to know Fletcher in greater detail, to arrange a time to visit, to get in touch with current students and alumni, and to make plans to relocate, if necessary. Sound good? Then keep November 15 circled on your calendar!