Winter is coming…but not before autumn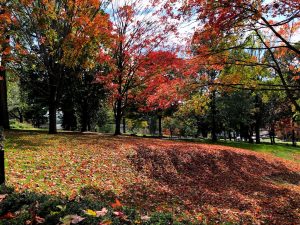 The northeastern United States sometimes takes a lot of guff for its less than enviable weather. DC is a sweaty mess for 4-5 months in the warmer months, and NYC and Boston (perhaps the latter in particular) are known for their intense winters. We'll occasionally encounter a prospective student who's never been to this part of the country (or the world) before clearly laboring under the presumption that spending a year or two in these parts is akin to taking the black with the Night's Watch. It's true that the cold months can feel like a slog, but too much winter-related agita can obscure the pleasures of experiencing four distinct seasons, and for my money none rivals autumn.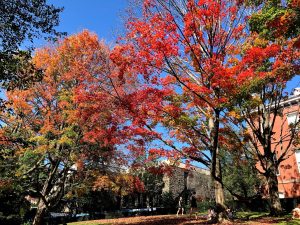 October in New England, with temperatures from borderline-hot to pleasantly cool and trees transforming into thermal scans of color, is simply unparalleled. We've had a relatively damp and humid summer, which Leaf Scientists tell me has set us up for a particularly spectacular season, and a correspondingly dense contingent of "leaf peeping" tourists that New Englanders know to expect annually. And it's not just the leaves that make fall special here, although wow, those leaves, man. Fall also means mulled cider, pumpkin carving, corn mazes, apple picking, pies, and the appearance of Mr. Autumn Man, all of which are readily available throughout the region. The relative compactness of New England is a big advantage; even the busiest Fletcher student is likely to be able to find a few weekend hours for a field trip to a local farm or harvest festival, which could take one as far as Maine or Vermont and back within half a day. Readers from warmer climes, take note: you'll indeed want to prepare for winter, but you should take a few moments to stop and smell the pumpkin spice while you can, too.