An annotated Fletcher tour: outside
As physical visits to Fletcher aren't currently possible, this series attempts to provide the next best thing in the form of a blog-based virtual tour. We'll wander outside today to check out some of the highlights around the building.
Is it cheating to go outside on our virtual tour of the Fletcher complex? I'm calling it fair play, as several outdoor locations are loci of activity throughout the year (most heavily in the warmer months, natch).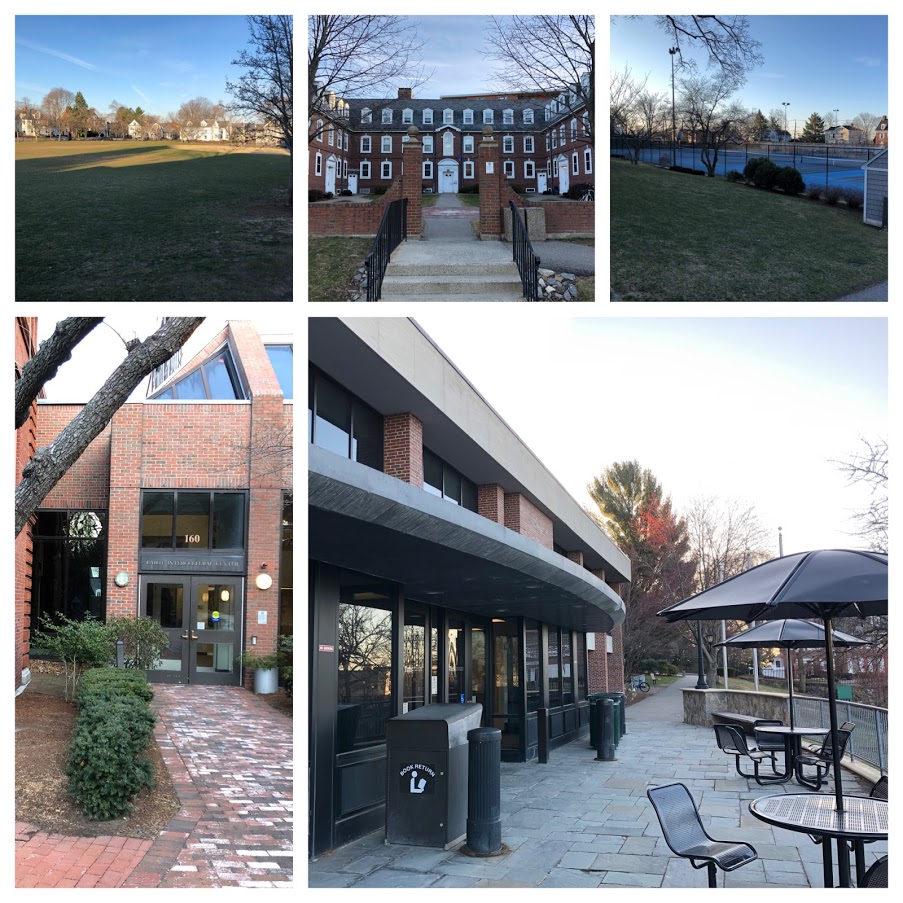 Fletcher students coming to the northeastern US for the first time are often apprehensive about the winter here, which is reasonable. Though in recent years we've had several mild winters by local standards, they still likely feel pretty harsh for those used to warmer climes. The focus on winter, though, often obscures the fact that this part of the country also enjoys four distinct seasons, three of which generally provide lovely outdoor weather, and two of which fall during the academic year. This means there's ample time for students to enjoy the several prime outdoor locations around Fletcher and the larger Tufts campus.
The patio outside Ginn Library is a good place to start. This is a major building entry/exit, so is a natural high-traffic area. Overlooking the tennis courts and Fletcher field, the patio is a great spot for an outdoor lunch, study group meeting, or just some general chit chat. In some ways, it functions as an outdoor version of the Hall of Flags, even boasting its own set of flag poles to encourage the comparison. The grassy hill between the patio and tennis courts is also a popular lounging spot on warmer days, either for taking in any on-court action or just relaxing.
Just a stone's throw down the path from the Ginn patio is Blakeley Hall, which encloses Blakeley Courtyard, Fletcher's own little private quad. Organized outdoor Fletcher events tend to take place here, including barbecues, Los Fletcheros concerts, Orientation lunches, and the annual pre-commencement champagne toast to graduates. Blakeley sits directly opposite Fletcher Field, too, making its waist-high wall a perfect spot to watch a Fletcher Fútbol match. Most winters feature at least one pretty major snowball fight among Blakeley residents, too, which often spills out on to Fletcher Field.
A number of benches around the building become good study and conversation spots on a nice day, and the main Cabot Building entrance to the Hall of Flags often doubles as a congregation point, too. Fletcher's central campus location puts it just across the street from the two largest quads at Tufts, providing easy access to other prime locations, including the Tisch Library roof deck, which sports fantastic views of downtown Boston. For those inclined to take advantage of a nice day, there are plenty of options from which to choose.