"Courting Migrants:" A book talk with Prof. Katrina Burgess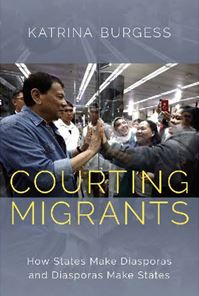 A quick highlight today of the work of longtime friend of Admissions Professor Katrina Burgess. Professor Burgess has spent many years on the Admissions Committee, and somehow also finds time to teach and conduct research focusing on migrant and diaspora communities, with a focus on Mexico and Central America. This week she'll discuss her latest book Courting Migrants: How States Make Diasporas and Diasporas Make States. The book focuses on the increasing political influence of diaspora communities in their countries of origin.
Fletcher book talks are normally conducted in the Ginn Library Reading Room, and in normal times I like to surreptitiously peek into them from my office window that overlooks the Reading Room. No such luck for me this time as the talk will take place over Zoom, but I'll still be looking forward to learning more about Prof. Burgess' research!