Victoria's annotated curriculum
2nd-year MALD student Victoria is rapidly approaching graduation, which means it's time to look back on her academic journey through Fletcher with an annotated curriculum:
Dear Fletcher and friends,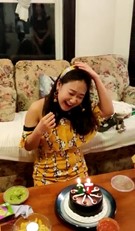 Welcome to Spring! It's been a long year for many of us but there is hope on the horizon with the vaccine rollout here in Massachusetts and longer and warmer days.
Over Spring Break, I celebrated a second pandemic birthday and while we can't really go anywhere, it was still a good time. I am grateful for the friends who are still in the area and the wishes from all over.
I've been keeping up with my cooking adventures. I was exceptionally happy to have one of my housemates fall into a food coma on the couch after I made them Lunar New Year Dinner, which followed with Asian pastries over the weekend for Galentines.
However, while there has been learning, joy, and hope, there has also been grief. The Atlanta Shootings shook me in ways I haven't felt since last summer. The first day of Spring Break was spent with two classmates from Hong Kong and Singapore facilitating a hybrid AAPI Solidarity Meeting to help students grieve and process what happened, but also think more broadly about our role as members of the AAPI community in the US. After all, those who spent their lives here and internationals who take on the new group identity when they arrive here are processing in different ways
As Fletcher students, I've often seen students transform emotions into action and learning at Fletcher has always been part of the action. To that end, here is an annotated curriculum of my semesters as I sketch a future path:
Pre-Fletcher Experience: 3 years working in China: 1 year at a Sino-Canadian Joint Research Center at Nankai University, and 2 years as an Operations Manager and Education Consultant at a subsidiary of TAL Education.
Fields of Study: International Communications/Tech Policy, Business for Social Impact
Capstone Topic: A China Problem or Tech Problem? Analysis of U.S. Public Opinion on TikTok and Wechat after the August 2020 Executive Order Bans
Extracurriculars: Admissions Ambassador, China Club Co-leader, Ambassachords Co-leader, Murrow Conference for Media, Tech, and Democracy Panel Lead
Curriculum Overview
Semester One
International Processes of Negotiation
Conflict Resolution Theory
International Human Rights Law
International Communications
I used the first semester to check off a few general requirements and made sure most of them would also apply to one of the fields of studies I was choosing from. International Communications is a great survey course to expose students to a wide variety of areas in the topic and helped me as I began thinking of my future capstone. International Processes of Negotiation involved a lot of good techniques and theories. As a practice class, every week we had a different scenario and it definitely challenged me. The simulation where all sections of the class are jumbled and asked to complete a complication negotiation is an experience I will not forget.
Semester Two
Analytic Frameworks
Technology, Regulation, and Development
Managing NGOs and Social Enterprises
HKS: Product Management and Society (1.5 credits)
HKS: Urban Innovation: Concepts and Practices (1.5 credits)
Analytic Frameworks has a reputation for being difficult and time consuming, but I am so glad I took it as it's been helpful in structuring different ideas and my capstone. Managing NGOs and Social Enterprise is another class I've raved about. My HKS module Product Management was a lot of fun and definitely helped me see new ways to enter tech or utilize those skills elsewhere. On the Fletcher Tech Career Trek, I spoke to alum who listed that HKS class as one they found super helpful.
Semester Three
Foundations in Financial Accounting & Corporate Finance
Leadership
Intro to Economic Theory
HKS: Making Change When Change is Hard
Cyber in the Civilian Sector: Threats and Upheaval (Audit)
This semester was pretty difficult for me because I didn't always understand my finance class, but guest professor for Leadership Prof. Gautum Mukunda should teach at Fletcher more often because he is such a bright and wonderful personality. Prof. Wolff's Cyber in the Civilian Sector was absolutely engaging and former Ambassador Samantha Power's class was also very engaging. Not being able to sit in a classroom and experience the energy of these professors and my classmates that semester due to the pandemic felt exceedingly hard.
Semester Four
Privacy in the Digital Age
Field Studies in Global Consulting
Influencing Policy and the Global Debate: Writing Analysis and Opinion
Independent Study
After last semester's more quant-heavy projects and finishing all of my requirements, during my last semester I have been able to make more flexible choices. My goal was to learn practical skills and so I took Global Consulting thinking these skills will come in handy in any work environment in the future. Currently, I'm working for a client that is seeking to understand global digital fragmentation and how it affects big tech, which is one of my most challenging assignments this semester. I took an Independent Study to make time for my capstone research and the Op-Ed class has been fantastic in forcing me to write more rapidly with clear iterations. It's also helping me become slowly more comfortable owning my own voice. For instance, I've just published an op-ed with the Fletcher Forum's student website, The Rostrum.
What the Future Holds
The semester is coming to a close sooner than usual this year and while that feels strange, we move forward however we can. While I don't know where I'll be in six months yet, I will be pursuing a summer internship with the Tata Group's Policy & Advocacy Team. In normal times, I would have spent the summer in Mumbai, but instead, I'll be getting ready for Mumbai from Somerville.
The future may be yet to come but in the immediate future, I'll be scrambling to finish my capstone and enjoying spring around Tufts. We often worry so much about the future, being in the present is a luxury on its own.