First-year student bloggers: Introducing Emma
I always enjoy getting to introduce new student bloggers to our reading audience, as it doubles as an introduction to me, too. This space provides one of the many ways I'm able to get to know some of our students pretty well, and as always I'm excited to have some new voices join the Admissions blog community! Today we'll meet Emma, whose path Northeast to Fletcher runs through Lehigh and New York City: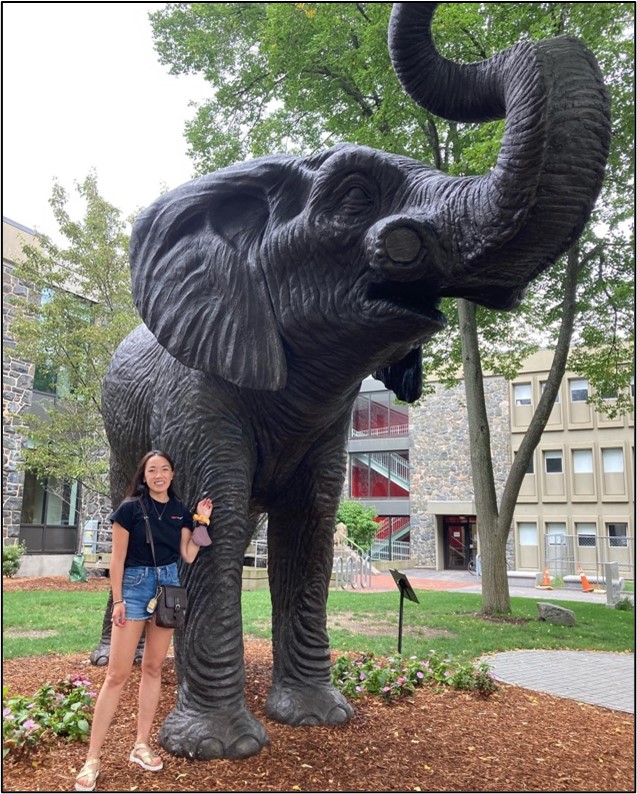 Greetings, Fletcher Admissions blog readers! I am so happy you are here! My name is Emma (she/her), and I am a first year MALD student from Rochester, NY. I am concentrating in international economics and international development/environmental policy. I am beyond thrilled to begin this journey and share my experiences at Fletcher.
I am coming to Fletcher three years after graduating from Lehigh University with a B.A. in International Relations/Economics and Global Studies. Going into undergrad, I was unsure about what I wanted to study, but my first IR class—East Asia International Relations—solidified my interest in international affairs. I learned that Lehigh has strong ties to the U.N. as one of the few universities with NGO status, giving students several unique opportunities. Coming from an adoptive family and growing up in a small town, I have a natural curiosity about traveling, learning about different cultures, and meeting people from around the world. Studying international relations/affairs allows me to learn about global issues from a multidisciplinary group of faculty members and peers.
At Lehigh, I concentrated in French and studied abroad in Paris, France. I was also lucky enough to work abroad in Prague through a fully funded summer internship. I worked with an NGO that fights for the social inclusion of the Roma minority and runs an after-school program that encourages equitable teaching practices. My internship group had the task of strategizing a calculated action and policy brief that the Czech government could implement to improve educational equity, which we presented at the U.S. Embassy in Prague. While the internship only lasted ten weeks, it helped grow my interest in designing policies that promote social and financial inclusion.
After graduation, I joined a market research/consulting firm in NYC as an analyst for two and a half years. While I enjoyed gaining valuable work experience, I knew that graduate school was my next step. I have been interested in Fletcher since learning about the MALD program at an information session during my junior year. Even with my other options for graduate school, I (relatively) easily decided to come to Fletcher to continue my studies of economics and international affairs.
So far, the adjustment from a full-time job to graduate school has been challenging, as I am trying to balance two part-time jobs, classes, exercise, sleep, and social life. I feel like I should always be doing work, but I also want to meet people and enjoy my time as a student. Although I want to participate in as much as possible, unfortunately, the time budget constraint exists. I visited Tufts when I was looking for undergraduate schools, but I only really remembered the hill. But my legs are prepared for anything after attending Lehigh, which is on the side of a mountain. Fun fact, the person who invented the escalator went to Lehigh. I live right off-campus by the athletic fields and have the pleasure of hauling myself up the hill to get to class every day. Fortunately, Tufts has a beautiful campus. One of my favorite things to do to unwind is to go through campus during my evening runs and enjoy the sunset and tranquil ambiance.
Ultimately, I chose to come to Fletcher because of the international cohort, the flexibility and interdisciplinary aspects of the program, and the strong sense of community. I have been meeting such fascinating, intelligent people from all over who have a diverse set of skills, perspectives, and work experiences. I feel honored to have this platform to share my journey with you all, as I know everyone at Fletcher has a unique story to tell. Already, I feel settled in and know I made the right decision to join the Fletcher family. This year has hit me with several personal challenges, but I feel supported by my incredibly kind and compassionate classmates and friends. I can sense that the next two years will be transformative and unforgettable, and I am so excited to learn and grow with everybody. I hope my story will resonate with everyone thinking about graduate school, joining me on this journey, or just stopping through. Until next time, cheers!