Christine's fall semester wrap-up
Today we'll check in with Christine. Like many new students, she's gotten involved in a wide variety of pursuits in the community quickly!
Hello all! It is hard for me to wrap my head around the fact that I am already a fourth of the way through graduate school. My first semester at Fletcher was full of long nights studying, exploring a new city, making incredible friends and asking myself the dreaded "what am I going to do after graduation?" question. After one semester I can say that the fuzzy picture of what I want to do is getting clearer, but isn't in full focus yet. I am excited to see how another semester sharpens that picture for me. As I head into my second semester, I wanted to take a moment and share with you some of my favorite memories from last semester.
Volunteering at The Conference on Gender and International Affairs
In November I got to volunteer at the annual Conference on Gender and International Affairs at Fletcher. I learned about this conference while I was applying to Fletcher and when I got to school it was one of the first things I signed up for. This year's theme was Radical Optimism: Transforming Positivity into Power. The conference focused on using optimism as a tool to bring about global change. The speakers were incredible and I was reminded how important positivity and optimism are, especially in these times. I am already looking forward to helping with the conference again next year!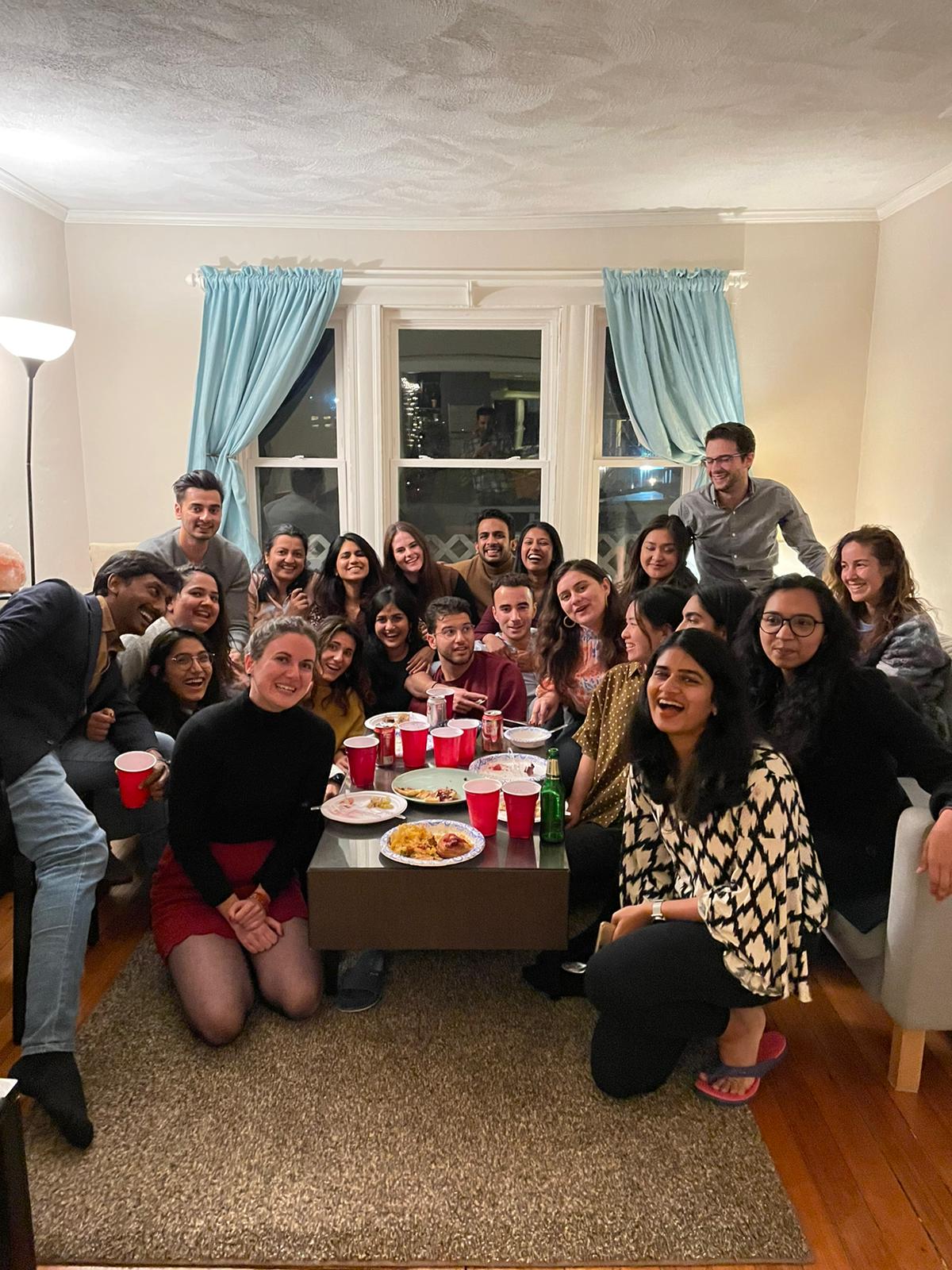 Making New Friends and Finding Fellow Foodies 
Another one of my favorite memories from last semester was meeting my incredible classmates and forging new friendships. I found many fellow foodies at Fletcher and we have spent many nights discovering new restaurants, trying new foods and sharing meals together. I even attended the best Friendsgiving I have ever been to! There were more dessert options than people (always a good ratio) and I learned that a Thanksgiving meal isn't complete without kimchi pancakes and cranberry chutney (yum!).
Performing with the Fletcheros! 
I mentioned in my last post that I had joined the Fletcheros!, an all-Fletcher cover band. Practicing with the band is a great way to take a break from studying and I love our performances. It was slightly terrifying the first time I performed in front of all my friends and classmates, but I quickly discovered that they are the most supportive crowd! Best of all I get to be a part of a long held Fletcher tradition with an amazing group of fellow Fletcher students who love music as much as I do.
Learning from Professors Who Go the Extra Mile 
Of course, the reason you go to graduate school is to study and learn. The professors at Fletcher genuinely care about their students and will go the extra mile for them. It is an honor to study with such accomplished individuals who have a passion for teaching. One of my courses last semester was Theories & Praxis taught by Professor Kimberly Theidon. Our final project for the course could be anything we wanted: an essay, artwork, a children's book, poetry, music, a speech, etc. I have been writing poetry for most of my life, but was always hesitant to share it. During office hours, Professor Theidon encouraged me to submit a series of original poetry inspired by course themes and discussions for my final. That encouragement inspired me to share my poetry for the first time. I would like to share with you my favorite poem that I wrote for the collection. The poem is titled "Justice Bell" and it is inspired by the fight for gender equality. Just as the Conference on Gender and International Affairs' Radical Optimism theme expressed, we can (and should) transform positivity into power. One way we can do this is by celebrating how far we have come. That is not to say that we have arrived, but rather to appreciate where we are. Let that excitement fuel the rest of our journey!
Justice Bell 
By Christine Munson
Ring the bell sister
Ring it loud
And when they tell you to stop
Ring it harder
Ring it for those before you
Whose struggle handed you the rope
Ring it for those coming
Who will wake to its sound filling the air
And ring it for you
Who came and saw and knew the injustice
Who fought for change
Who cried for loss
Who mourned for wronged
Who taught the unknowing
Ring it for you sister
And I will ring it too
Overall my first semester at Fletcher was an incredible, challenging and rewarding experience. I cannot wait to see what this upcoming semester will bring me and I am excited to continue sharing my experience with all of you. Until next time!