Faculty and staff connect over delicious food
If you haven't realized by now, either through word of mouth or through our website, the Fletcher community is incredibly close-knit. It's something that, in my mind, sets us apart from other institutions! But that community doesn't just include current students — we have an especially eager group of alums who are helpful in our recruitment of new students and also to our current students navigating post-Fletcher life. The community, of course, also includes the faculty and staff.
Last Tuesday, faculty and staff gathered at the end of the day to connect and gear up for the upcoming academic calendar year. The 'staff/faculty barbecue' event came at the end of a day where we officially welcomed our four new faculty members through a new faculty orientation. What better way to build community than through delicious food?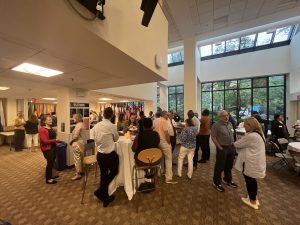 Summer is generally a quiet(er) period for faculty and staff, where we can reflect on the successes of the past year and plan for the next. The Hall of Flags is meant to have people inside of it, so there was a lot of excitement buzzing when all gathered!
Also, a mega congratulations to Cecily Craighill Davis, our Director of Alumni Engagement, for winning the pie-making contest portion of the event. Her lemon chess pie was incredible.
The Office of Admissions & Financial Aid (and all Fletcher faculty + staff) are looking forward to welcoming our next cohorts of students very soon. Orientation is right around the corner!