Januarians: Costa Angelakis
Another 'Januarian' guest post from Constantinos 'Costa' Angelakis. Enjoy!
—
Hello all! I'm Costa, a second year MALD student studying International Law and the Eastern Mediterranean region. I grew up only about two miles away from Fletcher, and I went to Tufts as an undergraduate (double Jumbo!). After college, I worked for a while as a paralegal at a law firm in Boston, and then I started the MALD in the spring semester of 2022. This makes me what we at Fletcher call a "Januarian."
What is this rare classification that sounds like some sort of Roman military unit, you might ask? Well, it simply means I started my program in January rather than in September, when the majority of students enroll at Fletcher. Januarians are an annual phenomenon at the school, appearing on campus after winter break just as a previous cohort departs in December. We arrive pursuing all sorts of degrees (MALD, MIB, MATA, etc.), but the group typically develops a close-knit bond and is embraced by the wider student body with open arms. One of the fantastic things about Fletcher is that all students can take classes together, eat in Mugar Café together, and study in Ginn together. This facilitates interacting with people from a whole bunch of different backgrounds, regardless of when they started or what they are studying.
Being a Januarian does become somewhat of an important part of your identity, mostly in that you are on a slightly different timeframe than most other students. This has positives and negatives. For example, one of the great benefits of being a Januarian is that you get two opportunities for summer internships (I am currently wrapping up my second one in the Washington D.C. office of Congressman Seth Moulton). Last summer I stayed in Boston, so this has been a fantastic opportunity to see the nation's capital, where the robust Fletcher community has made the experience even richer. It really is true that the school's network spans years and continents, making anywhere with a Fletcher person feel like a second home.
In terms of negatives, you do have to plan out your classes a bit more deliberately, particularly if there are prerequisites. Generally, though, there are plenty of opportunities to enroll in required courses and electives of interest. This is important because there are so many fascinating courses you will find yourself wanting to take, largely thanks to the amazing faculty here. Fletcher is known for its sense of community among students, but the connections made with professors are also a characteristic element of this place. Faculty are available and genuinely interested in helping out, and they are passionate about the material they are teaching. Through some of my law courses, I was even able to secure a research assistant position to help a professor work on a book that is about to be published.
Needless to say, being a Fletcher student is a unique and formative period in your life. I have come to realize that increasingly as I reflect back on my time in graduate school. Now, as I approach my final semester, some particular moments from the last year and a half stick out.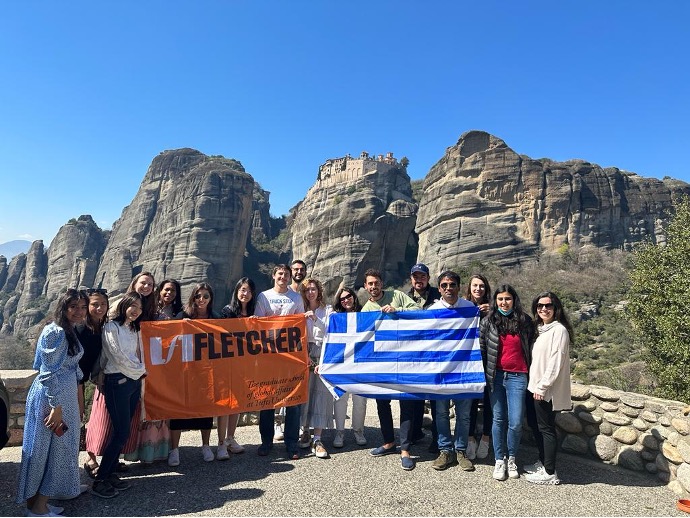 Greece Trek
Along with two of my Fletcher classmates, I co-led Fletcher's first ever Greece Trek this past spring. Student-led treks are a longstanding tradition at Fletcher, and I was fortunate to participate in Fletcher's Israel Trek the summer after my first semester. These trips highlight the culture and history of a country, but they also address relevant policy issues for the always-curious Fletcher students who embark on them. In Greece, we met with everyone from the Minister of Foreign Affairs to the Head of the Hellenic Armed Forces to the Union of Greek Ship Owners. We had a phenomenal group of participants, and our hope is that Greece Trek will become an established institution in years to come.
Religion, Law, and Diplomacy Conference
Over the course of last year, I also helped organize the annual Conference on Religion, Law, and Diplomacy, focusing on cultural heritage preservation. Student-led conferences are another example of the initiative demonstrated by the Fletcher community to pursue interests outside the classroom and enrich the academic life of the school. My panel brought together individuals from the non-profit, government, and legal fields to talk about everything from Armenian churches to President Clinton's visit to China. Planning the conference was occasionally stressful but mostly really fun, and I was so proud of the product our club put out for the school to learn from and hopefully enjoy.
The Fletcher Mafia
Apart from all the professional stuff I've done at Fletcher, on a personal level, I am grateful to have also made truly meaningful friendships here. I've gone on crazy road trips, shared fantastic meals, and cheered on the soccer teams of countries from around the globe during the FIFA World Cup. Whether through Fletcher's annual ski trip, culture nights, or simply hanging out at Thursday coffee hours, the memories made at Fletcher last a lifetime. I often find myself thinking how lucky I am to have done all this while also receiving a world-class education.
So — if you're thinking about coming to Fletcher and are not sure what that might entail, I hope this has been helpful. I also hope that you consider starting as a Januarian, if that aligns with your goals and personal time horizon. While it is not the typical schedule for graduate school, a spring start allows you to tailor your education and get the most out of your studies, as Fletcher aims to do broadly. In my experience, it's been worth it.