In only four days, on Monday, April 15, Boston will host its famous annual marathon.  In addition to well-known long-distance runners, you'll find the Tufts Marathon Team, which includes a Fletcher squad.  And one of the Fletcher runners is student blogger Scott Snyder.
Spring semester assignments are coming due and internship application season is in full gear, but I've also been concentrating on another yearlong goal — the Boston Marathon.
For the 10th year running (no pun intended) the Tufts Marathon Team (TMT), which consists of students, alumni and staff, will run to raise money for Tufts Friedman School of Nutrition Science and Policy, mainly geared towards fighting child obesity.  I had heard about the opportunity to run the marathon before I started this year, but didn't realize how much fun it would be to train under coach Donald Megerle and with the team.
I ran my first marathon last summer in the grasslands of Inner Mongolia and trained all over Asia — Myanmar, Vietnam, Singapore, and cities throughout China.  I didn't think training in Boston, with a bunch of people who run at different speeds, would be as interesting and fun as that experience.  Turns out it has been even better and has given me an outlet outside of the classroom — like so many of the opportunities here at Fletcher.
During this training process I have spent my weekends running the actual course — from Hopkinton, through Wellesley and Newton, to downtown Boston — so I'll start the race having run the whole route and knowing all those brutal hills.  I've run Heartbreak Hill about six times; if you don't know the myth/story behind it, you can view it here.  Along with my training partner, fellow Fletcherite Morgan Lerette, I trained on the route twice with Greg Meyer, the 1983 Boston Marathon winner with a time of 2:09:00 and the last American to win it.  We got to hear plenty of stories about training in Boston during those two runs — luckily he's a good storyteller.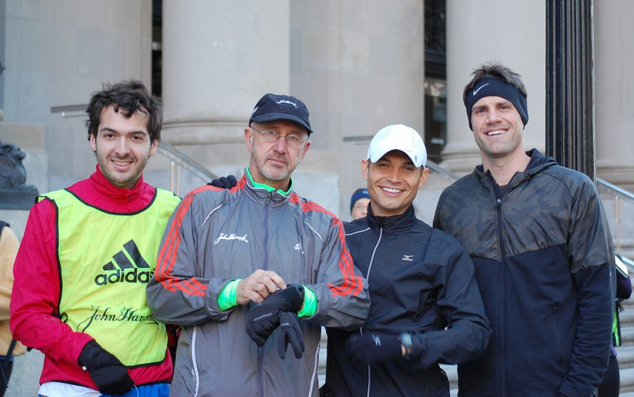 Running is a passion of mine, and along with the TMT, Fletcher also has a running club, if you are not up for running 26.2 miles in April.  There are also numerous other clubs here that can fit with your own personal and professional interests.  All these clubs are student run and are always looking for new leaders to take them over.  They bring in renowned speakers, put on conferences, and most importantly, sponsor our weekly Social Hours (really, Happy Hours) to educate the student body on the issues of the day.
So, not matter how busy Fletcher will make you academically, you can always find time to put in hours working on something that may be different from whatever you are doing in the classroom.  Or, if you are a very studious individual, you can build on your academic interests through your clubs focus.
Scott's photo above includes from left to right, second-year MALD student Mario, head of the Fletcher running club, Marathon-winner Greg Meyer, Scott, and running-partner Morgan.   Fletcher TMT runners, whose profiles can be found on the TMT page, are:  Natalie Bowlus; Oscar Camargo; Katherine Ferrari; Jacob Fromer; Amy Heading; Alex Kaz; Morgan Lerrette; Brennan Mullaney; Tomo Nagasaki; Maki Nakata; Jane Phelan; Davie Wallsh;  and Annie Wanlund.