Now and then my daughter, Kayla, tells me it's time I feature her in the blog.  She became accustomed to a certain level of attention in 2011-2012, when I described her college application process in a way (I hoped) that connected to what Fletcher applicants were experiencing.
She has just completed her first year of college and, though I had decided to give her a year's worth of privacy, it might be time to revisit her journey.  As it happens, this week she is literally on a journey:  At 5:30 a.m. on Monday (following a road trip to New York's Kennedy Airport with her mother, who thus could not attend Fletcher Commencement), she linked up with her companions for a trip to Haiti.  Everything went smoothly, and by Monday afternoon she was in Port-au-Prince, starting a week-plus of service-work and site visits, organized by an established international aid organization.
Like so many Fletcher students, Kayla's international interests preceded her undergraduate studies.  Her first college year provided the chance to refine her thinking and to zero in on an aspect of the broad international relations field.  For now, at least, that direction seems to be international public health.  We'll see where this all takes her, but the trip to Haiti will give her a good picture of the work of public health professionals.  Along the way, there are experiences to be had and also a little time for pick-up soccer.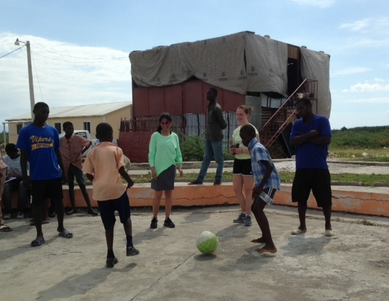 This year, like most years, I met and emailed with several first-year university students who are already trying to figure out how to gain admission to Fletcher.  Much as I admire their eager-beaver qualities (and I always provide them with as much information as I can), I sometimes wonder if they're getting ahead of themselves.  Granted, there are some super-focused people out there, and even those with a blurrier vision of their future can benefit from jumping on a path, trying it out, and making the decision to stick with it or move on.  It's fair to say that Kayla has just jumped on her path.
For those who have completed their studies and some professional experience, it may be the perfect time to think about an application to Fletcher.  At this very early stage of the 2014 application process, I would encourage any prospective applicants to consider how their experience fits together, and how the addition of a Fletcher degree will help them achieve their goals.  While it's early to be thinking through application details, it's not premature to do the higher-level planning.