The World Peace Foundation at The Fletcher School
In her final post today about the World Peace Foundation, Bridget Conley-Zilkic, the WPF Research Director and Assistant Research Professor at Fletcher, invites Fletcher students to become involved in the work of WPF.  The first post, which described WPF's history, appeared two weeks ago, and the second post, describing the World Peace Foundation's current work and mission, appeared last Wednesday.


If you are interested in the work of the World Peace Foundation (WPF), there are a number of ways that you can get involved with us.  You can take our classes — Alex de Waal is teaching a course on African Politics in Fall 2013 and Bridget Conley-Zilkic is teaching on Mass Atrocities in Spring 2014.  Or you can attend our events, "like" us on Facebook, follow us on twitter (@WorldPeaceFoundation), and explore our website.
Access short, insightful essays by WPF staff and other global experts on our areas of thematic concern on our blog, Reinventing Peace.  Among the essays are series on reclaiming activism, ending mass atrocities, conflict mediation, new wars, and more.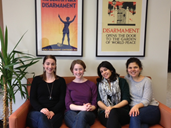 If you are reading this as an enrolled Fletcher School student (master's-level or PhD) you can also participate in our annual student seminar competition.  Each year we invite proposals from Fletcher students for a two-day seminar to be held on campus in February 2014.  WPF seminars offer a rare opportunity for leading experts to engage in incisive, collegial, and sustained dialogue on the pressing problems of our day.  The student competition enables Fletcher School students to frame an issue and interact with leading global experts on the topic of their choosing.
Past winning topics include "Western Advocacy in Conflict" (2012-2013) and "Drug Trafficking and Organized International Crime: Re-Framing the Debate." (2011-2012).
The deadline for submitting a proposal is October 10, 2013.  Full information about the competition is available on our website.
WPF also hires two research assistants to help with our work for each academic year.  While the 2013-2014 positions are filled, look for new opportunities in the coming year.  We also have a number of research projects that you can get involved with.  This Fall 2013, we'll be continuing our project on mass atrocity endings, which students can work on as an independent study.
Take a closer look at our website for more details, stay in touch with us, and we hope to meet you as the semester begins in September.