Consult Christine: Connect with Us!
With the graduation of Dear Ariel last spring came a dilemma.  Who would write a weekly blog post answering applicants' hot questions?  The answer was as plain as the front desk of the Admissions Office — Christine has the FletcherAdmissions email inbox clearly in her sight at all times.  Thus, Consult Christine was born.  Today, Christine provides her perspective on the most efficient ways to connect with us.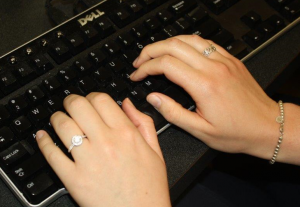 After a year of sitting at the "Command Center" of the office, I have fielded calls, emails, and walk-ins with many different questions.  I often hear, "I am not sure if this was the right way to reach you," or "I am not sure if this is the right place to be asking," so I thought I would take the opportunity for my first Consult Christine post to break down the best ways to reach us.  From Information Sessions to Interviews, and Visit Days to off-campus events, we have a lot going on this fall and want you to be able to contact us in the most efficient way possible.
With the Evaluative Interview program starting on September 23, it is timely to start with this!  I will have an upcoming post going into more depth on the interview program, but for now the best way to schedule an interview is to call us at +1 617-627-3040.  This is the easiest option for both you and us, so we can tell you what times are available and you can provide us with all the information we need.  Plus, it's a great opportunity for you to ask questions.  If you are not able to reach us by phone, you can certainly email us to set up an appointment. But I would encourage you to call if you can!
Information Sessions, which will be in full swing starting next week, are a great way to get a general feel for Fletcher, see the campus, and interact with students and staff.  The best way to register for an Information Session is to use our online registration portal.  However, if you are already on the phone with us, we would be happy to register you.  The same applies for Visit Events.
Questions or comments can be forwarded by phone or email.  We answer email in all of our inboxes consistently, and try to have answers to you in a timely fashion.  I would recommend email if you have more in-depth questions!  If you feel that it would suit you better to call us with questions, we welcome the opportunity to talk with you over the phone.  Both staff and our team of student interns is happy to speak with you about whatever you may need.
And you can always pop in for a visit!  We welcome visitors to Fletcher to chat with an Admissions Officer, sit in on a class, or interact with our students.  Note that the office is open from 9:00 to 5:00 U.S. East Coast time.
I look forward to hearing from you as the year goes on, however you choose to connect with us!