Supports and Opportunities
I like to follow the traffic on Fletcher's "Social List," the email list on which students communicate with each other about anything and everything.  Since the start of the semester, the prime topic has been the buying and selling of textbooks and household items, but nestled between the "for sale" and "sold" messages were others that, together, paint a nice picture.
First, there are the calls for second-year students to sign up as "buddies" for the first-years.  "Buddy" makes the arrangement sound so preschool — a more grown-up term might be "peer advisor," because here's how the Fletcher Buddy Program organizers encouraged new students to participate:  "We will match you up with a second-year student, whom you can ask for advice on classes, professors, work/life balance, and much more!"  Equally, the continuing students are offered the "chance to pass along some of your words of wisdom and advice, and get to know some of the awesome new members of the community."
Then there was a job posting for tutors with the Fletcher Graduate Writing Program.  Once the program is in full swing, the PhD student-director says the writing tutors "help students with all aspects of the writing process, including topic development, research management, consultation with professors, and preparation of the final draft."
The return to an academic setting can be a challenge for many students who may have been in the professional world for several years.  Supports such as the Buddy Program and the Graduate Writing Program help to ease the transition.
But Social List postings aren't limited to support options.  There are also opportunities for fun!  The Fletcher Fútbol team seeks new players, writing, "It's FLETCHER FUTBOL time once again!  If you like to play soccer, or even run around like a chicken with your head cut off, we need you!  This is Fletcher's club team and we play other grad schools throughout the year.  Each week we'll play one game and practice twice, and we'll have a lot of fun and camaraderie."  I'm a long-time fan of Fletcher Fútbol!
And the Fletcheros — Fletcher's in-house band — are looking for new musicians: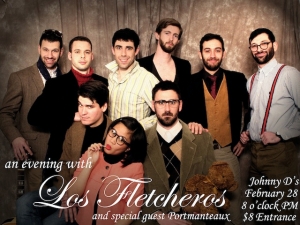 A new academic year has begun.  While reading about post-conflict reconstruction in country x, you find yourself wishing you could kick out the jams like you used to in your old band.   But you're too busy now, you say.  Those days of sweating it out on stage and making all of your close friends bust out the electric slide are past, you say.
Think again, dear friend. For this September, your dutiful Fletcher cover band The Los Fletcheros is holding auditions for new talent.
For those of you unfamiliar with the group, for seven years a rotating cast of some of the most musically inclined Fletcherites has melted many a face with an eclectic mixture of rock, dance, pop, funk and R&B songs, both old and new.  We generally play four to five shows a year at local clubs as well as the annual ski trip, and usually have a Fletcher audience of 300-400 people.  Long story short, you do want to be in this band.
The Fletcher Social Lister, displaying all due cultural awareness, closed his email with, "Members of The Los Fletcheros, even those who do not speak Spanish, are fully aware of the grammatical incorrectness of the full name."
There's a student activities fair tomorrow.  Between the fair and Social List emails such as the ones sent by the Fletcheros and the Fútbolers, there's every opportunity for students to find their outside-the-classroom place at Fletcher, as well as supports for when they're in the classroom.