Faculty Spotlight: Miguel E. Basáñez
The next post in our Faculty Spotlight series comes from Miguel E. Basáñez, adjunct professor and director of the Judiciary Reform Program, who describes his path to Fletcher.  Prof. Basáñez currently teaches Culture, Human Values and Development, in addition to directing the Judiciary Reform Program, which is generally offered in the summer.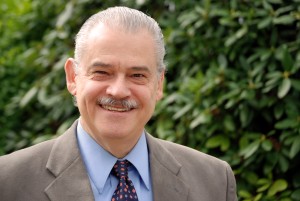 Prospective Fletcher students are nearly always afflicted with a severe case of wanderlust, and have usually racked up an impressive record of traveling, working, and studying abroad.  As such, I'm sure that all of you have experienced the collision of different values, beliefs, and ways of life that we call "culture shock."  My own experiences with culture shock — primarily as a Mexican graduate student in Great Britain in the 1970s — were so powerful that they never left me, and indeed inspired me to make the study of cultural values the basis of my academic career.
After many years in government and running my own public polling firm, I came to Fletcher, where I research human values and teach the seminar "Culture, Human Values and Development."  In my course, we seek to answer some of the deepest questions around culture: Is it even possible to talk about national cultures?  How can cultures be studied and measured?  How do particular cultural traits impact the development of economic, political, and social systems?  Should policymakers seek to influence people's values and beliefs, and if so, how can it be done?  Fletcher's great diversity is a huge advantage in these discussions, as even in a small seminar we usually have students from many different parts of the world, and they bring new and valuable perspectives to the conversation.  In fact, sometimes I think I've learned more from my students than they have from me!
As an outgrowth of my work on culture, I've also started to do work on judicial reform, since a country's legal system is both a cause and a consequence of its culture.  I currently direct the Fletcher Judiciary Reform Program, which brings policymakers and professionals to our school for executive training programs on how best to manage the transition from an inquisitorial to an adversarial justice system.  To date, we have trained almost 200 Mexican professionals, judges, and lawyers in week-long crash courses in comparative law.  In addition, the program does research and puts on events related to security, rule of law, and prosperity in Latin America, such as immigration reform and promotion of innovation.
There are opportunities for Fletcher students to be involved with each of these programs, and I continue to be impressed by their dedication, intelligence, and intellectual curiosity.  Fletcher students have so much to offer, and mentoring them is one of the best parts of my work.