Justin Ettinger: On the move, post-Fletcher
I recently heard from Justin, a 2013 grad, who offered to share his reflections on his first months since graduating.  I love volunteers!  And here is Justin's report.
As I reflect on my experience at Fletcher, I can hardly believe it's been three years since I made the decision to attend graduate school.  In early 2011, I was living in New York and working as a manager at a Big 4 consulting firm.  Though I was making a good living, I felt that my career had plateaued, and I wanted to burnish my credentials to pursue the international business career I had always dreamed of.  Fletcher's MIB program offered exactly what I was looking for — core business training within the context of a school famous for its international affairs curriculum.  So I went for it.  And three years later, I can happily say it was one of the best decisions I've ever made.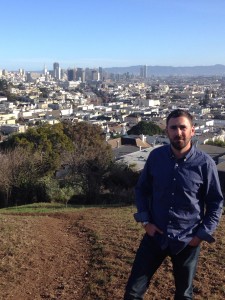 I entered Fletcher with a clear mission:  to position myself for a great job when I graduated.  While I certainly worked hard in the classroom, I also made networking one of my top priorities from the start.  By constantly speaking with alumni and attending events, I developed a clear sense of the path I wanted to take by the end of my first year, and my efforts generated three internship offers, all through alumni connections.  I ultimately chose to work in Latin America strategy at Converse Inc. (a Nike subsidiary).
Converse opened many new doors for me.  A successful summer led to an offer to continue working part-time during my second year (Converse is based in Boston), and I used that time to develop my capstone — a three-year commercial strategy for the brand in Brazil.  Working part-time on top of studying full-time was certainly a major commitment, but it enabled me to apply context to all of the new skills I was learning in the classroom.  The Fletcher alumnus I worked for, Dave Calderone (F'87), was an excellent mentor who exposed me to many facets of the global footwear industry.  He played an instrumental role in my education.  And the day after graduation, I started working full-time for Dave as a Strategic Planning Manager for Latin America at Converse.
After a few months, I made a personal decision to move to San Francisco.  I'm now working as a Senior Manager of Business Development for the Old Navy brand at Gap, Inc., where I'm responsible for adding new markets to Old Navy's international franchise portfolio.  In the coming year, I'll be traveling extensively around the world to visit retail markets and meet with potential new franchise partners.  I'll be negotiating contracts, examining import/trade implications, constructing financial models, and truly building a global business.  It's a job I could only have dreamed of before Fletcher.
My life has changed significantly over the last three years.  I now have lifelong friends all over the world.  I've been to 10 new countries on three continents.  I think about global business issues in an entirely new way.  And I got the international career I had hoped for.  Deciding on graduate school is a major life decision indeed, but it works if you work it.  So be deliberate, be decisive, have an open mind, and go for it.
Oh, and one last thing.  Support Los Fletcheros!