Liz and G5 friends hit the road
At this point, we can see the end of the travel season, which I kicked off back in September.  Today, Liz reports on her trips with our peer schools in the Group of Five (G5).
I've just returned from a couple of weeks on the road, traveling with representatives from four of our peer institutions: Johns Hopkins, SAIS; Columbia, SIPA; Princeton, WWS; and Georgetown, SFS.  Over 40 years ago, these five schools that together we call the "Group of Five" (G5) decided that if we traveled together, we would reach more prospective students for our programs and could cover more regions of the world.  The schools tested out the idea, and we've been traveling together ever since.  We collaboratively decide where we would like to target our outreach for the year, and then work together to plan the trips.  During these trips we try to offer general graduate school advice, while also highlighting what makes our schools both similar and unique.  I like this recruiting method, as we also get to know our colleagues quite well (you learn a lot while traveling by minivan!) and we have a chance to see many different regions of the U.S. and beyond.
My first G5 trip this year was here in New England.  I was in charge of planning, which was neat since the visits were in our "backyard."  Despite occasional rain, it was a beautiful trip, as the leaves were turning into stunning fall foliage.  We met some great candidates and I've heard from several students who decided to visit the Fletcher campus as a follow up!  Here is the New England group prior to our session at Amherst College.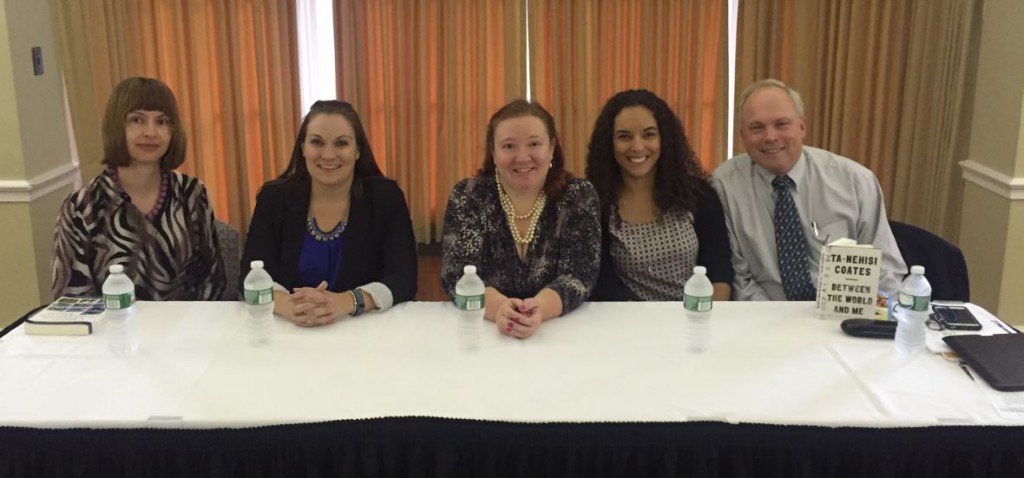 Other times, if we're not able to find a session time that works for our travel schedule and the class schedule of the college we're visiting, we will set up a table in a common area.  Here we are tabling at University of Massachusetts.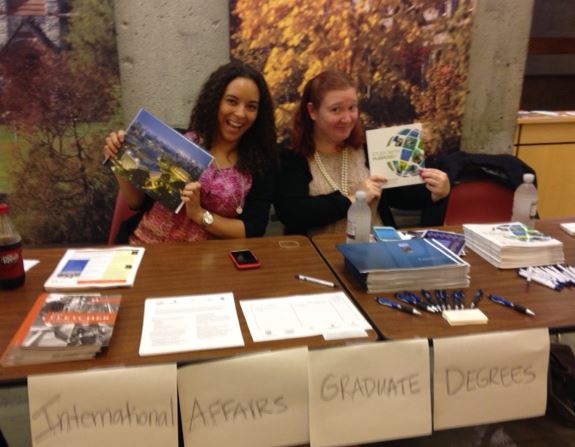 After New England, I was off to California to do similar visits in the Bay Area.  We covered a lot of ground, and had a chance to see some of America's most famous (and beautiful!) bridges.  We had fantastic weather, and most importantly, we had really great school visits, where we met interesting prospective students.

We also try to find ways to have a little fun during our group travel weeks.  Here we are checking out the large Redwood trees, seeing the famous "Bucky the Bronco" at Santa Clara University, and posing with members of the academic council at University of California, Davis.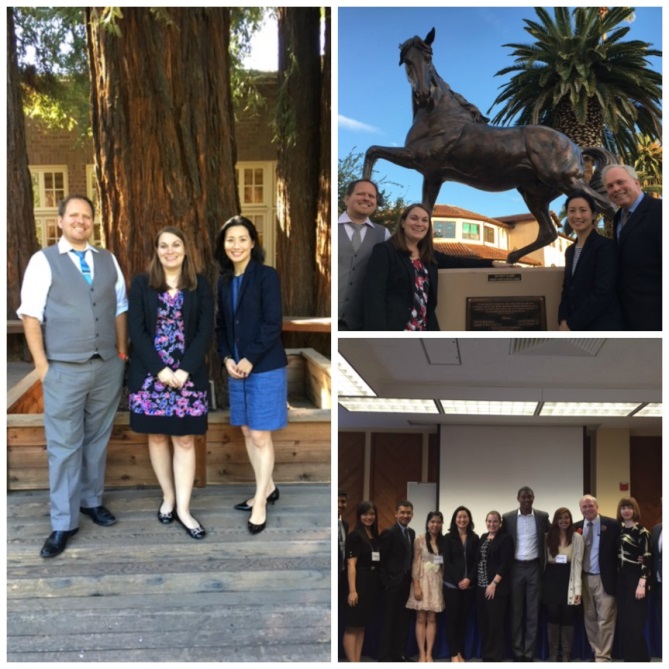 Overall my two weeks with the G5 were really successful.  It's always fun to see other parts of the U.S., reconnect with colleagues, and meet new people.  I've completed my travel obligations for the year, but Fletcher is still on the road!  Laurie is off to Asia soon (also doing G5 travel), and Dan is currently on his own G5 Pennsylvania trek, having visited South America earlier this year.  Keep your eye on our travel schedule, to see where else you can meet us on the road!