"A Little Old, A Little New": Ali's report
New students (the 2016 group of "Januarians") have been participating in their Orientation this week, and continuing students will return on Tuesday.  Today, let's hear from Ali about her extremely busy fall semester.
As winter break comes to an end, it's hard to believe that I have only one semester left!  The fall was a whirlwind of finding balance between strengthening last year's skills and pursuing new growth ahead.
My internship at Breckinridge Capital Advisors — mentioned in my last post — was definitely something new.  I expanded my terminology within fixed income investing; experienced work in a medium-sized enterprise; and familiarized myself with downtown Boston, which I'm sad to say that I (and many of my peers) didn't do in my first year.  It was overwhelming to balance school with work three days a week, but I'm glad I made time to do the internship.  I'm constantly reminded that this is the last time in my life when I'll be encouraged to learn as much as I contribute at work.  I'm excited to continue interning there during my final semester.
My law courses in Trade Law, International Business Transactions, and Mergers & Acquisitions were all new for me, too.  I can't recommend taking three law classes in one semester without a legal background, but Fletcher's law professors succeeded in pushing me and teaching me to think in a new light.  I'm confident my familiarity with corporate law will differentiate me from other job-seeking graduate business candidates and will help me in future executive corporate roles.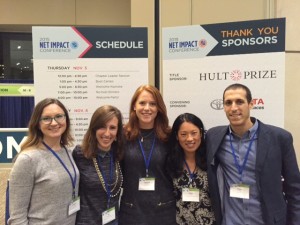 It hasn't all been new, however.  I had a great time attending my second annual Net Impact conference in Seattle, WA, building off of last year's experience.  It has been awesome to grow the club at Fletcher — we had five people attend the conference this year! — and to plan another fun semester of events, including an intimate speaker session with Talbot's head of supply chain sustainability and a GRI (Global Reporting Initiative) certification workshop for students that will take place with Boston College's Net Impact Club this spring.  A year ago, the second-year students passed the running of the club on to Chelsey and me, and now it's fulfilling to pass it off to first-year students Ben and Harper.  I'm excited to see where they take it!
Stay tuned for adventures in my final semester, when I'll return to Belgium over spring break with funding from Fletcher's Institute for Business in the Global Context to do field research for my capstone project!