McKenzie's spring break in New Delhi
This week is April vacation week for Massachusetts school children, and I'm going to use that as my explanation for turning the clock back to the March spring break for Fletcher students.  Student bloggers McKenzie and Tatsuo will each describe their travels far from campus.  First, McKenzie writes about the trip she planned with friends.
Hey all,
I'm back from a brief blog hiatus these past few months and want to share an update from an amazing spring break trip I took at the end of March.  Along with five other Fletcher friends, I traveled to New Delhi, India for what was one of the more action-packed yet wonderful spring breaks I've had.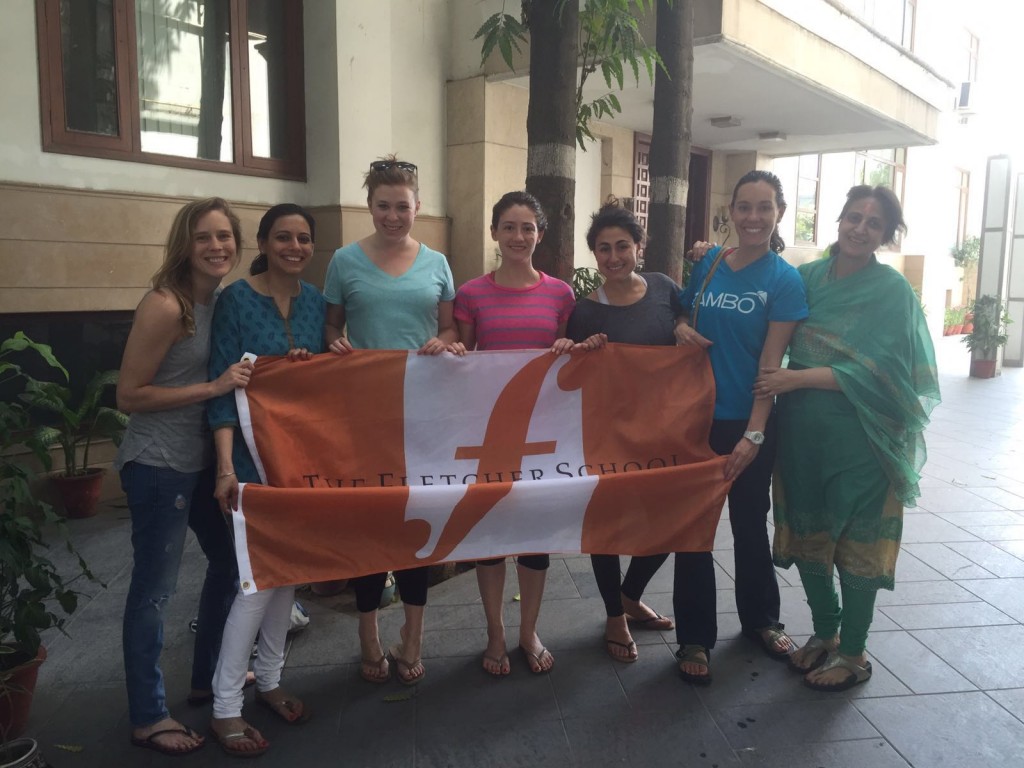 After 22 hours of travel, our crew arrived in hazy New Delhi at roughly 5:00 a.m. on Saturday morning.  Unsure of the time and date, we hopped in a car sent by a classmate of ours who grew up in the city and we sped toward her family's home, where we were greeted with hot showers and a wonderful, homemade breakfast.
Soon we loaded back in a car and headed just outside the south side of Delhi to a garment factory in Faridabad.  A classmate on our trip who previously worked at Gap arranged the visit, as the factory was the first in Gap Inc.'s network to launch the PACE (Personal Advancement & Career Achievement) program, designed to empower women working in the factory and and to provide leadership development to enhance their careers and build confidence.  After learning about the program's origins, we met with some of the women who had attended the program and since advanced to line management positions.  Then, we got to tour the factory and see the production first-hand.  The experience overall was a lot to take in, but it was truly a Fletcher-esque opportunity.
Following the factory visit, we returned to our friend's home in time to change and head to her cousin's house to watch what we learned was a very important cricket match.  If my understanding is correct, India-Pakistan cricket matches of the type and level we got to watch are not very frequent, which meant the celebration was on par with some of the better Super Bowl parties I've heard about back in the States.  At around 11:00 p.m. that night, we returned home for some much-needed sleep.  And that was just the first day.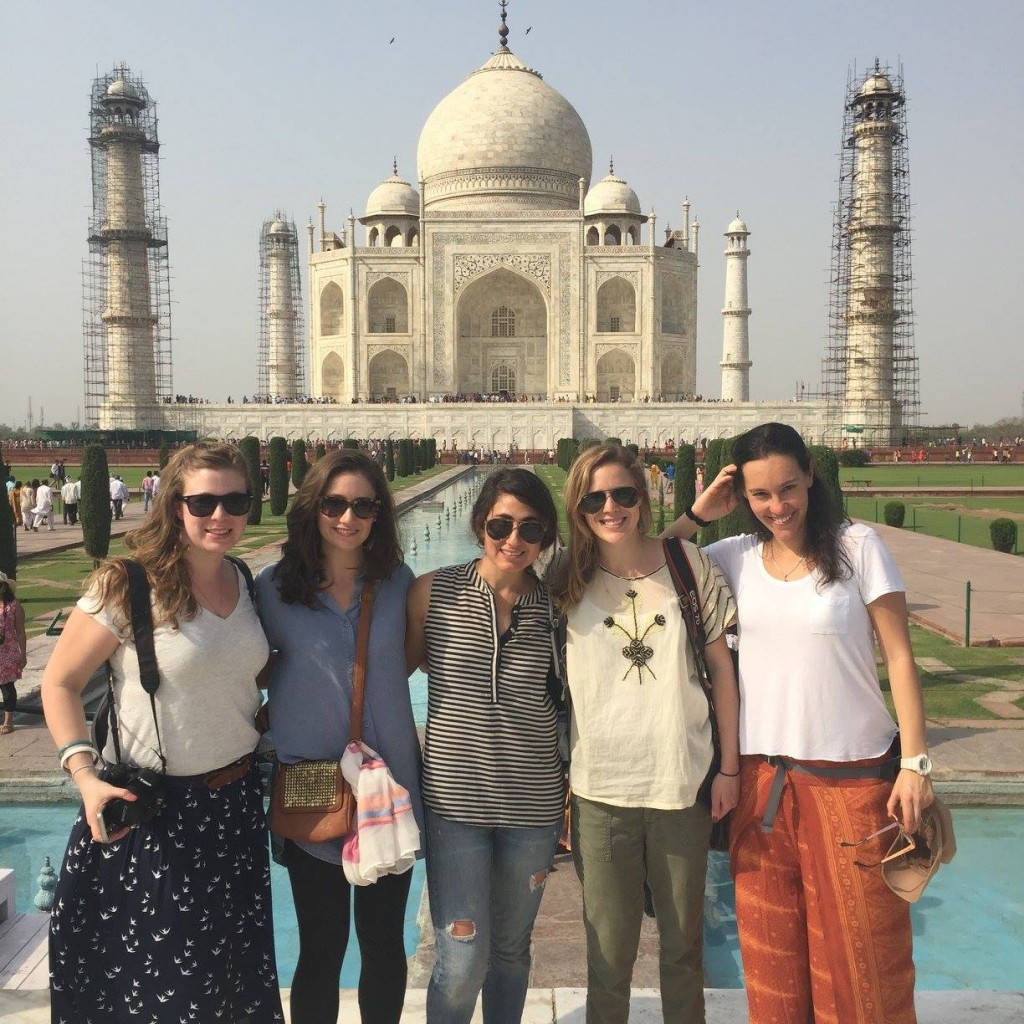 Over the next few days, we traveled to Agra and Jaipur to see several famous monuments, treat ourselves to some fabulous Indian food, and browse Jaipur's famous fabric and other markets.  On Wednesday afternoon, we drove back to New Delhi in time for one of the greatest national holidays I've had the privilege to experience: Holi.
Holi is a Hindu religious festival that, from what I was told, celebrates the conquering of good over evil and the coming of spring.  The night before Holi, many people light a bonfire, which signifies the burning of Holika.  Our hosts also tossed wheat chaffs into the fire as a symbol of thanks for the impending harvest.
The next day, we had the opportunity to "play Holi" with our friend's extended family, which consisted first of a short Hindu ceremony with all the family present.  The ceremony ends with some tame additions of colored powder to the foreheads of those present, after which the family moves to an outdoor courtyard and the fun really begins.  While you start the day in pristinely clean clothes, you end up covered in pink, blue, green, yellow, red, and orange dye – in your clothes, in your hair, on your face, and in my case even in your contact lenses (one of mine was bright yellow!).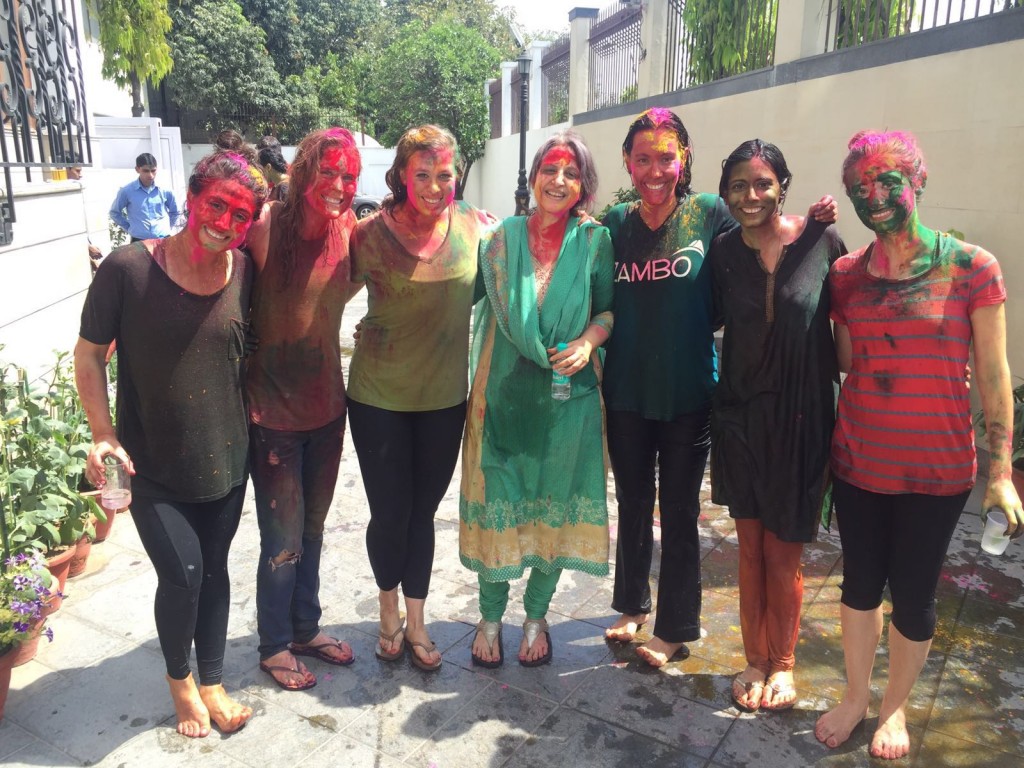 Everywhere.  I promise, it's a great time.  The most wonderful part of Holi is that truly everyone participates.  Young and old, men and women, everyone joins in and plays.  The kids of the family even developed a full attack plan complete with code words: they hoped to distract us by shouting "hamburger!" then lure us "with words" to be subsequently doused by water balloons and water guns.  I suppose they have a few more years to learn the finer points of diplomacy and international affairs…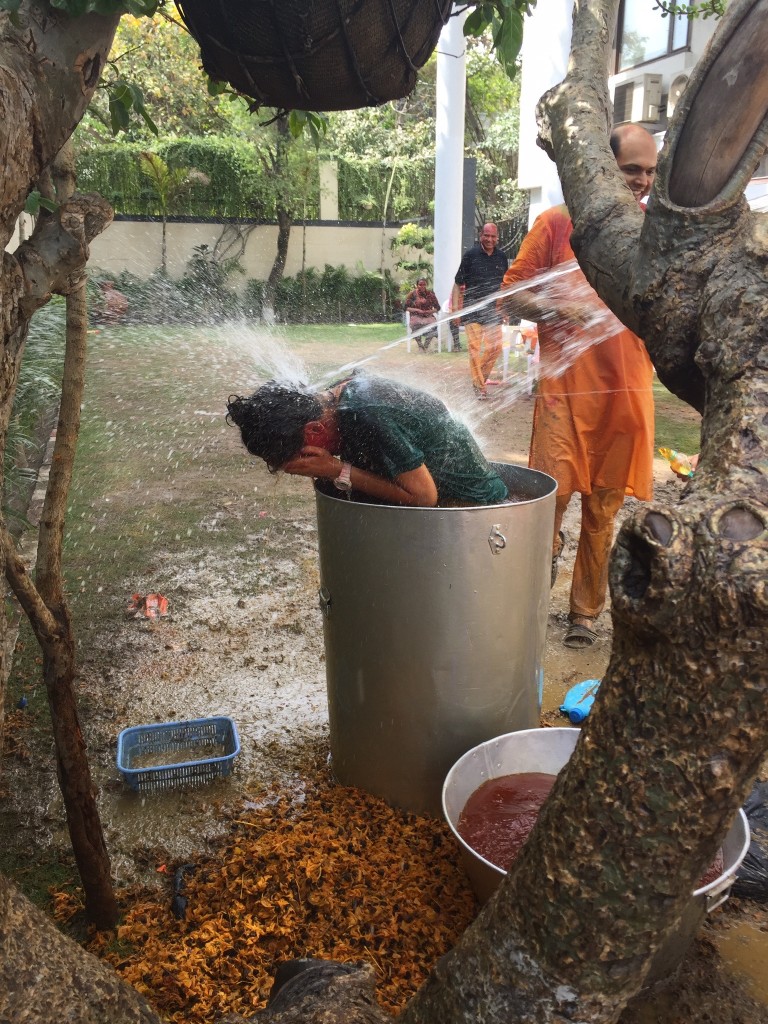 The day culminated in what has to be a family-specific tradition: each of us in turn was dunked in a barrel drum of homemade, bright yellow flower dye.  Even three weeks after Holi, there were still minor tints of that yellow in my hair.  It was a great reminder of a wonderful trip, and is a great example of the many ways that Fletcher students contrive to fill their time with enriching yet adventurous trips during their time away from school.