From engineering to Fletcher (Introducing Pulkit)
The second post from new Student Stories writers comes from Pulkit, who has taken a multi-step path from an engineering degree to Fletcher.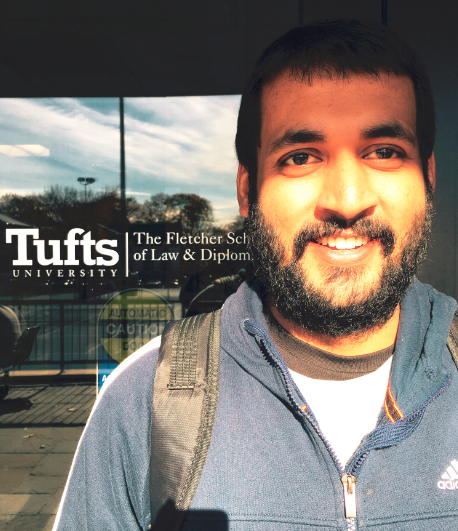 Hello!  My name is Pulkit Aggrwal and I am a first-year MALD student from India.  I am excited to share my Fletcher journey with all of you.  I am interested in writing for the Admissions Blog because, as I share my story, I will be able to reflect and critically analyze my thoughts during my time at Fletcher.  At the same time, I hope these stories will resonate with readers, who themselves are either trying to discover new fields of study or explore uncharted territories, and I hope that it will give them the confidence to try and experiment.  I also hope that, at the end of two years of my program, when I read these posts and look back at my journey, I will see how much I have learned, how much I have grown as a person, and how far I have come.
I was brought up in Chandigarh, a city north of New Delhi, a capital of two Indian states, and a city designed by the French architect Le Corbusier.  I studied engineering as an undergraduate.  Specifically, I studied electronics and electrical communication engineering.  After graduating, I worked with McKinsey and Company as an analyst in the high tech and telecommunications industry vertical.  I worked for clients across the consumer electronics, telecommunication, software, and IT services value chain.
After McKinsey, I joined a hospital in an administrative capacity, working on business development and strategy.  During this time, I tried to enter into the Indian Civil Services as a foreign service officer.  In order to make a contribution to my community, I volunteered as a teacher with a children's not-for-profit organization called Make A Difference.  As a teacher, for about four years, I was associated with Ashiana, a shelter home for underprivileged children, where I worked, mentored, and taught children aged six to 18 years.  Later, I was selected as a Global Shaper Under 30 — an initiative of the World Economic Forum — where I worked on community issues related to urban mobility, gender empowerment, and community leadership.  These experiences shaped my interest in international affairs and development.  It is then that I decided to pursue graduate studies, to build an understanding of key international issues and develop a complementary skill set in law and economics.
At Fletcher, I am currently pursuing courses in International Security Studies, International Organizations, Human Security, and Development Economics.  These fields are intricately tied to each other.  I hope to concentrate on two out of the four Fields of Study and bring in key elements from the other two so as to have a complete perspective.  Coming from a physical sciences background, it is huge step for me as I make a transition and pursue studies in social sciences.  It is also a steep learning process as I get introduced to new subjects, terminology and their inter-linkages.
To add an international language to my skill set, I am auditing elementary French at the Olin Language Center here at Tufts.  Outside of class, I am involved in a few activities and societies at Fletcher.  I am a print staff editor for The Fletcher Forum of World Affairs and I volunteer with the Admissions Office.  I am also working on a land rights project with the Harvard Law and International Development Society.
It has been three months since I moved to Boston and started school, and Fletcher has exceeded all my expectations.  More than the curriculum, it is the people I have met and the constructive challenges that I have faced that have made my graduate student life so interesting and enjoyable.  I have just embarked on this journey.  There is so much happening all the time that I feel like I live a lifetime every day.  No day is the same.  I enjoy facing these challenges and tackling them one at a time.  As I gear up for the final month of my first semester at Fletcher, I look forward to sharing more from my learning and experiences.