Introducing Mariya, first-year MALD student and Pickering Fellow
Our final post from a new Student Stories writer comes from Mariya, a recipient of a Pickering Fellowship that helps her fund her education in return for a commitment to join the U.S. Foreign Service.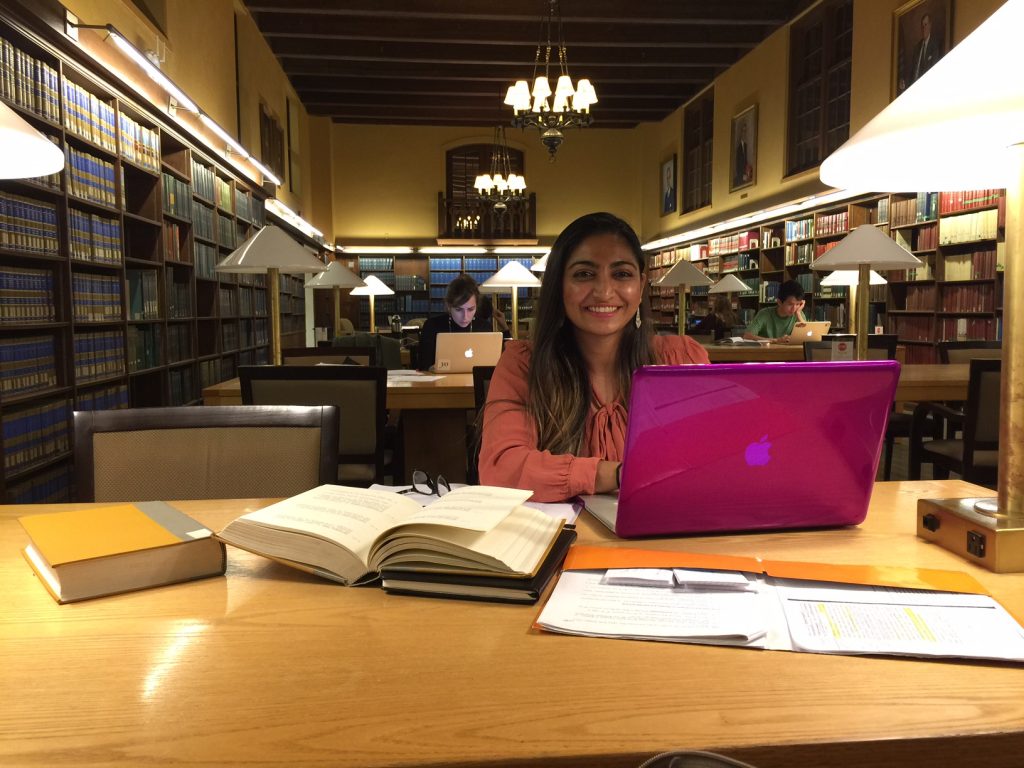 Greetings from one of my favorite study spaces at The Fletcher School: the ultra-quiet "Hogwarts Room" at Fletcher's Ginn Library.  I am surrounded by neatly stacked books, brightly lit lamps, students hard at work, and former deans looking down at us — either admiring our dedication or secretly laughing.  I can never tell.
But what I can tell you is who I am and why I am here.  My name is Mariya Ilyas and I am first-year MALD student.  I was born in Pakistan, moved to the United States with my family at age eight, and grew up in Alexandria, Virginia, just seven miles south of the nation's capital.  The proximity to Washingtonian politics, exposure to diverse people and cultures, and having a dual identity cemented my interest in international affairs from an early age.  I am grateful to the Thomas R. Pickering Graduate Foreign Affairs Fellowship, which will allow me to pursue my lifelong dream of becoming a U.S. diplomat and serving my country in a meaningful way.
I am here to share with you my experiences at Fletcher over the next two years.  I enjoy blogging because writing for an audience allows me to process and reflect on my experiences, while also growing from them.  As I navigate my Fletcher journey, my goal is to not just share the immense opportunities that are available at this school, but to also analyze how those opportunities are contributing to my personal growth and preparing me for my career.  I hope that my entries will provide prospective students with another point to consider as they explore graduate school options.  I also hope to look back on these posts in 2018 and reflect on my personal and professional development.
I came to Fletcher with a diverse set of experiences.  I studied mathematics, sociology, and government at Bowdoin College, a small liberal arts college in the town of Brunswick, Maine.  My time at Bowdoin prepared me for many "real world" challenges, including the New England winters — which became particularly handy when I took up a job in Boston after graduation.  As a product analyst for Liberty Mutual Insurance, a fortune-100 company, I analyzed insurance data and implemented projects to increase growth and probability in the state of Kentucky.  After gaining valuable business and financial skills, I switched gears from the corporate world to the public sector.  Last year, I taught English in Antalya, Turkey through the U.S. Fulbright English Teaching Assistantship program.  This nine-month fellowship allowed me to appreciate a different culture, learn a new language, and get a glimpse of what it is like to live abroad.  My extensive travels showed me the rich history of Turkey and the country's breathtaking beauty, as well as the strength and hospitality of its people.  Lastly, my internships at The White House and the U.S. Department of State (Pakistan Desk) exposed me to my future workplace: a complex federal bureaucracy with humble public servants.
This semester, my classes include Role of Force, International Organizations, Petroleum in the Global Economy, Arts of Communication, and a yearlong EPIIC Colloquium, hosted by the Tufts Institute of Global Leadership.  Although I plan to concentrate in International Security Studies and Global Maritime Studies, my strategy for graduate coursework is to expose myself to as many different disciplines and topics as possible — Foreign Service Officers are generalists, after all.
Outside the classroom, I am involved in activities that push me out of my comfort zone, challenge my assumptions, and help me develop new skills.  I am a member of the Arctic Initiative and the improv group, co-leader of Fletcher Students of Color & Allies, and co-leader of the Fletcher Islamic Society (which I helped re-establish this year).  I am also conducting research for the U.S. State Department's Diplomacy Lab under Professor Eileen Babbitt and helping fundraise for the Arctic and Energy conferences coming up in February 2017.  In addition to these ongoing activities, I enjoy participating in opportunities that add to my learning.  For example, I was one of 40 students who represented Fletcher at the Arctic Circle Assembly Conference in Reykjavik, Iceland; I played the role of Turkey's interior minister at this year's SIMULEX, and I gave a TEDx-style speech about blogging as a way to bridge the academic-policy gap at the Fletcher Idea Exchange.  I've also signed up for impromptu activities such as participating in cultural nights, hosting a Fletcher Feast, or attending Professor Hess's annual picnic.  This might seem like an overwhelming set of commitments — and at times, it can be — but if there's one thing I have learned at Fletcher, it is that Fletcher students are exceptionally good at juggling their commitments, and that being a part of 15 things simultaneously is the norm rather than the exception.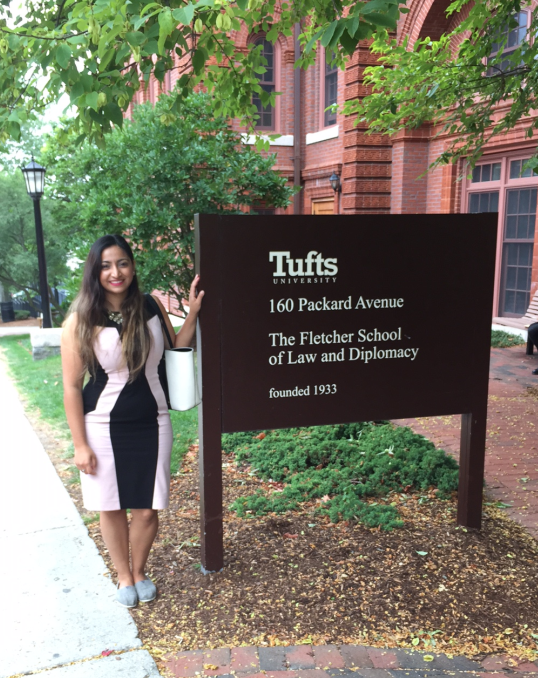 I have been at Fletcher for almost three months now, and I could not be happier.  I remember my uncle, a retired Pakistani bureaucrat, once told me that the Pakistani Government used to send its entire corps of young foreign service officers to Fletcher because of its reputation and approach to the study of international affairs.  I now understand what my uncle meant.  In the short time that I have been here, I feel proud to be a part of a vigorous, yet modest, community of scholars dedicated to solving the world's most pressing problems through interdisciplinary approaches and an international perspective.  It was not just the world-class reputation that drew me to Fletcher, however; I was also attracted to the School's flexible curriculum (including cross-registration at Harvard), diverse student body (each of my four roommates represents a different country), and the quality of its alumni network.  But above all, I chose Fletcher for its caring community.
I would like to share an anecdote to illustrate my last point about the caring community.  In April 2015, I was faced with a dilemma: to enroll in graduate school or defer my admission to pursue the Fulbright Scholarship.  I called the Fletcher Admissions Office to seek advice, and spoke with Dean of Admissions Laurie Hurley.  Much to my surprise, she said, "Graduate school will always be here."  She encouraged me to take advantage of the once-in-a-lifetime opportunity in Turkey because she believed it was the best move for my professional and personal development.  In that moment I realized the Fletcher community was genuinely committed to my success.  Looking back now, deferring my admission was one of the best decisions I made, because teaching in Turkey prepared me for a richer educational experience and world perspective — and I have the Fletcher community itself to thank for that.