7:35 this morning found me elbow-to-elbow with my Admissions pal Kristen, registering visiting prospective students who are at Fletcher for the Admitted Student Open House.  We sent them off to the coat racks and to breakfast, and then we heard from Dean Sheehan about his own path to Fletcher.  (Dean Sheehan is the dean for all sorts of things that aren't academic.)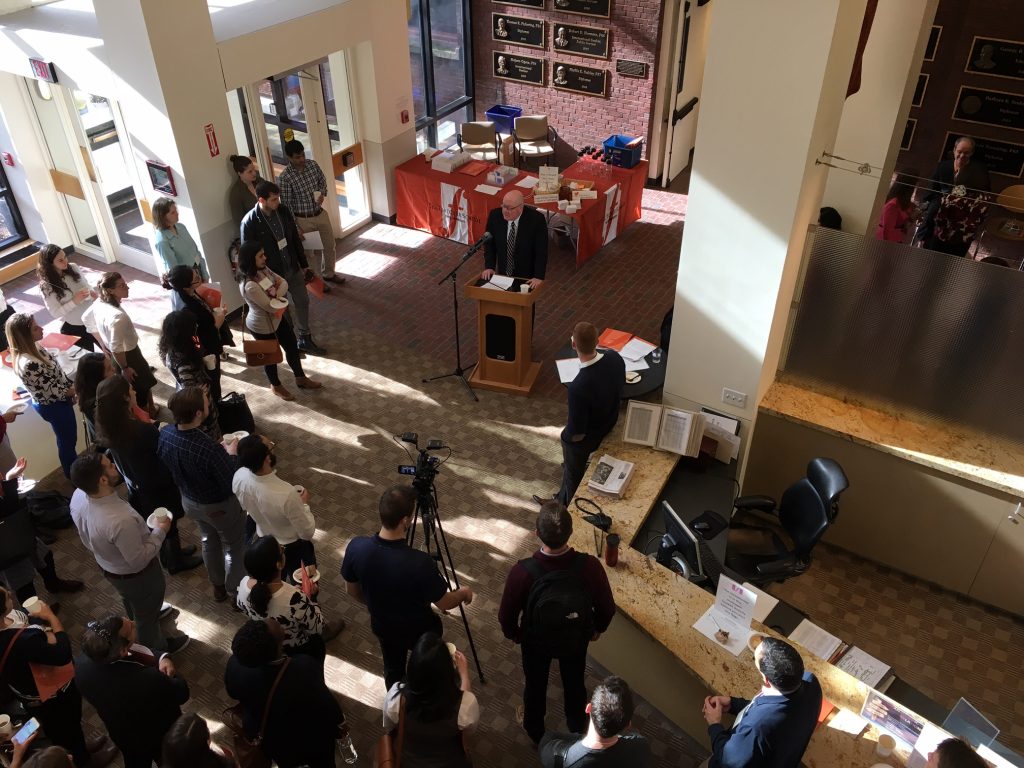 The next set of comments came from two current students — who both shared tales of internships/jobs already arranged with the support of Fletcher alumni — and then the crowd was divided by degree program for program-specific introductions.  The remainder of the day is a constant challenge in decision making: attend a class; attend a student panel; visit an office; participate in a roundtable.  At 5:00, we hope they'll remember to swing back to Admissions and grab their bags.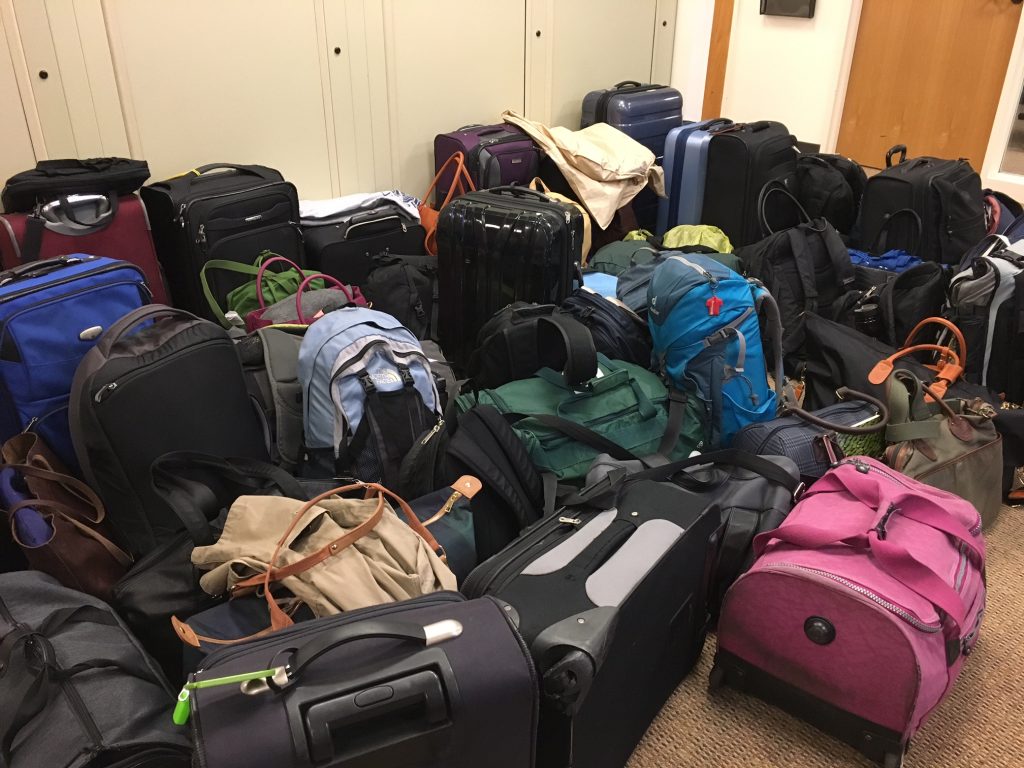 Good idea, pink bag student!  You won't have trouble recognizing your suitcase.
Even after our formal activities have wrapped up, there's an open event at 5:30, Fletcher Reads the Newspaper, which gathers a group of interdisciplinary Fletcher experts to discuss a current news topic.  The Fletcher Reads the Newspaper series is, according to the announcement, "a platform for integrating the skills and contextual knowledge that are central to a Fletcher education, where panelists and audience members participate in examining the problem – and the solutions – through multiple disciplinary lenses."  The subject for this evening's session is:
Resolved: "The US and international system of checks and balances will contain the extremes of the Trump Administration"
Visitors in the audience will be more than welcome to participate, alongside current students.
I admit, the Admissions staff will not be joining the discussion.  We'll be on our way home, where I think it's fair to say, we all look forward to swapping shoes for slippers.  We've been on our feet and enjoying meeting people whose applications we remember since 3:30 yesterday.  The Open House is a really fun event, but just crazy enough that we're also happy to wrap it up at the end of the day.
It's noon now and I'm going to grab my box lunch before heading off to a few lunchtime discussion sessions, to check in with the faculty leaders.  Then back to Admissions to answer questions, a student panel at 3:20, more questions at 4:30, and farewells at 5:00.  A long but happy day!