Our student blogger Mariya has inspired a special project at the Ginn Library, and today she tells how the "Wish Tree" came about.
"This outward spring and garden are a reflection of the inward garden," writes Rumi, my favorite poet.  Jalaluddin Rumi — for those of you who don't know — was a 13th-century Persian Sunni Muslim poet, jurist, Islamic scholar, theologian, and Sufi mystic.  I love his poetry because his metaphors are so powerful, and I constantly find ways that his words relate to my own life experiences.
Spring break was quite rejuvenating.  Unfortunately the Fletcher Pakistan Trek did not work out, so instead I went home to Alexandria, VA.  I soaked in the sunshine during the annual Washington, DC cherry blossom festival, drank lots of Pakistani chai and Kashmiri kahwa, and ate a ton of my mom's delicious homemade foods.  The nourishment was much needed, as it brought back to life my exhausted soul.  My "inward garden" is now full of excitement for the second half of this semester, prayers for my final exams and projects, and well wishes for my peers who are graduating in May.
When I arrived back on campus last Monday, I smiled ear to ear when I noticed — quite literally! — an "inward" tree blossoming near the Ginn Library's main entrance.  This wasn't just any tree, however.  Instead of cherry blossoms or flower buds, strips of pure white, pastel green, and soft peach cotton pieces hung from its branches.
I knew what this was: it was a "Wish Tree."
Let me back up and tell you a little about how this tree came about.  Over winter break, Ginn Library solicited photographs from students, staff, and faculty for their Perspectives Gallery, an exhibit that "highlights world cultures with the hope of promoting understanding and tolerance."  I submitted a few shots from my time in Turkey, and much to my surprise, two of my photographs were selected for the gallery.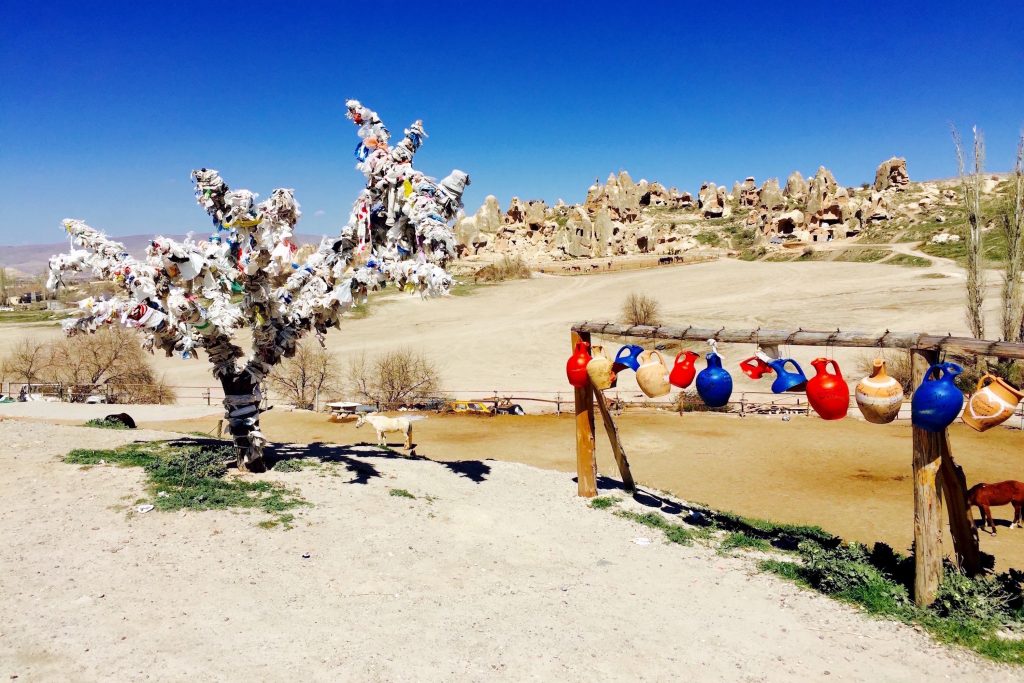 One of these photos depicted an unusual tree that, when I first saw it, gave me a weird sense of déjà vu, but moments later, took me down memory lane.
The tree reminded me of driving up the curvy, dirt road towards our home in a mountainous village in northwestern Pakistan, when we would always pass by a tree, outside of a cemetery, draped in colorful scraps of cloth.  When I would wander the road on my own, this tree served as a familiar landmark that I was close to home.  During these excursions, I always wondered why people forgot to pick up their laundry from the tree.
On a visit to Pakistan in summer 2011, I finally asked my father why people tied cloths to this tree and left them there.  He explained that the cloths were a physical representation of prayers or wishes that people were asking God, and because trees are sacred creations and symbols of life, people hoped to connect with God through nature.  Often the prayer or wish is related to health or fertility, but it could also be a request for help, guidance, repentance, strength, or hope.
When I stumbled upon the "Wish Tree" during my travels in Cappadocia, Turkey last year, I was reminded of my father's words.  But unlike the tree from my childhood, this tree had noticeably more white cloths than colorful strips, and instead of being next to a cemetery, it rested next to a rack of broken pottery.  In Islam, white symbolizes purity and peace, and is the color that is worn at funerals.  I was captivated by the irony of this scene — the colorful pottery hanging by a dried up riverbed, horses roaming in search of grass or water, deserted caves longing for their inhabitants and worshipers; yet the living tree reaching toward heaven in the clear blue skies, its branches heavy with wishes, dreams, and hopes of people from around the world.  I would never have realized at first glance that this abandoned scene was home to such a beautiful spiritual life.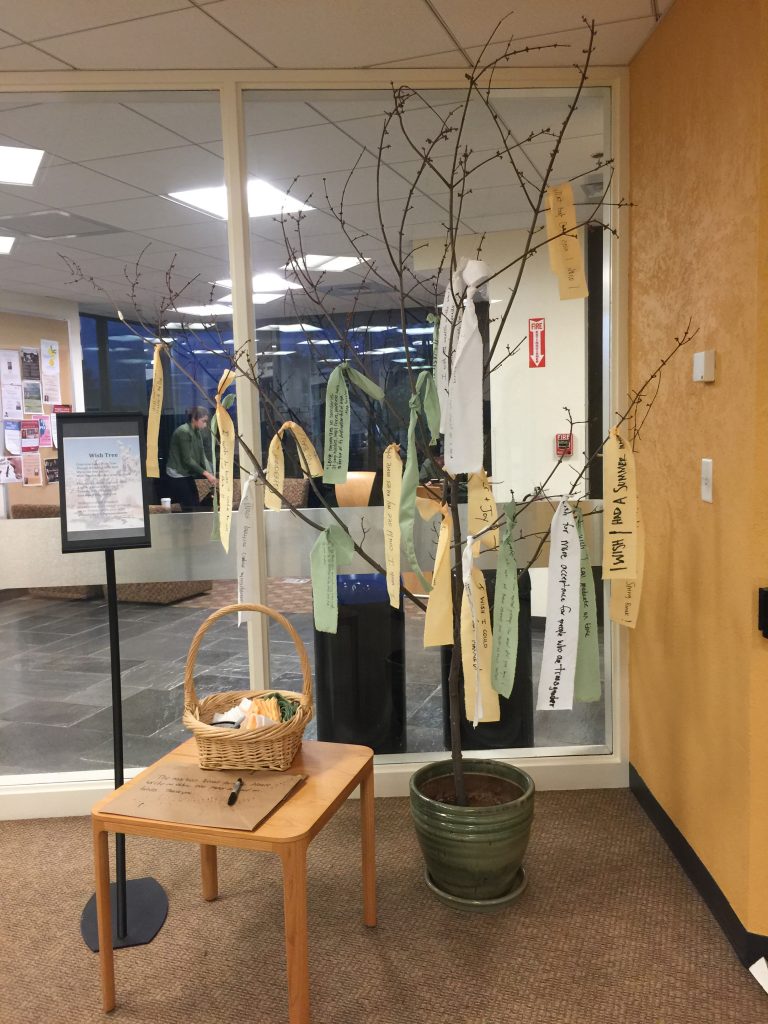 Tying cloths to trees is an ancient tradition that is actually quite common across many cultures around the world.  The ritual is practiced by the Irish, Scottish, Thai, Chinese, Tibetans, and even Native Americans, to name a few.
When I shared this story with library staff members Cynthia Rubino and Anulfo Baez, they were inspired to bring the Wish Tree to Fletcher.  Thanks to their creativity and efforts, anyone who walks through the Ginn Library can now jot down wishes and hang them on the tree.  I invite all visitors to Fletcher this spring to stop by Ginn, grab a black Sharpie and a piece of cloth from the basket, and make a wish.  And because you'll be in the library, here's a reminder from Rumi: "Raise your words, not voice.  It is rain that grows flowers, not thunder."