First-Year Alumni: Miranda pursuing her dream career
I'm a little late in sharing updates from the Class of 2016, but there's no time like the present to run the first of the posts from alumni who have completed one year post-Fletcher.  We'll hear today from Miranda Bogen, and it doesn't surprise me that Miranda was the first to answer my call for updates.  Our first interaction was when she contacted me, only weeks after arriving at Fletcher, to ask if I'd be interested in a post that she wrote with her new classmate Aditi (who then went on to write for the blog for two years).  And Miranda didn't just start her Fletcher experience busy — she stayed busy throughout her two years.  So let's let her tell us what she's doing now.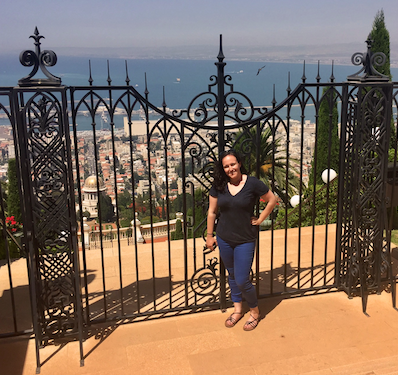 It's hard to believe that a year has passed since I spell-checked my capstone for the seventeenth time, powered through my last final, and bid farewell to Medford to join the flock of migratory Fletcherites making our way southward to the other epicenter of the Fletcher Community — Washington, DC! 
I came to Fletcher to study how technology impacts international affairs; I was inspired by the waves of digital activism bubbling up across the Middle East during the Arab Spring, and curious how online platforms like Google and Facebook were navigating constraints and demands of oppressive governments while simultaneously rooting for the protesters, who were exercising exactly the sort of free expression that these companies endorsed.  Like many "career-switchers" who come to Fletcher for a professional pivot, I was nervous about the prospect of trying to break into a new field without directly relevant work experience.
Luckily, Fletcher provided exactly the springboard I needed.  The interdisciplinary curriculum let me take courses ranging from cybersecurity to international business law, and together with a group of fellow students interested in technology, I launched the Tech@Fletcher student group to explore technology in the realms of diplomacy, development, innovation, and business.  I was thrilled to be selected as a Google Policy Fellow during the summer between my first and second years, an internship that brought me to DC to coordinate educational programs on Capitol Hill for Congressional staff to learn about such topics as Internet governance and drone policy (and simultaneously exposed me to the range of organizations and companies engaged in technology policy conversations, a huge help during my job search!).
Aided by a connection I'd forged during my first semester with a Fletcher alum (who I found via LinkedIn and who responded to my initial cold email within 15 minutes with an offer to help), I was lucky to secure a job several months before graduating as the fifth member of a small public interest consulting firm that focuses on the intersection of technology and civil rights.  The hybrid consulting/policy job seemed to require the exact set of skills I learned at Fletcher through course like Field Studies in Global Consulting and Writing to Influence Policy and the Global Debate, and while I was initially hesitant to join such a young organization (coming from a scrappy nonprofit, I thought working for a larger company would be a valuable next step), several people I admire recommended I give it a chance — and the decision to take that leap has turned out even better than I could have imagined. 
In my job, I get to work on cutting edge issues like algorithmic decisions, big data ethics, and online hate speech with some of the leading civil rights organizations and foundations in the country.  We work with advocacy groups like the ACLU and The Leadership Conference on Civil and Human Rights, as well as companies like Google, Facebook, and AirBnB, to address issues of discrimination in online platforms.  Plus, I frequently find myself in meetings with the very same people who I studied while I was at Fletcher.  No pressure!
The advice I always give prospective students is that starting graduate studies with a solid idea of the career you want will help immensely in choosing courses, prioritizing extracurriculars, and picking a capstone topic, and I stand by that advice.  But on the other hand, you never know when something you do for fun or to fulfill a requirement will come in handy: It turns out the the Environmental Economics class I squeezed into my final semester has been surprisingly relevant to Internet policy issues.  Who'd have thought?
Other work I did at Fletcher has also popped up in unexpected and gratifying ways.  A few months after graduating, I converted part of my capstone (which explored how technology companies make foreign policy decisions) into a longform article about the geopolitical quagmires of Google Maps.  Mostly, I wanted at least some of what I'd spent months working on to see the light of day — and then, out of the blue, my piece was picked up by Newsweek!  Perhaps even better, the history of corporate social responsibility that I researched and the analytical framework that I developed for my capstone have helped me on a daily basis as I interface with the tech companies that I analyzed.
I couldn't be happier to be pursuing my dream career and living in Washington.  For those choosing between graduate programs in DC and Fletcher, I wholeheartedly endorse studying in the Boston area: From the speakers and opportunities at Fletcher, Harvard, and MIT to the independent coffee shops in Davis Square where I wrote all of my papers, to the bonds I formed while holed up in Blakeley Hall during the epic winter of '15, Fletcher gave me so much more than just a degree.  I constantly look back on my two years in Medford and know with absolute certainty that I would not have gotten so far so quickly after graduate school had I studied anywhere else. 
One of my favorite parts of my Fletcher experience was procrastinating on my reading in order to weave all of my classmates' international adventures into the yearly video tradition, "Where the Hell is Fletcher." While we had a blast watching this and other videos together in ASEAN as we closed out our final semester with the infamous Fletcher Follies, my brilliant Fletcher friends are again scattered all over the world as development economists, diplomats, bankers, and business strategists — and I can't wait to follow their adventures!