Pulkit's end-of-spring and summer report
With today's post from Pulkit, we'll have heard about the summer activities for all three of our student bloggers who will be continuing on at Fletcher (and in the blog) in September.
Hello!  I hope all the readers of the Fletcher Admissions Blog are enjoying their summer; and if you are an admitted student, I look forward to meeting you soon.  It feels nice to be writing and sharing again.  The end of the spring semester was very busy — from winding up school with tests and assignments, to moving out of Blakeley Hall into a new apartment and traveling.  There is much to share, and I hope my story and experiences at Fletcher will resonate with you one way or another.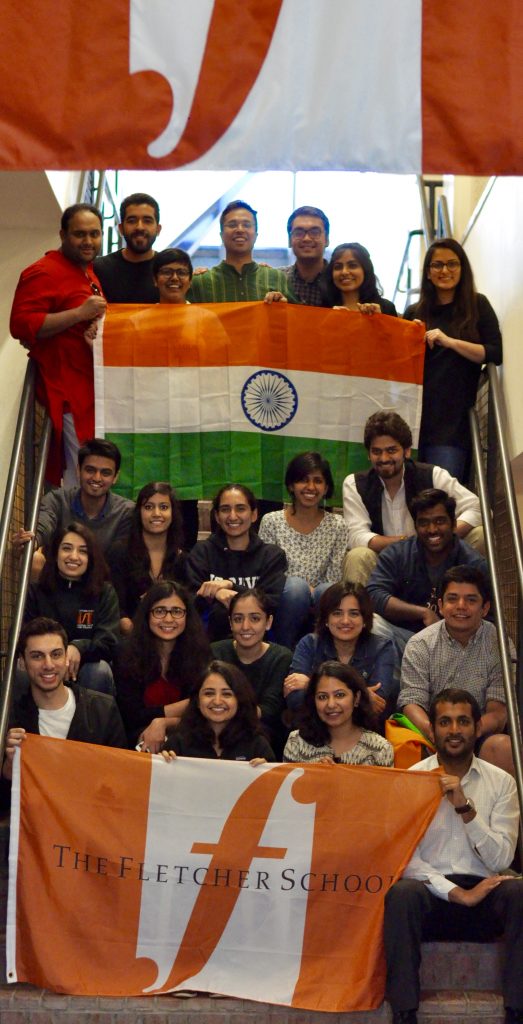 Let me begin my telling you about my favorite class this past semester.  In comparison, it felt like spring semester went by faster than the fall semester.  I took three classes at Fletcher; the fourth was offered jointly by Fletcher, the Tufts Friedman School, and the Harvard Chan School of Public Health.  International Humanitarian Response was taught by Dr. Stephanie Kayden of the Harvard Humanitarian Initiative and Dr. Daniel Maxwell of Tufts Feinstein International Center.  The classes met every Wednesday at Harvard, centrally located in Cambridge.  It was one of my favorite classes for many reasons.
First, I had the opportunity to step off the Tufts Medford campus every week, taking the #96 bus from Tufts down to Cambridge.  Second, my classmates came from different schools — from Fletcher, Friedman, Harvard Chan School of Public Health, Harvard Kennedy School, and Harvard Medical School — making it a real collaborative environment to engage and to study.  Third, I took the opportunity to lead my project and assignment group.  Managing and collaborating with peers at different locations and liaising with other project groups was a good challenge to have this semester.  Fourth, the class had a simulation exercise towards the end of April.  The entire class, along with over a hundred volunteers, camped at the Harold Parker State Forest in North Andover to put into practice much of what we learned about humanitarian response during our classes.  The simulation had everything — UN Cluster System coordination meetings, minefields, fake militia, armed attacks on the camp, and rationed food and water supply.  I made so many mistakes through the three days of the exercise, but overall the experiential component made it a great learning experience.  (Here's a story about a previous year's exercise.)
Beyond the spring's exciting classes, I also kept myself busy with extra-curricular activities.  Every Saturday, I volunteered with Teach-in CORES, a volunteer collective of Tufts University students, working with the Committee On Refugees from El Salvador, in Somerville, to teach literacy and English as a second language, and prepare the participants for the U.S. citizenship exam.  On Thursdays, I would make it a point to go to the open-to-the-public seminars on nuclear policy and nuclear non-proliferation at the Project on Managing the Atom, at Harvard Kennedy School.  I also took the opportunity to recite a couple of poems at the student-led Fletcher Open Mic Nights, a wonderful forum to express and share.
After finishing my exams and submissions, I decided to visit my family back in India.  Before that, however, moving out of Blakeley Hall was challenging.  I had to drag all my belongings into the basement of a house I was going to move into for the next academic year.  After bidding good-bye to graduating friends and winding up some important chores, I was excited to fly back to India for a short visit.  It was really special to go back home, as I was visiting after ten months.  It was surprising to me that I got absorbed into the Indian way of life as soon as I arrived back home.  I was eating street food, navigating through the thick Indian traffic, and meeting cousins and friends on the go.  It was like I had never left India.
During my time in India, along came an opportunity for the summer, and I grabbed it with both hands.  Professor Ian Johnstone offered me a teaching assistant (TA) position for a summer exchange program.  Since I had never assisted a professor, there was a steep learning curve for me.  For example, as a TA, I led review sessions —  which meant I needed to review what I had learned myself during the last semester.
As I write, I am glad to share that I have settled in my new house, and I am enjoying my summer with some time for reading, cooking, swimming, and cycling, meeting friends, and traveling in and around Boston.  I hope to share again towards the end of the summer!