Post #1776: Thanksgiving 2017
Like that most pivotal of years in U.S. history, 1776 is the number of today's blog post.  In addition to the usual topics, the previous 1,775 include annual odes to Thanksgiving, my most favorite of holidays.  People who have never lived in the U.S. may find Thanksgiving perplexing.  It's not a religious holiday.  No gifts are involved.  And yet it's not a patriotic holiday, like a National Day.  But it's a nearly universally shared holiday, and tomorrow, Thursday, will feel different from any other day in the year.  You could call it an internally facing holiday, with the highlight being a special meal.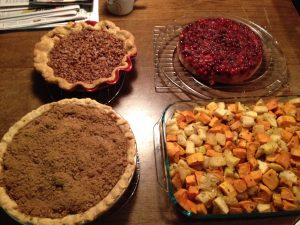 My annual Thanksgiving cooking doesn't change radically from year to year, but it does evolve.  The basic ingredients always turn up — we're definitely Team Sweet Potato, and squash (a vegetable I love on the year's other 364 days) or mashed potatoes don't make an appearance.  Nonetheless, I read avidly about the holiday, primarily recipes, but also about the meaning of a day dedicated to giving thanks.  And so, I was pleased that my reading led me to an article by Elliot Ackerman, F03, in the food section of The New York Times.
Thanksgiving is our most communal of holidays and I like to check in with folks to be sure they have a meal planned or a destination.  Among Fletcher students, some will travel to their families, others will stay here and host or be hosted, and many will create a short vacation and go somewhere else entirely.  So long as no one is eating alone, I'm happy.
Everything I'll cook for the meal comes from my list of standards.  The only change will be the green vegetable.  I'm thinking of a salad of shaved Brussels sprouts, but I could still go with roasting.  After many years of hosting, I'm realistic about putting perfectly cooked vegetables on the table amid the frenzy of the final preparations, and yet I haven't figured out the solution.  Maybe the answer is a cold salad.  Maybe next year I'll be back to considering other options.
I'm fortunate that I never need to worry about fractiousness around the dinner table.  I'm thankful for that.  But the wider world offers challenges, so I will take Elliot Ackerman's point as he says, "And we still, even on Thanksgiving, struggle to recognize one another as countrymen across economic, political and racial divides."  I'm thankful that Fletcher brings together people from across those divides, giving me daily opportunities to learn.
And with that, I wish everyone a happy Thanksgiving, whether you're celebrating with family or friends, or looking forward to spending the holiday in the U.S. next year while a graduate student.
(Note that the Admissions Office will be closed on Thursday and Friday, but the blog will not rest!  Check back on both days for a special feature.)