Fletcher graduates/U.S. diplomats
If you're off for a few days to celebrate Thanksgiving, you may find yourself with extra time to read, and when it comes to providing reading materials, I'm at your service.  Back in the summer, Student Stories blogger Mariya interviewed the Deputy Chief of Mission at the U.S. Embassy in Bangkok, along with his wife (and fellow Fletcher graduate).  The interview, which has been condensed slightly, will appear today and tomorrow on the blog.
It's true what they say about the Fletcher community: it is everywhere.  This past summer in Bangkok, I met a lot of Fletcher students and alumni of all ages.  I'd like to share the story of two of them.
During the HR onboarding for my internship at the U.S. Embassy Bangkok, I was given a folder full of materials about Mission Thailand.  As I skimmed over the bios of Ambassador Glyn Davies and Deputy Chief of Mission (DCM) Peter Haymond, I was excited to learn that DCM Haymond is a Fletcher alum.  My curiosity got the best of me and I decided I wanted to learn more about his time at Fletcher, but waited for a conversation opportunity to come up naturally.  One week later, at the Gay Pride Reception at the Ambassador's residence, I ran into a cheerful Thai woman called Ms. Dusadee.  She gave me a hug, and told me she also graduated from Fletcher.  I was touched by her warm gesture and became even more excited to meet the Fletcher alumni at Mission Thailand.  It took me another five minutes of conversation to realize that Ms. Dusadee was the wife of DCM Haymond — and they met at Fletcher!  I blurted out: "I would love to interview you and Mr. Haymond."  Ms. Dusadee smiled and replied, "Of course, of course, I'll invite you for lunch at the Raj."
I wasn't sure what the "Raj" was, but I agreed.  One month later, Ms. Dusadee stuck to her promise and invited me for lunch at their beautiful residence at the Rajadamri compound.  In an exclusive interview, here is what I learned about the backgrounds, Fletcher years, and diplomatic careers of Mr. Haymond (MALD, F86 and PhD, F94) and Mrs. Haymond (MALD, F87).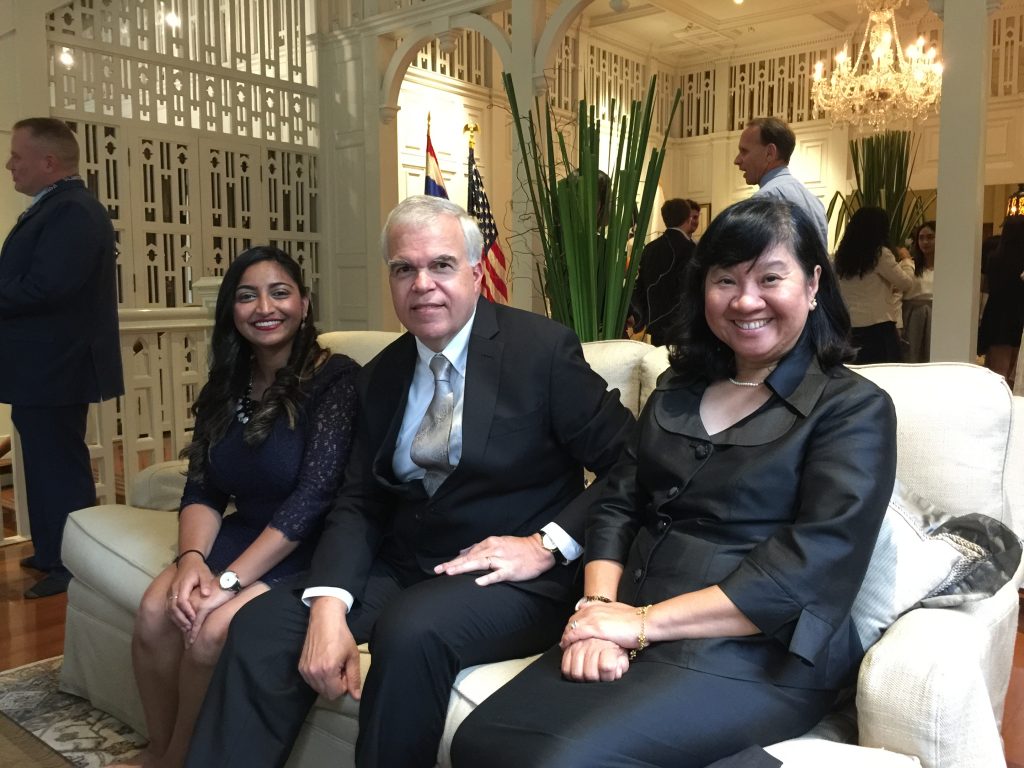 Q:  Tell me a little about your backgrounds.
Dusadee Haymond:  I grew up in Bangkok and attended Mater Dei Catholic Girls School, just around the corner from the U.S. Embassy.  My mom's family came from the north of Thailand so I always associate myself with the north.  I studied European history at Chulalongkorn University.
Peter Haymond: I was born in Seattle, where my dad was working at Boeing.  We left there when I was three and continued on a series of moves including two and a half years in Thailand in the 1960s, which I call the "Oz of my childhood" — bright, exotic memories from [age] seven to nine.  I went to middle and high school in Prince William County in northern Virginia, and then went on to undergraduate at Brigham Young University.  My dad was originally from Utah and I had only visited relatives there, so it was a way to get in touch with my Mormon roots.
What was your path to Fletcher?
PH: While in Utah, I took two years off to do voluntary missionary service.  They sent me back to Thailand, and that's when I learned Thai.  Coming back from that experience, I was studying economics and international relations.  I was interested in something international.  I was looking at law school, but in the end decided I wasn't really interested in being a lawyer.  The best lecturing professor I had during my undergraduate years was head of the IR department, and when I started to look at graduate programs, he called me in and told me about this graduate school for international affairs out in Boston.  He had graduated from Fletcher some years earlier and offered to set me up with the dean who was coming out to make his circuits of various universities in the west.  I had a talk with [former Admissions] Dean Charles Shane, who later took Dusadee in as a host family and whose daughter became one of Dusadee's closest friends at Fletcher.
DH: I always wanted to study in America.  But my family comes from middle class.  Both my parents worked for the government.  So I knew I had to look for scholarships and take a lot of exams.  I attended Fletcher through the full-tuition Fulbright Peurifoy Scholarship.  In return for my two years of study, I had to come back and work for the Ministry of Foreign Affairs for twice as long — four years.
What led you to the Foreign Service in your respective countries?
PH: I had lived in Thailand twice, was interested in economics and international economic development.  I like living in countries for extended periods of time to get a feel for the people and language and the culture, and the Foreign Service offered that while being able to represent the American people.  For me, it's been a great bargain.
DH: Destiny.  Actually, I wanted to be a professor at a university.  I was teaching on a contract when I heard about the foreign service exam from my friends, and I said, "why not?"  I took it and passed it.  Then I got the Fulbright to study at Fletcher, and I met Pete…so it was destiny.  I'm willing to take an opportunity when it comes.  I studied Western history in college, so from the start, I wanted to be a bridge that promotes understanding between East and West.
Because of my scholarship, I needed to come back and work for the Thai Foreign Service for four years.  I almost finished my service but with a few months left, Pete was called to join the U.S. Foreign Service and we didn't want to be separated for too long.  We had a baby too, so we had to make a decision.  So Pete paid back almost $3,000 for what I still owed the government, and I used to tease him that he bought me off. <chuckles>
PH: We had a big decision to make.  We had to either go with her Ministry, where I was the dependent diplomatic spouse finding things to do, or go with the U.S. Ministry.  Given they paid a little more, and our daughter had just been born, we decided to go with the U.S. side.  That's led to Dusadee's 25 years as an eligible family member.
Ms. Dusadee, how has it been, being an eligible family member (EFM)?
DH: I have to say it is very tough for foreign service spouses, who tend to be drawn from the same economic, educational, professional level as the foreign service officers (FSO).  It's tough because for the FSO, you move into a different country and you already have a job waiting, there is a structure for you.  But for the FSO spouse, you have to change the country and then find the new support system for the kids, pets, car, domestic assistance, etc.  And then start looking for a job if there is something appropriate you'd like to do.  But I have to say for myself, State Department has been very supportive.  The Family Liaison Office in Washington does a great job taking care of family members, especially finding work for trailing spouses.  My advice for the newer generation is to try a career that is portable like a teacher at an international school or a nurse.  I have been teaching, working for the Embassy, learning new languages, and writing or translating work on my own.  I've taught at Foreign Service Institute for two different stints and the International School in Korea.  One thing that has certainly helped is my Fletcher education.  I was once hired for a Foreign Service Officer-equivalent job at the State Department for two years working on trafficking-in-persons issues in Southeast Asia.  Everyone looks at the Fletcher degree, and says "wow, she is qualified for an FSO job."  No questions asked.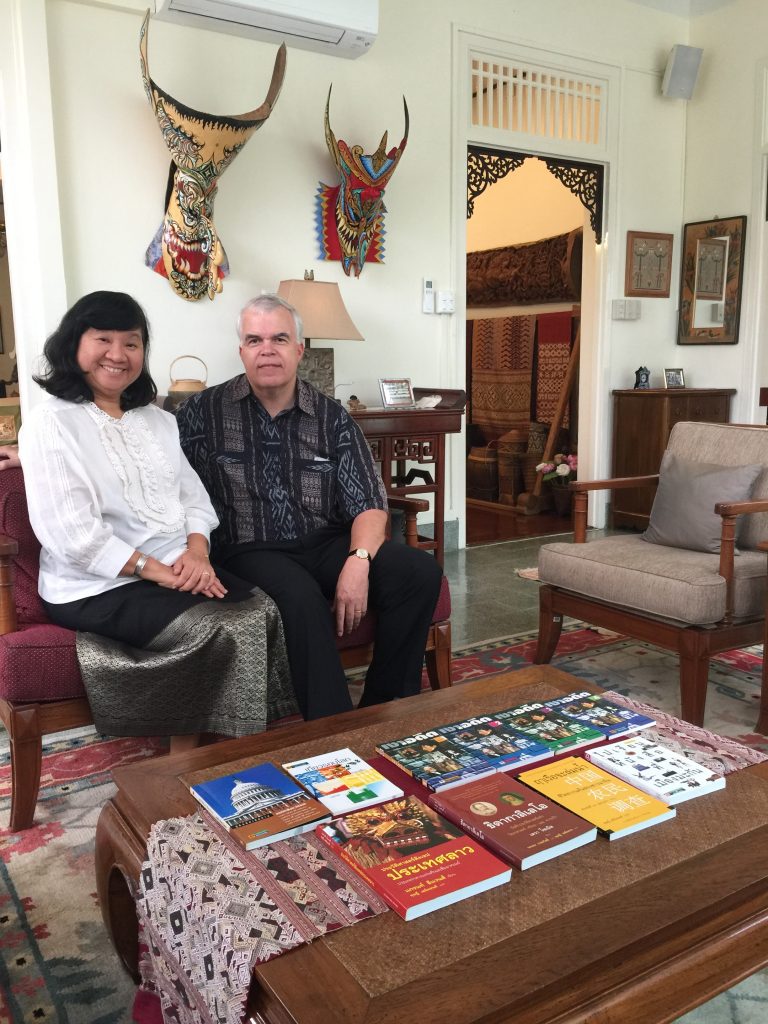 Can you tell me more about your writing?

DH: The summer before I graduated from Chulalongkorn University, one of the magazines was looking for a writer and one of my professors knew I loved to write.  So my friend and I started a travel magazine that is still in print called "Tour Around the World."  I wrote monthly travel articles for several years, but when I went to Fletcher, I didn't have a lot of time for research-based writing.  I decided the experience as a foreign student in the U.S. was interesting, so I started writing a monthly column on life as an American graduate student, everyday life, studying, trips around New England, entertainment.  When I came back, the magazine compiled my columns and published them in a book which became one of the best sellers for that publisher at the time.  The title of the book is in slang Thai, translates to "Studying in the States."
I've also translated a number of books, including a short history of Laos by an Australian historian, Galileo's Daughter, and a semi-illegal book in China called Will the Boat Sink the Water in which a journalist chronicles abuses of Chinese peasantry.
Was interracial marriage difficult?
DH: It was tough at the beginning.  During the Vietnam War, there were a lot of GIs in Thailand.  A lot of them married Thai wives.  Unfortunately, many of these wives were not educated.  When I came back to visit my family in Thailand, I had to wear my best clothes, wear good jewelry, and speak English to differentiate myself.  Later on, it became more fashionable to marry Caucasians.  Fortunately, my family realized Pete was a good man.  Education was the most important thing for them, but still it was a risk for me to quit my good career and follow him.  And Pete has proved himself.  They're all very proud of him.
PH: From my side of the family, they were excited and pleased because they had nothing but positive memories from Thailand from back in the 1960s.
How many languages do you speak?
PH: I speak Thai, Lao, Mandarin, and some French and very basic Korean. [On July 27, Mr. Haymond was one of four foreigners to receive the Thai Language Proficiency Award by the Ministry of Culture for excellent mastery of the language.]
DH: I speak Thai, Lao and English and I've studied French and Mandarin.  My proudest moment in Beijing was when I went to a market and the vendor asked me "are you from Yunnan?" — a southwestern province where there are a lot of ethnic minorities.  I was being taken not as a foreigner, but as a Chinese citizen of another ethnic group.  I  took it as a compliment!  But you know, my Chinese is very street level because that's what I used — bought groceries, used the taxi to get around.
Where have you served?
PH: We've served in various capacities in Washington; Chengdu and Beijing, China; Laos, Korea; and of course, Thailand.  My favorite post was probably a three-year assignment as a narcotics affairs officer in Laos.  It was the purest fun I've had in my entire Foreign Service career, traipsing around the mountains of northern Laos.  I was cutting roads into remote mountain valleys, to which villages then migrated to access the outside.  We built small schools, little clinics, little irrigation systems.  It was very enjoyable, in part because you could see tangible positive results from the work!
What advice do you have for students pursuing a career in international affairs?
PH: Take the Foreign Service exam to have that option open.  You may find something you're more interested in, and if you find that, by all means take it.  But the exam is a minimal investment in time to keep the option open that can provide a rewarding career.
The world needs dedicated, passionate, interested Americans engaging in public service, in NGO work, in business around the world.  Most important is the day-to-day work, the Americans they meet in walks of life in capitals around the world.  In that sense, students of Fletcher that go abroad will all be ambassadors of the United States because the U.S. will be interpreted as a place that produces people like them — for good or for ill.  For someone who is meeting an American for the first time, those informal ambassadors are America.
Depends on what your stomach is for risk.  I have utmost respect for people who are brave enough to jump from a job in one country to one in another on their own.  The Foreign Service has worked for me because there's regular change, but within structure.  I'd add that the Fletcher background helps maintain a lot of options, particularly in international careers.

DH:  If you're interested in the Foreign Service, keep in mind that it's a family unit.  Always consult your spouse when deciding on a new assignment.  Foreign Service is a family decision.  It's not his or her life, it's our lives together.