Friends, it's time to get serious
Are you planning to submit your application for review by our January 10 deadline?  The large majority of our applications will arrive within 72 hours of the January deadline, even though, depending on your degree program and interest in applying for scholarship assistance, you might have other deadline options.
But let's assume that January 10 is your deadline target.  We are now within one month from that date.  How are you going to plan your time?  I'll tell you what I would suggest.  I would suggest that you NOT wait until the last minute to submit your application.  I would further suggest that you assign yourself two deadlines — the day by which you'll complete your application, and the day on which you'll submit it.  Some suggestions?  How about you aim to complete your application by January 5.  Get everything all cued up, and then go to the movies, or meet your friends for trivia night, or whatever it is you like to do to relax and distract yourself.  Then, on January 7, reopen your application.  Review everything.  And if it's all as you want it to be, submit the application.  You'll feel good and, even better, you won't suddenly realize that, in your January 10 haste, you submitted the wrong essays or résumé.
Though it's not my job to worry about your applications to other graduate schools, note that this double-advance-deadline method will work for them, too.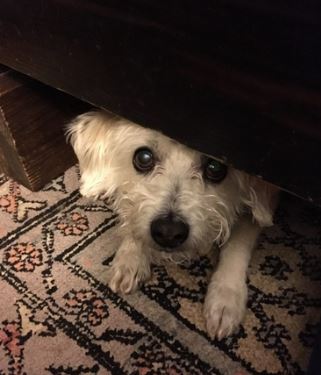 I'm well aware that applications take time and they don't write themselves.  Maybe the idea of submitting the application early won't appeal to you.  But let's be honest with ourselves; aiming for your choice of deadline before the actual deadline won't negatively affect the application, even if you are giving up a few days to work on it.  Get those fingers typing the answers to the questions on the form, and get your mind thinking big thoughts for your essays, and make it happen.
An additional benefit of submitting early — there's a good chance we'll have a chance to process your application before the real deadline even arrives.  That means that, while others are still deciding whether to use a comma or semi-colon, you might learn that your application is complete.  Won't that be nice?  While they're stressing, you're relaxing.
In conclusion, please do not follow Murray's example and hide from the deadline.  Embrace the challenge I've just set in front of you, and submit your application just a few days early.  You'll be glad you did.