First-Year Alumni: Dan's journey through MYF and Fletcher to Tanzania
With the newly minted Class of 2018 graduates now out in the world, I'd like to turn back to the Class of 2017 and their reflections on their first year post-Fletcher.  We've already heard from Ammar and Sydney; today we'll hear from Dan, who describes his long path to and through Fletcher.  As a reminder, Map Your Future applicants apply roughly two years before they will officially start Fletcher classes.

My Fletcher journey started several years before I actually enrolled in my first class and will continue for many years to come.  As part of Fletcher's Map Your Future Program, I was originally admitted to Fletcher in May 2012, shortly before I finished my undergraduate degree.  With the knowledge that I would eventually join the Fletcher Class of 2016, I then worked for several international development firms in Washington, DC, before spending a year working with cocoa farmers in rural Ghana as a Princeton in Africa Fellow.
My time in Ghana also introduced me to just how far the Fletcher alumni network reaches, as, while there, by pure chance, I met one of a small number of Fletcher graduates who had participated in the dual degree program with Tufts' Friedman School of Nutrition Science & Policy.  After learning about the exciting opportunity to combine my Fletcher education in development economics with a second master's program focused on international food policy, I decided to apply to Friedman from abroad.  Upon my acceptance to Friedman, I deferred my official matriculation at Fletcher by an additional year and joined the three-year dual degree program as a member of the Class of 2017.
My three years as a Fletcher/Friedman student were exciting and eye-opening.  Thanks to Fletcher's interdisciplinary curriculum, I took courses on topics ranging from negotiation theory to humanitarian assistance, many of which have been helpful to me since I graduated.  In addition to working with remarkable professors both in and out of the classroom, my Tufts education offered me the chance to build lasting friendships with classmates from around the world and, eventually, to travel myself as well.
During the two summers between my years at Tufts, I first worked on Feed the Future programs with the U.S. Agency for International Development (USAID) in Addis Ababa, Ethiopia, and then worked on nutrition-sensitive agriculture programs with Abt Associates in Bethesda, Maryland.  In addition, during my third and final year of graduate school, I had a unique opportunity to conduct research for my capstone project in Bhubaneswar, India, thanks to funding from Fletcher's Institute for Business in the Global Context (IBGC).  (For more information about my capstone research through IBGC, check out my blog post.)
Following my graduation last May, I began a two-year position with ACDI/VOCA as part of the Mickey Leland International Hunger Fellows Program.  As a Leland Fellow, I have been living in Iringa, Tanzania since October, working on the USAID Tanzania NAFAKA Cereals Market System Development Project.  NAFAKA is a maize and rice value chain project focused on increasing smallholder farmers' incomes, improving nutritional outcomes, and ensuring market access for vulnerable groups.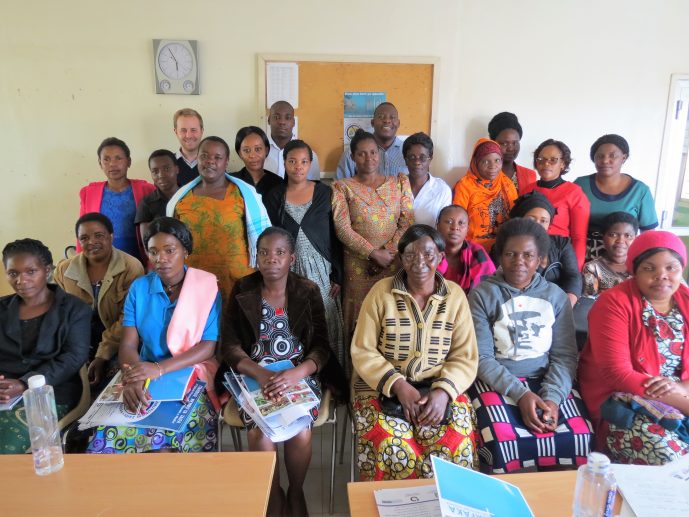 While working in Iringa, I have used the skills I gained at Fletcher and Friedman on a daily basis.  In particular, I have directly put tools from courses on market approaches to development, survey research, and econometric impact evaluation into action during the past few months while designing and implementing an impact assessment.  The study is intended to measure the extent to which demonstration plots showcasing improved seeds and fertilizers influence smallholder farmers' decisions to invest in those improved inputs, and the initial results have been promising.
Throughout the six years since I first decided to join the Fletcher community, I've met Fletcher students and alumni all over the world.  I've already crossed paths with two fellow Fletcher alumni in 2018 as part of my work here in Tanzania, and I'm sure that I'll continue to find unexpected and rewarding Fletcher connections wherever my career in international development takes me.