Akshobh reports on his Spring Break Trek
In the last weeks of the semester, our Student Stories bloggers started wrapping up their posts for the year.  Akshobh traveled to Israel and Palestine with a group of students over the March Spring Break, and he sent me this report.  (Further spring semester posts will be appearing throughout the rest of May and June.)
When it comes to travel, let me facetiously say that I can classify people in two distinct categories.  There are those who travel and then there are those who stay at home, watching the travel channel.
I was definitely in the former bucket.  Since 2010, I had made myself a promise — every year I would visit one place that I hadn't seen before.  And sure enough, my itchy feet and desire to see the world ensured that promise stayed on course.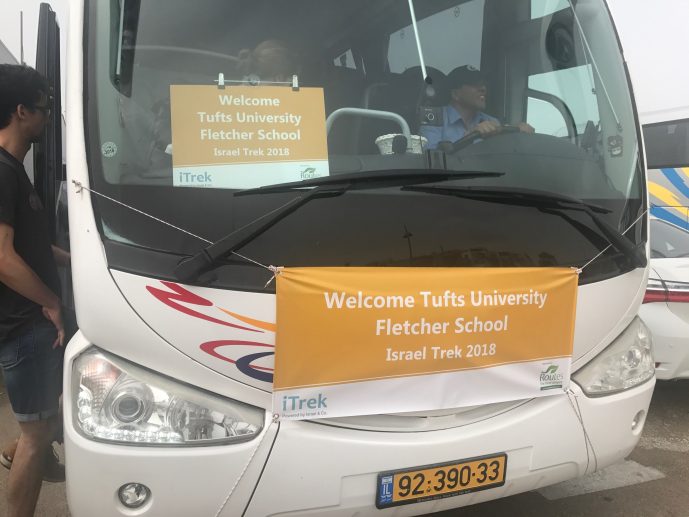 Taking a hiatus from the working world and investing your time and money in graduate school creates a lot of challenges, one of them being limited ability to pamper yourself with a fancy holiday.  Fortunately, one of the many alluring aspects of coming to Fletcher are student-led treks.  This past spring break, one had an eclectic mix to choose from: traveling to Russia (on an official Fletcher trip), or on student-led treks to Mexico, or to the Middle East, to visit Israel and Palestine.
The Israel and Palestine trek is the longest running student-led trek at Fletcher, and visiting these regions epitomized why I came to Fletcher in the first place — to get an in-depth understanding of the protracted saga and try and comprehend the viable diplomatic solutions that may exist.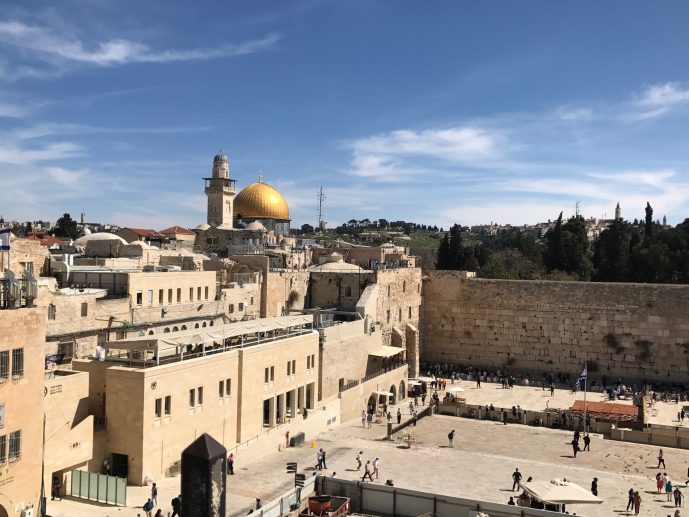 But equally important, it was a treat for history aficionados to tour sites of mythological and archaeological importance.  Visiting Israel was definitely an item to check off the bucket list and, with all needed caveats regarding visas and immigration queries, we found ourselves driving to the holy city of Jerusalem from Tel Aviv airport.  Our tour leaders featured two second-year and two first-year students, a Fletcher PhD graduate now working with the Israeli Government, and our British tour guide, Samuel, who has spent the last seven years in Israel and had hosted three previous Fletcher groups.
Our tour of Israel began in the old city of Jerusalem, a revered place with some of the holiest sites for the three Abrahamic religions of Islam, Christianity and Judaism.  Jerusalem has been one of history's greatest players and it attracts devotees and tourists alike.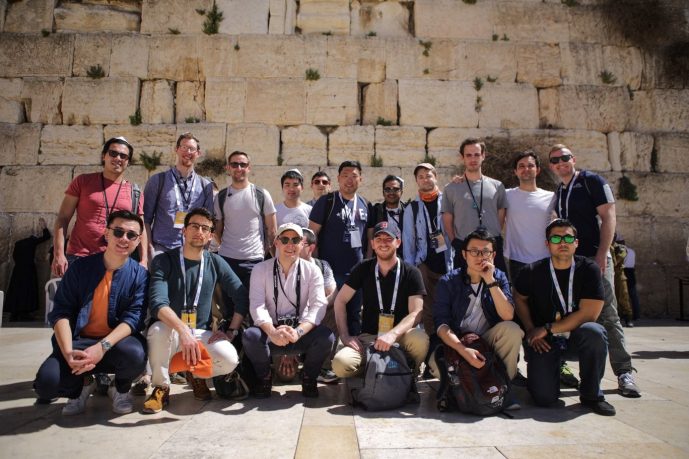 In addition to the sacred sites, there are also the souks (traditional Arabic market places) adorned with handicrafts and souvenirs and selling spices that will satiate both your palate and your tourism appetite.
A visit to the holy city would have been incomplete without going to Yad Vashem (the Holocaust Remembrance Center) and hearing first-hand from a Holocaust survivor gave us goosebumps.
You wouldn't get a fair perspective on relations between Israel and Palestine if you visited only Israel and heard only the Israeli perspective.  On the second day of our visit, we crossed East Jerusalem (the predominantly Arab part of the city) to Ramallah in the Palestinian territories.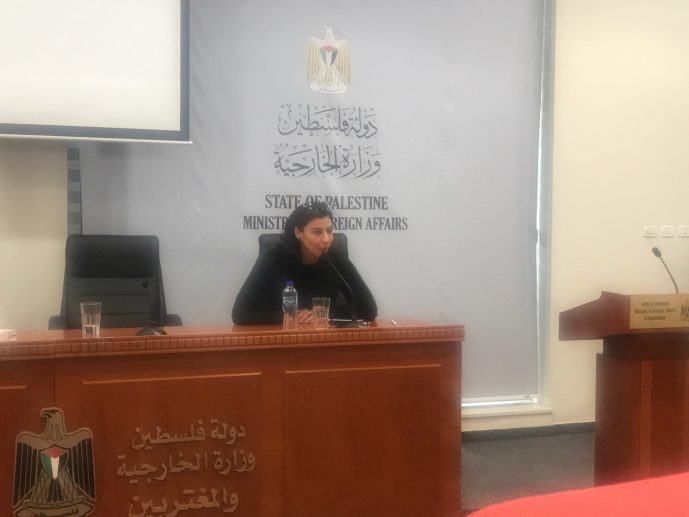 Our first stop was the Palestinian Ministry of Foreign Affairs, where we met Amal Jadou, who is currently the Assistant Minister on European Affairs for the Ministry of Foreign Affairs.
To add to her impressive credentials and role, she is also a 2009 Fletcher PhD graduate.  After briefing us on geopolitical affairs pertaining to Israel and Palestine, she fondly reminisced about her Fletcher classmates and her time at Blakeley Hall, and even asked us to pass on her regards to Professor Babbitt and Professor Schultz.
Geopolitics of the region were an important part of our visit to Palestine, but we were especially impressed later in the day when we met social entrepreneurs who, despite the hardships in the region, had created dynamic startups leveraging technology and employing local youth.  Their goal was to add a new chapter to the Palestine story.
During our weeklong excursion, we traversed the Israeli countryside so much that we saw the borders with three of Israel's four neighbors, Jordan, Syria, and Lebanon (but not Egypt).  My personal favorite was being on the banks of the Jordan river, so nonchalantly separating Israel and Jordan.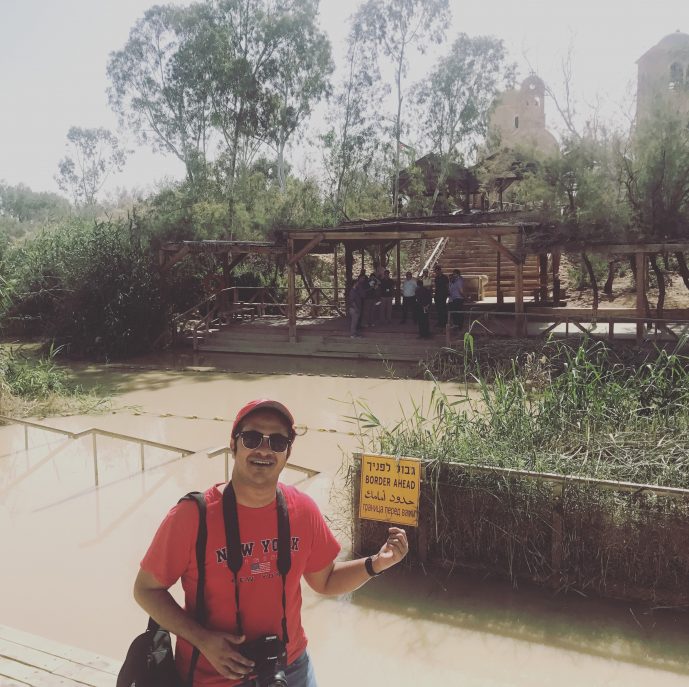 Our trek was far from being only about serious discourse on Middle Eastern issues.  While we heard from a range of speakers — from the Israeli Defense Forces and Israeli parliamentarians to Palestinian entrepreneurs and government officials to humanitarian aid workers — our trip included the quintessential tourist experience as well.
From floating in the saline waters of the Dead Sea, to driving all-terrain vehicles in the Golan Heights, having a desert party on the Israel-Jordan border, gorging on the various renditions of Israeli hummus, savoring shakshuka, sipping from one of Israel's finest vineyards, experiencing Tel Aviv nightlife, or just dancing to Israeli music on the bus while driving through the countryside, it's fair to say that nearly fifty of us "broke bread" (sometimes literally, with hummus) in the finest fashion.
Apart from satiating my appetite with gastronomic delights, this trip also greatly satisfied my intellectual curiosity to travel to a region I had read so much about but never had the chance to experience.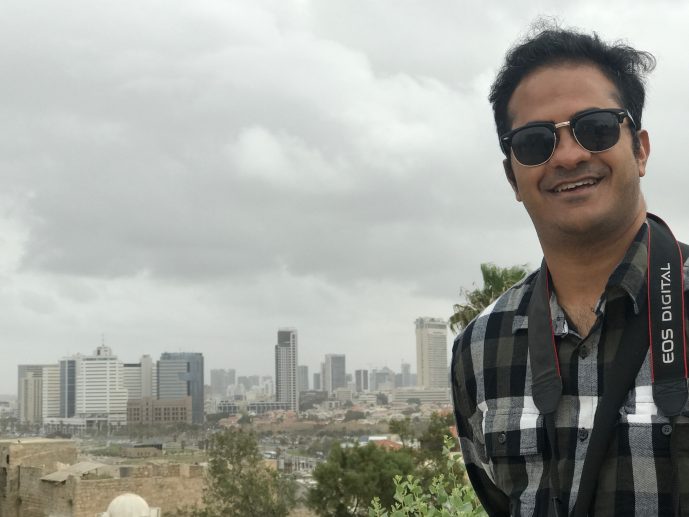 Even Fletcher's finest courses on the Middle East couldn't provide the same holistic perspective without a visit to the region.  As a former journalist, I can say that sometimes the political headlines and op-eds don't tell you the complete story.  It's having conversations with the people, experiencing the history, witnessing the culture, and gorging on the smorgasbord of Middle Eastern delicacies that paints a much clearer picture.