Mariya's thoughts, as an alumna
It's hard to believe that two academic years have passed since I met Mariya after she had volunteered to join our team of Student Stories writers.  Her first post, which already described a busy student, was a hint of the highly involved member of the community she would become.  Today, Mariya shares her thoughts following her graduation.
Dear Readers, today I write to you as an alumna of The Fletcher School of Law and Diplomacy!  On Sunday May 20, I walked across the stage, shook Dean Stavridis's hand, and received my diploma, officially marking the end of my two years at Fletcher.  I delayed writing this post because I did not want to confront this reality.
Graduation Day was overwhelming.  Like a metaphor for how I was feeling, the cloudy, overcast weather slowly morphed into a sunny, clear day.  I was teary-eyed during the morning champagne breakfast when my peers gave toasts and recalled fun memories.  A few short hours later, I felt electrified by the energy of my classmates as, per tradition, we screamed the loudest during the campus-wide Tufts Commencement on the Jumbo Quad every time Fletcher was called.  As the sun shone brighter and it became humid under the tent, my excitement grew.  Following the advice of distinguished alumna Masha Gordon, F98, who spoke on Class Day, I tried to take it all in and enjoy the moment.  In between hugs and kisses, flowers and balloons, pictures and videos, I soaked up the last precious moments we had together as a class.
If I am being honest, it feels surreal to call myself an alumna.  It feels like yesterday I posed in front of the Fletcher placard and walked into the Hall of Flags for the first day of orientation.  A few days ago, I struck the same pose, except this time in a black gown.  Looking at both photos side by side, I cannot believe how much I have transformed over the past two years.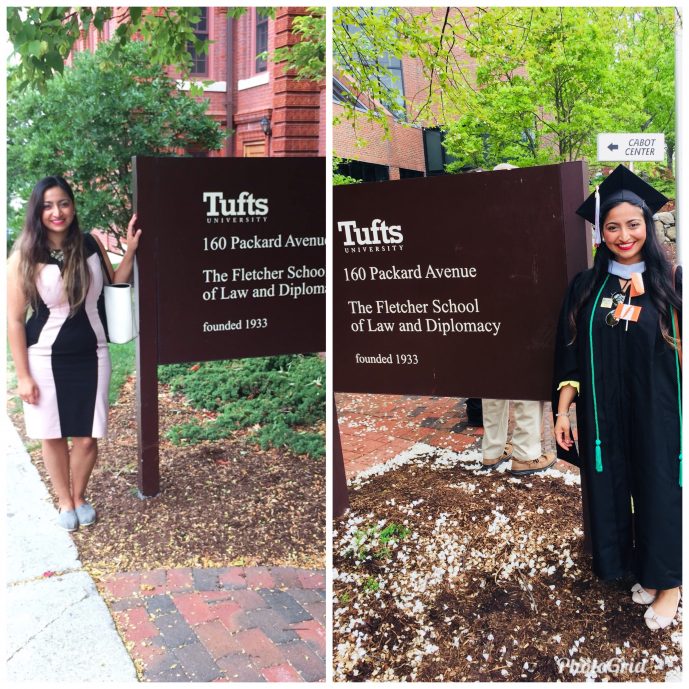 Fletcher will always be special to me for a number of reasons.  It is not only an academic institution where I gained training, education, and skills, but also a home where my friends are like my family.  It is not only a school that provided me with numerous opportunities, but also a space where I grew as an individual and leader.  As I leave Fletcher, I walk away not only with my diploma but a treasure trove of stories, memories, and experiences that profoundly impacted me.  This journey, of course, would not have been possible without first and foremost the Pickering and Hedges Scholarships, my family who made numerous sacrifices so I could continue to study stress-free, professors who challenged and encouraged me, and friends who cheered me up.
When I woke up on the morning after Commencement, it felt strange to have nothing scheduled on my calendar; no classes, no group meetings, no Social Hours, no lectures from prominent guests.  I imagine this feeling of incredulousness will stay until I physically fly out of Boston to start the next chapter of my life.  Fletcher, readers, you've been good to me.  Until next time!