Five-Year Update: Peter Rough, F13
Continuing with Five-Year Updates from the Class of 2013, today we'll read about Peter Rough, a MALD graduate whose time at Fletcher was bracketed by stints in Washington, DC.

Before Fletcher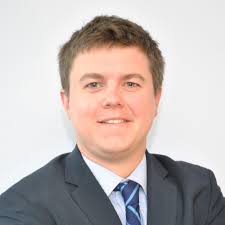 I knew that I wanted to attend Fletcher as far back as high school.  As the son of an Austrian mother and American father, all things transatlantic interested me.  But when I was in high school, I met a PhD candidate in the International Security Studies Program (ISSP) who had completed his MALD at Fletcher.  Even back then, he impressed on me the quality of Fletcher as an institution, and he has proven a hugely influential mentor in my life.
As an undergraduate, I studied international relations at George Washington University, graduating in 2004, and subsequently worked in politics and government, rounding out the Bush administration in the White House.  Thereafter, I moved to Dallas, TX to work with President Bush on his memoir, Decision Points.  The day we wrapped up the book, I flew to Boston to start graduate school at Fletcher.
At Fletcher
My early months at Fletcher confirmed my hunch that it was the place for me.  There are many truly great schools of international relations, and one can't really go wrong at any of them, but Fletcher is characterized by real kindness, flexibility, and collegiality.  I liked that from the start.  Perhaps it's that everyone is housed under one roof and focused exclusively on international issues; whatever the recipe, everyone seemed to be rooting for each other to grow and succeed.
At Fletcher, I studied International Security Studies.  In my opinion, ISSP is the best program of its kind in the world.  Professors Shultz and Pfaltzgraff care deeply for their students and are giants in their field — reputations that became even clearer to me upon my return to Washington, DC.
After Fletcher
After graduation, I spent an extra year in Boston collaborating with Professor Leila Fawaz on her social history of World War I in the Middle East, A Land of Aching Hearts.  I had taken Professor Fawaz's class for my MALD and we hit it off instantly.  When she asked if I'd be interested in working together after graduation, I saw it as a great opportunity to manage an in-depth academic project without the long-term commitment of a PhD.  I'm glad I chose to stick around — at the end of that extra year in Boston, I met my wife.  And to this day, Leila and her husband, Karim, are wonderful friends, confidantes, and advisors.
Since returning to Washington, I've been a fellow at the Hudson Institute, writing and commenting on national security and foreign policy.  The Fletcher family is alive and well — and exists in a very real way in DC.  It is a tight-knit group.  But probably my greatest takeaway from my time in Medford is a subtle appreciation for the importance of power in international relations.  Before Fletcher, I didn't quite grasp the centrality of power in structuring and ordering foreign policy.  My education at Fletcher trained me to look past the superficial and toward the major muscle movements that determine real-world outcomes.  It also gave me a set of thinkers, from Hans Morgenthau to Ken Waltz, whom I could draw on for theoretical insight and analysis.
My work today centers on two regions of the world.  I'm leading one in-depth study that examines Iran's challenge to the American-led regional order in the Middle East and another that investigates the future of Europe and transatlantic relations.  I'm not sure what the coming years will bring, but I'm sure it will include many enjoyable run-ins and get-togethers with Fletcher alums embedded in institutions and organizations around the world!