Five-Year Update: Amanda Mortwedt Oh, F13
Today's Five-Year Update is from Amanda Mortwedt Oh, who completed the LLM program in 2013.  She enrolled at Fletcher directly after completing her JD and was able to apply the knowledge acquired through her Fletcher coursework immediately after graduating.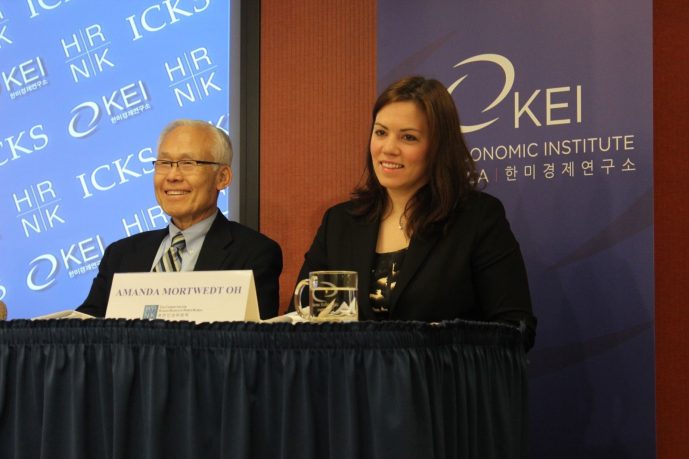 I've never felt as inspired or "at home" as when I'm with Fletcher alumni.  This always amazes me, because the friendships I made with my LLM classmates and colleagues and other Fletcher students were so natural despite our many differences.  To start with, we came from different countries and had vastly diverse journeys to Fletcher, but we all shared a common thread: a passionate desire to contribute to the world through international law and policy.  I've never found that sense of a network anywhere else besides at Fletcher and among Fletcher alumni.
Since graduating in 2013, I've worked at the Committee for Human Rights in North Korea (HRNK), based in Washington, DC.  HRNK is a nonpartisan, nonprofit organization that conducts research on North Korean human rights abuses and that advocates on behalf of more than 25 million North Koreans who are unable to speak for themselves because of Kim Jong-un's totalitarian regime.  Greg Scarlatoiu, F02, HRNK's Executive Director (pictured below), is a Fletcher alumnus.
I'm now living and working in Seoul, South Korea, as a human rights attorney for HRNK.  After Fletcher, I also became a judge advocate in the U.S. Army Reserve, where I currently provide legal support to United States forces in Korea.
At HRNK, I manage a monitoring and documentation project that analyzes changes in Kim's political prison camp system, where thousands of people are detained and tortured based, in part, on their perceived political loyalty to the regime and alleged political crimes.  This project has produced five satellite imagery reports on the gulags and two reports on North Korea's "hidden gulag."  In addition to satellite imagery, these publications feature testimony from former North Korean prisoners.  Last October, I had the honor of contributing to David Hawk's report, "The Parallel Gulag," which was subsequently discussed in an opinion post by The Washington Post Editorial Board.  I also had the privilege of working alongside longtime North Korea expert Robert Collins (pictured below, second from left) on HRNK's "From Cradle to Grave: The Path of North Korean Innocents."
Working for HRNK has provided incredible perspective and insight into the North Korean regime and its human rights abuses.  Fletcher classes such as North Korea State and Society, International Criminal Justice, and Transitional Justice provided necessary preparation for this line of work.  I was able to parlay my thesis on North Korea and transitional justice into meaningful work right away.  During my first summer at HRNK, I prepared a report to the UN Commission of Inquiry on Human Rights in the DPRK (UN COI) discussing North Korea's crimes against humanity — and in 2014, the UN COI found there was evidence to conclude crimes against humanity are taking place in North Korea.
Four years later, regrettably, crimes against humanity are ongoing in North Korea, perpetuated at the highest levels of the Kim regime.  However, the pressure from both the international community and the United States on North Korea to improve its human rights situation has perhaps never been greater.  I hope eventually to continue my Fletcher LLM thesis research to provide useful transitional justice considerations for the future of the Korean peninsula.  Fletcher has played a transformative role in my journey over the last five years, and I am proud to be part of a network that makes the world a better place.