New First-Year Student Bloggers: Meet Gioia
It's time to meet our new first-year student bloggers! First up is Gioia, making the transition from longtime blog reader to contributor.
Hi! I'm Gioia, a first-year MALD. I was an avid reader of the Admissions blog when I was in the application process, so I'm very excited to share my Fletcher experience with you.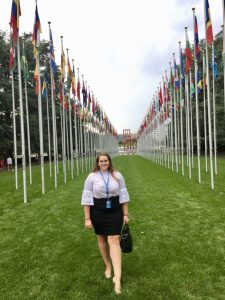 I'm technically a local here in Boston, but as with most Fletcher students' backgrounds, it's not quite that straightforward. I was born in Italy to Tunisian-American parents but moved just up the road from Tufts when I was nine. I spent most of my childhood summers with my family in Tunisia, where I witnessed the final years of the Ben Ali regime. This experience piqued my interest in government and international relations at an early age; I questioned why my Tunisian family grew increasingly reluctant to criticize the regime as the years went on while my family in the U.S. could speak freely about politics. I became frustrated with the overwhelming pollution and litter sullying the country's stunning landscapes and the seeming inaction of the government. I vowed that I would return one day to effect positive change in the country.
Foreshadowing my graduate school search, I was looking for a small and close-knit community with a strong international aspect to complete my undergraduate studies. I completed my B.A. in History and International Relations earlier this year at Franklin University Switzerland, an American university in Italian-speaking Switzerland. I loved having friends from all over the world and getting to travel as part of my curriculum; I learned about migration and refugee studies at the height of the crisis in Greece, studied political transitions in Guatemala and the Caucasus, and learned about the international politics of energy in Belgium. The latter experience made me reconsider my previous perspective on the energy sector and led to my academic interest in international energy and environmental studies.
Over the past two years, I was fortunate to build my knowledge on these issues through internships with the U.S. Department of State at the bilateral Embassy to Italy and the Mission to the United Nations in Geneva, Switzerland. I covered diverse topics from Italy's energy mix and environmental legislation, World Health Organization initiatives in primary healthcare, and the peace process in Syria.  I also was exposed to the field of public diplomacy, which developed into my undergraduate thesis and motivated me to attend Fletcher for its emphasis on the area. I was lucky to intern with Fletcher students in both Rome and Geneva; hearing about their incredible experiences confirmed my desire to further my education immediately after graduation.
Since arriving at Fletcher, I have delved into the countless academic and extracurricular opportunities that are offered here. Fletcher's flexible curriculum has allowed me to simultaneously pursue my divergent interests in environmental politics, public diplomacy, and Middle Eastern and North African studies. The numerous guest speakers and special events coming to Fletcher every week allow me to build on my existing knowledge and open my eyes to topics that I have no experience in.  I serve as Publicity Chair for New England's chapter of Women in International Security (based at Fletcher), which aims to advance professional development and leadership opportunities for women in peace and security fields. I am also a member of the Tufts Literacy Corps, an organization that works to provide after-school academic support to students in neighboring communities. Looking back over the past two months, it's incredible to think how fast time has passed. I already feel so at home here in this worldly and welcoming community; I can't wait to share the next two years with you all!